One place to share and access KYC data
Submit KYC data that conforms to global standards
The data fields and documentation within the registry support a global standard for correspondent bank and corporate KYC. Structuring KYC data in accordance to a common standard significantly reduces time and complexity associated with multiple data requests.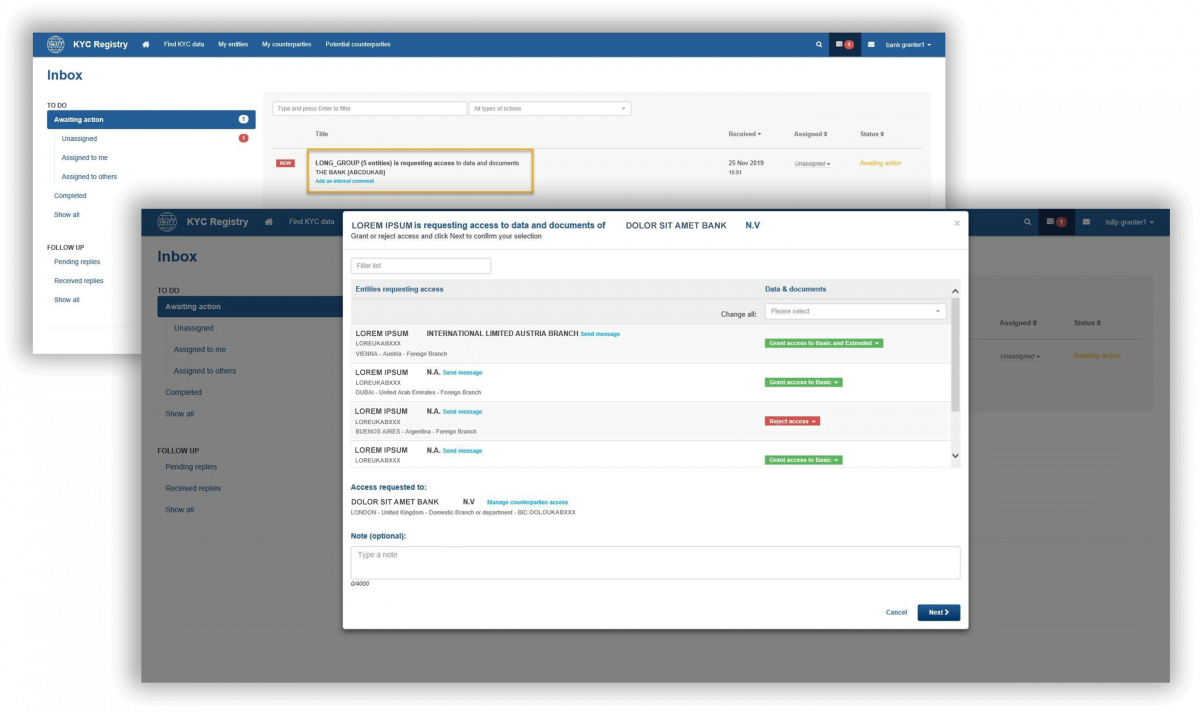 Maintain control of your own KYC data and documentation
By contributing your data to the registry, you remain in control of which counterparties can access your data and documentation at all times.
The registry also enables you to include bespoke documents as and when required.
Benefit from an additional four-eyes quality check
Our operations team will perform additional checks to identify errors or incomplete data fields, so that you can be confident that the information is as complete as possible.
The registry also enables banks you work with to access a combination of your own private data and publicly available data to help reduce collection time.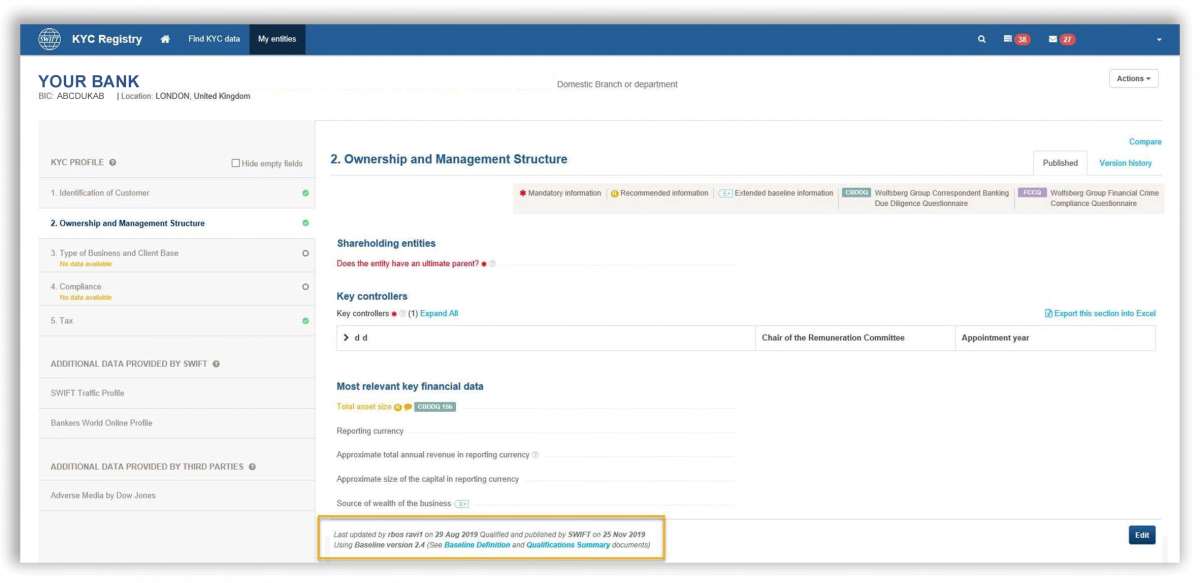 Support data privacy rules
KYC onboarding and verification involves processing some personal data. As joint data controllers, SWIFT and registry customers agree to populate and use the platform in compliance with applicable data protection laws and SWIFT's KYC Privacy Policy, preserving the security of our customers' data.
Banks gain direct access to the latest KYC data
Banks can access the latest KYC data at all times to support due diligence checks on their correspondent banks, and corporate customers based on the permissions that have been granted to them.
Banks can download KYC data as a report or via an API to facilitate direct integration into their compliance workflow.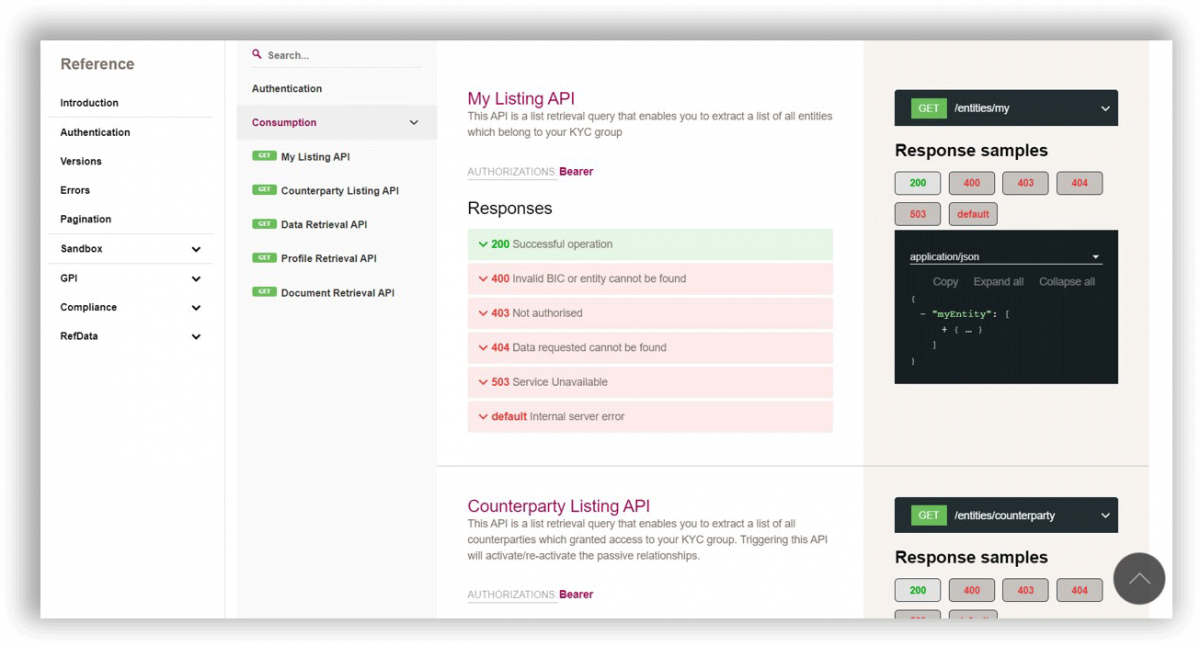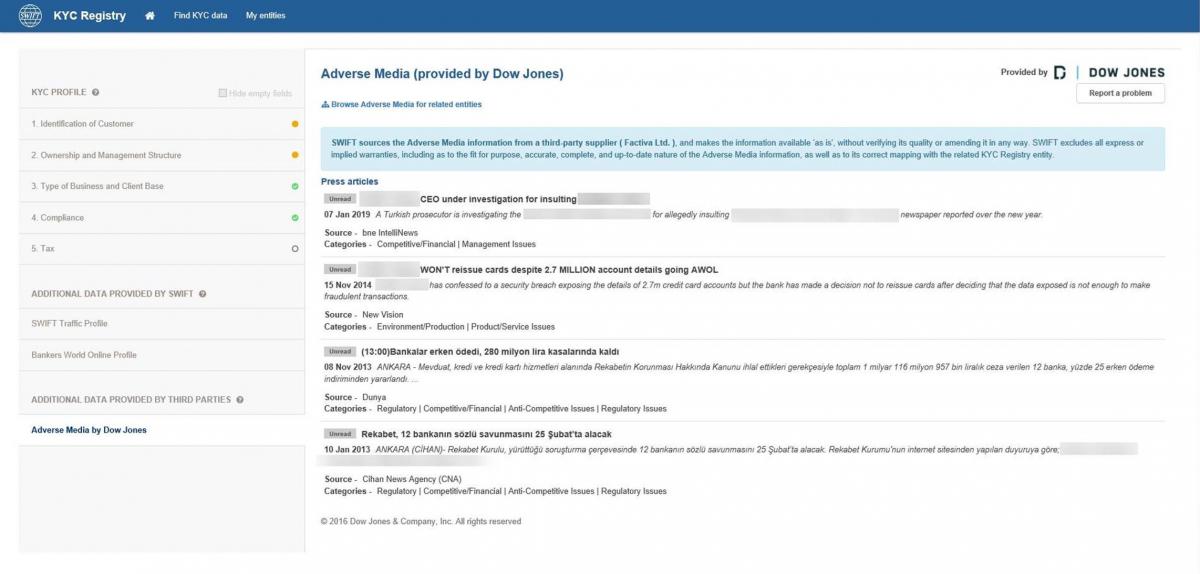 Leverage adverse media for comprehensive review
Banks who are using data to support their KYC checks are also able to view adverse media linked to the entity via our KYC registry. This is publicly available information through SWIFT's partnership with one of the world's premier reporting services, Dow Jones Risk & Compliance. This service links globally-reported negative news stories and regulators' notes to the relevant legal entity in the registry, enabling a fast and comprehensive review for all customer due diligence needs.
Independent profiling of your SWIFT traffic activity
Identify your exposure to high-risk or sanctioned territories in your institution's global correspondent network - including those resulting from your correspondents' downstream activity with their counterparties. It's independent, factual data derived from SWIFT's unique global aggregated message traffic, updated quarterly to help you pinpoint compliance risks.
By sharing data, you can provide added transparency and evidence of compliance to your correspondents, improve the efficiency of your customer due diligence enquiries, and see at a glance whether they or their customers might be putting you at risk.
Potential counterparties
Provide visibility of active counterparties from SWIFT traffic data, and simultaneously connect to them all for free.
Communication function
Communicate securely with other registry users through our KYC Registry messenger. All KYC communications on the platform have an audit trail and can be exported for audit purposes.