A single, standardised source of quality reference data and financial information
SWIFTRef provides and maintains all of the information you need to make seamless payments and delivers a complete picture of your current and potential business partners. It brings clarity to your decision-making and efficiency to your business processes.
SWIFTRef for Payments Processing
Send payments with confidence using robust data and comprehensive information
SWIFTRef for Entity Assessment
Verified data to guide your current and future business relationships
Resource centre
All the information you need to get the most out of your reference data
Maintain and contribute your reference data
Add or complement your organisational reference data on the SWIFTRef database
Contact us
Access Reference Data support from SWIFT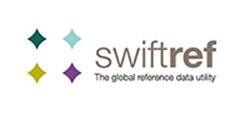 Want to know more about SWIFTRef?
Get in touch with one of our experts and get your questions answered.