Sibos kicks off with spotlight on how the Swift community is collaborating, innovating and adapting to overcome fragmentation and build a more inclusive digital economy.
Sibos 2022 kicked off with a special address by H.M. Queen Máxima of the Netherlands, the United Nations Secretary-General's Special Advocate for Inclusive Finance for Development (UNSGSA). Followed by Mairead McGuinness, European Commissioner for Financial Services, Financial Stability and Capital Markets Union. Go to sibos.com to find out more.
---
After two digital editions, Sibos 2022 marks the return to an in-person event for the first time since 2019. With nearly 10,000 participants, there's a real sense of excitement in being back together as a global financial community. But there's also a clear recognition that the world has changed. From climate change to geopolitics, pandemics to rising energy costs, inflation and recessions, the mounting challenges of the last few years continue to have a big impact on people, communities and businesses the world over.
"There have been and remain lots of challenges to navigate," said Yawar Shah, Chairman of the Swift Board, in his Sibos opening remarks. "But in spite of this, our industry has proven itself to be highly adaptable, demonstrating great resilience under extraordinary pressure and an ability to innovate during difficult times."
"We have an important role to play, now more than ever, in driving progress in challenging times and that frames our theme for the week," added Shah.
Collaborate, innovate, adapt
That theme – Progressive finance for a changing world – will take centre stage throughout Sibos, being held in Amsterdam from 10-13 October. Key to this will be overcoming forces fragmenting the financial ecosystem that are putting up barriers to progress and economic opportunities.
"For transactions across borders, interconnection is everything," said Javier Pérez-Tasso, Swift Chief Executive Officer, in his opening remarks. "And our community, as the backbone of the financial industry, has always been a symbol of global cooperation."  
To remain resilient, the financial community must continue to collaborate, innovate and adapt. "And it's with that spirit that we'll be able to tackle the global challenges that we'll be discussing at Sibos," said Pérez-Tasso.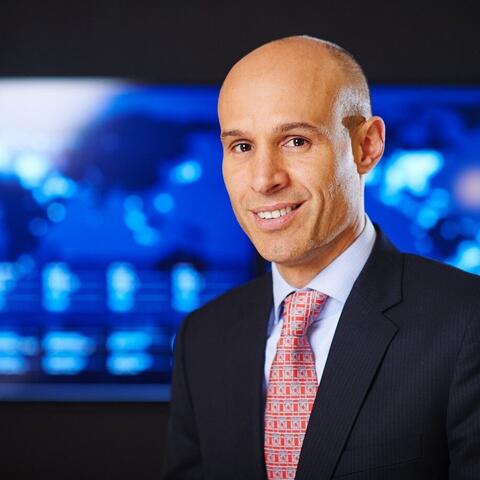 Our community, as the backbone of the financial industry, has always been a symbol of global cooperation – focusing on the opportunities that can bring us together.
Javier Pérez-Tasso
Chief Executive Officer, Swift
Removing friction and fragmentation
Swift's mission is to enable instant and frictionless transactions from account to account, anywhere in the world. "Banks are leaning in hard on the future, and significantly transforming the end-client experience," said Shah.
And with real results. On speed, the Swift community – with more than 11,000 financial institutions spanning over 200 countries and connecting more than four billion accounts – is well on its way to meeting the FSB's target of 75% of cross-border payments to be with the end beneficiary within an hour by 2027. In fact, today nearly 50% of payments over Swift GPI are already reaching end-beneficiary accounts within 5 minutes.
Reducing costs is another major focus. At Swift, "we're stripping out friction-related costs for the industry through our data and screening services and of course pre-validation, which improves the cross-border experience and potentially removes millions if not billions of cost to the industry," Pérez-Tasso explained.
On transparency, he continued, "through Swift GPI, we made the end-to-end payment chain completely transparent. And we recently announced that we are bringing that same level of transparency to the securities post-trade space. With our Securities View you can track a securities transaction end to end and prevent the costly challenge of settlement fails."
And when it comes to choice and access, financial institutions now have even more ways to access Swift with our cloud and API-based connectivity options, both for messaging or full transaction services powered by our enhanced platform.
Whether in the high-value wholesale payments space or in the intensely competitive small business and consumer payments arena, "we are increasing speed and transparency and helping our customers improve service levels to their end clients," said Pérez-Tasso.
Banks are leaning in hard on the future, and significantly transforming the end-client experience.
Interoperability on a global scale
Interoperability and interlinking on a global scale – between countries, technologies, systems and different forms of value – is essential to overcoming fragmentation. Here too, Swift plays an integral role.
"Swift is actively working across the industry with banks, central banks, market infrastructures and regulators on numerous proofs of concept, and is closely examining emerging trends in areas such as central bank digital currencies (CBDCs), tokenised assets, and the linking of market infrastructures to explore how it can support interoperability and enable the seamless flow of value worldwide," said Shah.
As Pérez-Tasso explained, "Last week the results of our ground-breaking experiments in this space show that different CBDC blockchain networks around the world can be interlinked not just with each other, but with existing payment systems. That means, that as CBDCS are rolled out, they can immediately scale and be used globally. And all that through Swift's new transaction management platform acting as a bridge."
"And we have similar explorations happening in the securities space with cutting edge innovation on tokenisation. So as digital assets mature, they can also be seamlessly exchanged across borders," he said. 
Underlying all of this is the imminent promise of richer, better data powered by ISO 20022, which is set to usher in a new era of payments processing across the financial community. "With November almost upon us, rich data through ISO 20022 is also part of the industry's innovation journey," said Pérez-Tasso. "We are fully ready to support the coexistence period for cross-border payments. And what's really great is that over time, this will contribute to a frictionless future and new areas of innovation."
"We are overseen by the G-10 central banks," added Shah, "which underscores our unique role in the world, and this further reinforces our strong commitment to innovating responsibly.
Our infrastructure. Your innovation.
We are at a pivotal point in the financial industry's digital transformation. And it's more critical than ever that financial institutions work together and adopt shared solutions to overcome common challenges – those known today, and those still to come.  
"There will be future, unknown challenges, but I'm convinced our unique global organisation will be more relevant than ever," said Pérez-Tasso. "Because we have a purpose in unifying the financial industry and I have no doubt this will be needed for the next decades to come." 
"We have a joined-up vision that tackles fragmentation, and the whole becomes greater than the sum of its parts," he continued. "But we can't do it alone. We can only transform the speed, transparency and interconnectedness of the industry if you adopt these innovations across the global community. And we are here to support you every step of the way."
"Our North Star is, and always will be, to focus on what our community needs from us," concluded Shah, "remaining true to our core mission to be a neutral provider powering a bank-centric future – at scale and with a strong and unwavering focus on security, reliability and resiliency."
Swift at Sibos 2022
If you're joining us in Amsterdam, check out our Swift at Sibos programme designed to keep you up to date on the latest community-driven services and initiatives now on offer. Not able to make it? Don't' worry. Many of our sessions will be made available on demand for free after the event.