Over 14 high value payment systems have confirmed dates to adopt ISO 20022 in the next 4 years. With cross-border payments starting coexistence with ISO 20022 and SWIFT MT in November 2022 payments are converging on a consistent and rich data standard. Better quality data in payments will significantly improve customer experience, with faster processing, fewer manual interventions and costs, better remittance information and improved compliance.
This is the second edition of "ISO 20022 in bytes"; a publication sharing best practices and insights from practitioners and partners in their journey to better data and better payments.
Better data – Investing for the future in France
Nicolas Cailly, SWIFT National Member Group Chair for the French community
During its July 2020 webinar on the topic of "Enhancing cross-border payments - the road ahead" the Committee on Payments and Market Infrastructures (CPMI) recommended the "public and private sector to commit jointly to enhanced cross-border payments", with a key building block to "define common features of cross border payment service levels". This is already possible with ISO 20022, widely used in Europe for retail payments and securities businesses. It will soon be the same for High Value Payments (HVP). This momentum is not only the latest European fashion, it is a global tidal wave.
A common standard is essential, and its deepened usage with structured data from the start makes the step higher for the payment industry; the information conveyed through this standard must in fact be of high enough quality for any given stakeholder to take full advantage of the newly offered data richness.
In addition, this will allow a better STP rate that helps reduce processing costs and time, an enhanced frictionless customer experience and even better transparency throughout the payment value chain. For banks, this will also help to improve compliance processes and to deal better with postal address data handling issues.
Within the SWIFT French National Member Group, this topic is thoroughly recognised and the recent decision of the ECB to postpone the Target2 migration to the ISO 20022 standard, followed by the same choice by EBA Clearing for EURO1/STEP1, will give Euro-active banks more time to better integrate the different roadmaps, not only for the Euro but also for the other major currencies.
Even with this in mind, it will also be necessary to take into account the massive evolution initiated by SWIFT itself with its transaction management services, a sound basis with new bricks to assemble, resulting potentially in future out-of-the-box services.
In these times of constrained resources, what our community is trying to achieve with the consistent support of SWIFT is key: remain frugal and agile by investing in high-performance and future proof collaborative solutions.
Unstructured data is holding back better payments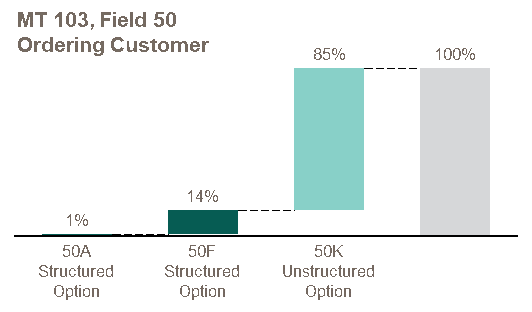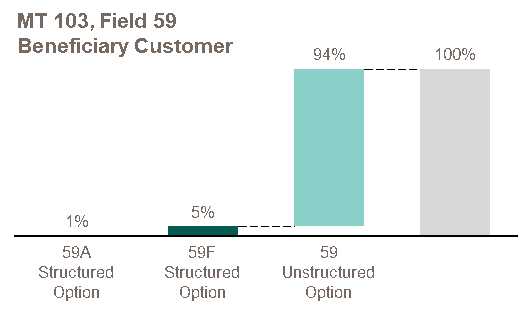 Source: SWIFT correspondent banking traffic data
While structured versions of current SWIFT MT standards exist, unstructured variants and field options often are used in practise. SWIFT correspondent banking traffic data from 2017 and 2018 consistently shows 85-94% of unstructured ordering and beneficiary customer field options being used.
This unstructured data requires multiple institutions to repeatedly interpret ambiguous and incomplete data, with up to 10% of payments requiring manual interventions. Limited space in current messages for remittance information requires customers to exchange data separate from the payment, and consequently implement costly and time consuming reconciliation. Similarly, limited space to fully identify all parties in a payment chain prevents consistent identification of ultimate and intermediary parties, reducing efficacy of compliance controls.
With a rich data standard such as ISO 20022 and the consensus based definition of the Cross-Border Payments and Reporting (CBPR+) market practice we have an opportunity for rich and better quality payments.
Customer journey to better data
SWIFT continues to actively engage with the global community to support their adoption of ISO 20022. The adoption of the new standard in cross-border payments often coincides with similar adoption by domestic payment systems. This can be a lengthy journey and we encourage our community to prepare and start their projects now.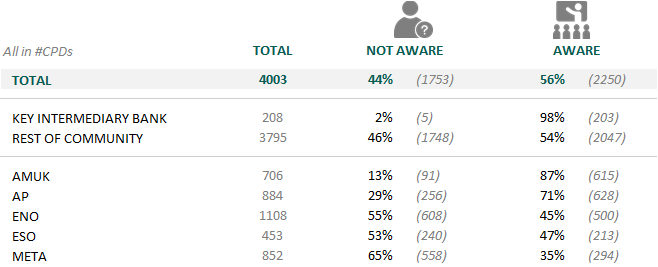 SWIFT closely monitors the level of community awareness and we are very pleased to see continuous progress and momentum. We will continue to actively engage through webinars, national member groups and user groups, and look forward to your engagement and feedback.
A recent survey with more than 200 Payments Market Practice Group (PMPG) participants from around the world shows over 78% of respondents plan to be ready for ISO 20022 with new elements and structures not available in MT by 2025.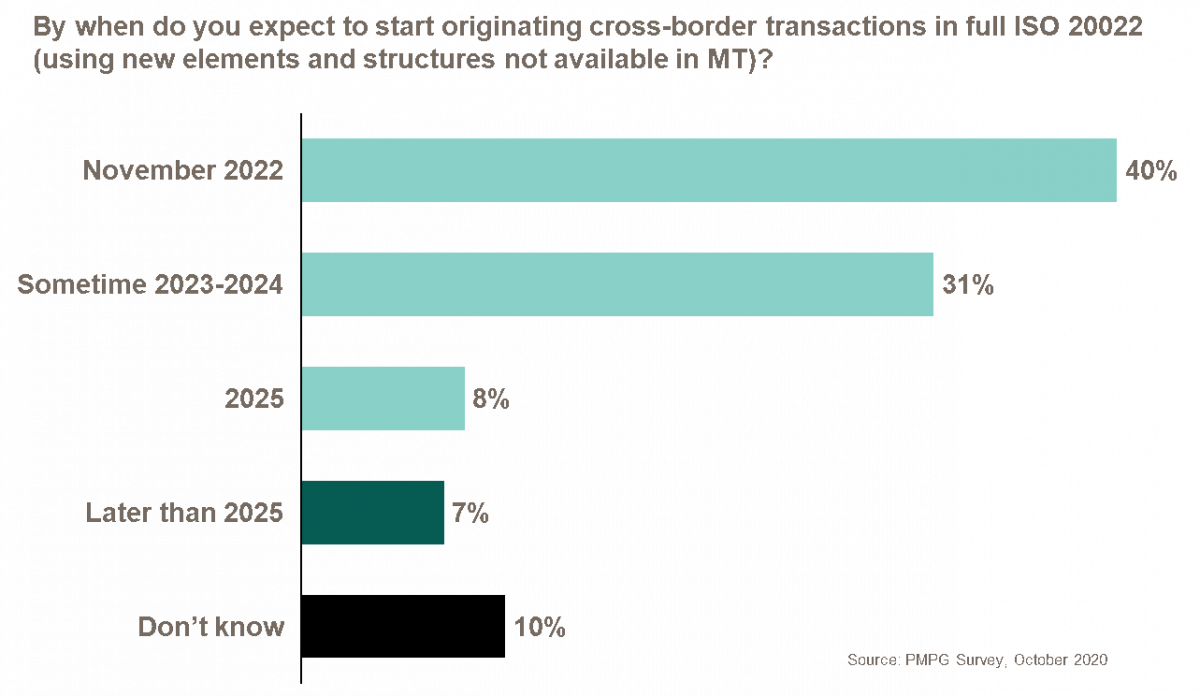 Reminder
Under the ISO 20022 Programme, MTs in categories 1, 2 and 9 will be retired from the open FIN service in November 2025. CBPR+ ISO 20022 messages, and APIs based on ISO 20022 definitions, will replace them, starting November 2022.
There are some use cases that are not affected by the Programme. Message exchanges in the SCORE service, for bank-to-corporate and corporate-to-bank messaging, will continue for the foreseeable future. Some banks will undoubtedly encourage their corporate clients to move to ISO 20022 in order to benefit from the richer customer experience it offers. But within the SCORE service, that will not be mandated by us. Some market infrastructures have their own closed user groups for exchange of MTs with their members; these too are unaffected.
FINplus messaging available for cross-border testing, November 2020
FINplus uses SWIFT's most advanced messaging technology including non-repudiation, more space for structured data, message validation, copy services and more. Launched two months ago to support Shareholders Rights Directive II (SRDII) and securities messages, the FINplus messaging service will be provisioned to support CBPR+ Phase 1 and Phase 2 message types for pilot testing in November 2020.
A full two years in advance of the start of co-existence this will allow you to start testing your integration with the FINplus messaging service, and your readiness to generate, send, receive and consume ISO 20022 based cross-border payments and cash management messages.
More information can be found in the FINplus service description, and the Network Validation Rules for ISO 20022
CBPR+ sample messages for your testing
The CBPR+ working group completed Phase 1 and Phase 2 message specifications and published them in MyStandards. A final Phase 3 is on track to be published March 2021.
To test and qualify your readiness for CBPR+ requires a robust set of test messages. SWIFT has published an extensive sample message library for Phase 1 and Phase 2 messages on the CBPR+ MyStandards group. These sample messages allow you to test each message type and payment scenario, and the rules for data elements within message types.
Vendor readiness 
The vendor community is working hard to prepare for CBPR+. So far, 16 registered providers have self-attested readiness with a further 66 currently performing testing.
Registered providers that have successfully uploaded CBPR+ compliant messages to the Vendor Readiness Portal can self-attest that their product is 'ISO 20022 CBPR+ ready'. Self-attestation is free and is the best way to promote a product's CBPR+ readiness to the global payments community.
From September 2020 to March 2021 application vendors, including core banking, reconciliation, screening providers can connect to a dedicated vendor test network to test their application readiness for FINplus and compliance to CBPR+. Once successful these vendors are provide a payment compatibility label for 2020. 
SWIFT's Partner Programme continues to provide everything that a third-party payments application and/or connectivity provider needs to adopt ISO 20022 in compliance with the CBPR+ usage guidelines. All the information, specifications and details of compatibility labels can be found on the Vendor Readiness section of the Programme Hub.
New resources fresh off the press
JPMorgan White Paper; ISO 20022: Payments Language of the Future
While the immediate business case for ISO 20022 from automation and efficiency is now obvious, JPMorgan's paper identifies the future potential as FIs start to think strategically about how to harness the power of data, create value added services and build out an ever more frictionless payment experience.
The Payments Data Revolution
Building on the transparency and speed of SWIFT gpi, the next big improvement in cross-border payments will result from better quality payments data enabled by the adoption of the ISO 20022 standard. SWIFT has recently announced a new strategy with an enhanced approach for ISO 20022 adoption.
ISO 20022 for Dummies E-book – 5th Edition
The 5th Edition of our most popular publication of all time, ISO 20022 for Dummies™, has been published. You can download it from our document centre or from www.iso20022.org.
Adoption Briefing on SWIFTSmart
A series of ISO 20022 Adoption Briefings in the form of 20-minute pre-recorded videos will be made available on SWIFTSmart. The 1st edition is available now.
Coming soon – The case for better data in payments
To support you in making the case for investment in better data in payments, both within your organisation and with your clients and counterparties, we will provide a toolkit before the end of the year. This will help you explain the current challenges with poor data, benefits of ISO 20022 and what new opportunities it creates. Look out for this important resource coming soon!