ISO 20022 CBPR+ compliance for third-party providers
SWIFT's Partner Programme helps customers make well-informed purchasing and implementation decisions, and providers differentiate their offerings in a thriving market place. Find all the information you need to join here: SWIFT's Partner Programme.
SWIFT is working closely with the Partner community to provide access to necessary information, specifications, tools and test services to support our shared customers in the adoption of ISO 20022, on-time and to the required standard.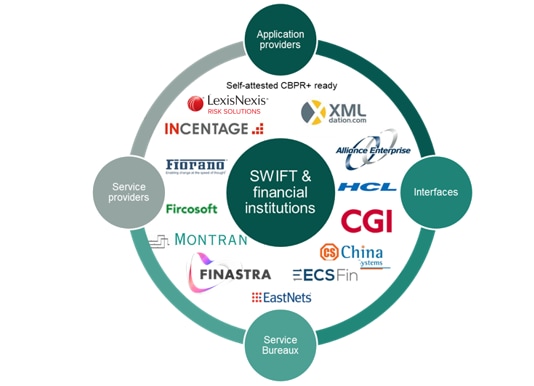 Which vendors are CBPR+ ready?
Access the list of vendors that have confirmed and shared their commitment to support the CBPR+ message collection, in addition to equivalent MTs.
Timelines
Acting on feedback from the community, SWIFT will enable ISO 20022 messages for cross-border payments and cash reporting (CBPR+)  businesses from March 2023, which extends the originally announced date by one year. This will provide financial institutions more time to select and work with third-party application and connectivity providers to ensure readiness.
Accordingly, this does not change customer expectations for application and connectivity providers to be ISO 20022 ready in compliance with the cross-border and reporting plus (CBPR+) guidelines by June 2022. 
The end date to enable full ISO 20022 for cross-border payments remains as originally planned, November 2025. The coexistence period for current SWIFT MT messages and a new API-based exchange will run until that date.
Complete and submit the self-attestation form
We publish and update the vendors and products that have passed our CBPR+ readiness tests. Apply using the self-attestation form.
Integration Test Bed (ITB)
SWIFT will provide the swift.finplus!xpf service on the Integration TestBed (ITB) from September onwards. Registered Providers can find information on the FINplus service and instructions on how to subscribe by following this link to FINplus ordering on SWIFT.com. A 'knowledge tip' has been created to give more detail to both banks and vendors. 
In addition, Registered Providers may apply for a SWIFT Compatible Application label to validate the compliance of their payments application. The requirements and process are published in the Knowledge Centre. In summary:
Application providers must support FINplus starting from 2020 onwards (swift.finplus!xpf)
Support of specific CBPR+ messages is recommended in 2020 and mandatory in 2021
CBPR+ Phase 1 messages will be enabled on the FINplus service on the ITB in September for registered providers to test should they wish to do so, but this is not a mandatory requirement for Compatibility Labels in 2020
2021 Compatibility Label specifications will be published in Q1 2021 and are likely to include mandatory support of message types in scope of both CBPR+ Phase 1 and 2
SWIFT Compatibility Label Programme
The SWIFT compatibility label means an application complies with carefully defined requirements for SWIFT standards, messaging and connectivity - helping customers to choose with confidence.
Find out how to apply for a label of your application, or browse our directory of SWIFT Certified Applications for the solution that fits your business.
How can we help? 
We are committed to making this transition as easy as possible for our community and provide consulting services to support you.
To support your operating environment in its adoption of ISO 20022, we have a comprehensive portfolio of flexible and customisable support and care services. This includes a comprehensive roadmap of when to expect key documents to help customers and vendors with their plans for ISO 20022 adoption.