With more than 300 billion USD in messages being sent every day, Swift GPI is enabling payments to be credited to end beneficiaries within minutes and even seconds.
Swift GPI has a range of features that deliver added-value to both your bank and your customers. 
The gpi Tracker
End-to-end payments tracking
In today's world, customers expect greater transparency. When they send a payment, they want to know what is happening with it and when it has been received. Until now, this has not been possible in cross-border payments as each bank has only been able to guarantee and share information on its own leg of the payment.
Swift GPI now enables banks to provide end-to-end payments tracking to their customers. The Swift Tracker – 'in the cloud' and securely hosted at Swift –  gives end-to-end visibility on the status of a payment transaction from the moment it is sent right up to when it is confirmed.
Swift GPI banks are able to log in to the Tracker to instantly check the status of the payments sent, in progress and received. They can even improve their liquidity management by having visibility on initiated payments already on their way.
The Tracker can be updated by FIN message or via API. It can be accessed via a graphic user interface (GUI) and also via API calls to allow the service to be embedded in other back-office systems.
The gpi Observer Insights
A global view of banks' adherence to the gpi rulebook
Swift's Business Intelligence gpi Observer Insights monitors your adherence to the gpi rulebook – the 'business rules'.
Gpi banks can quickly pinpoint areas for improvement and work collaboratively towards better implementation of SLAs.
Also, with Observer Insights, all gpi banks have a global view of other gpi banks' adherence to these SLAs.
Through these business insights, it is easier to have fact-based discussions with your correspondents, to select new payment routings and explore opportunities to develop new ones. Learn more about gpi Observer Insights and gpi Observer Analytics.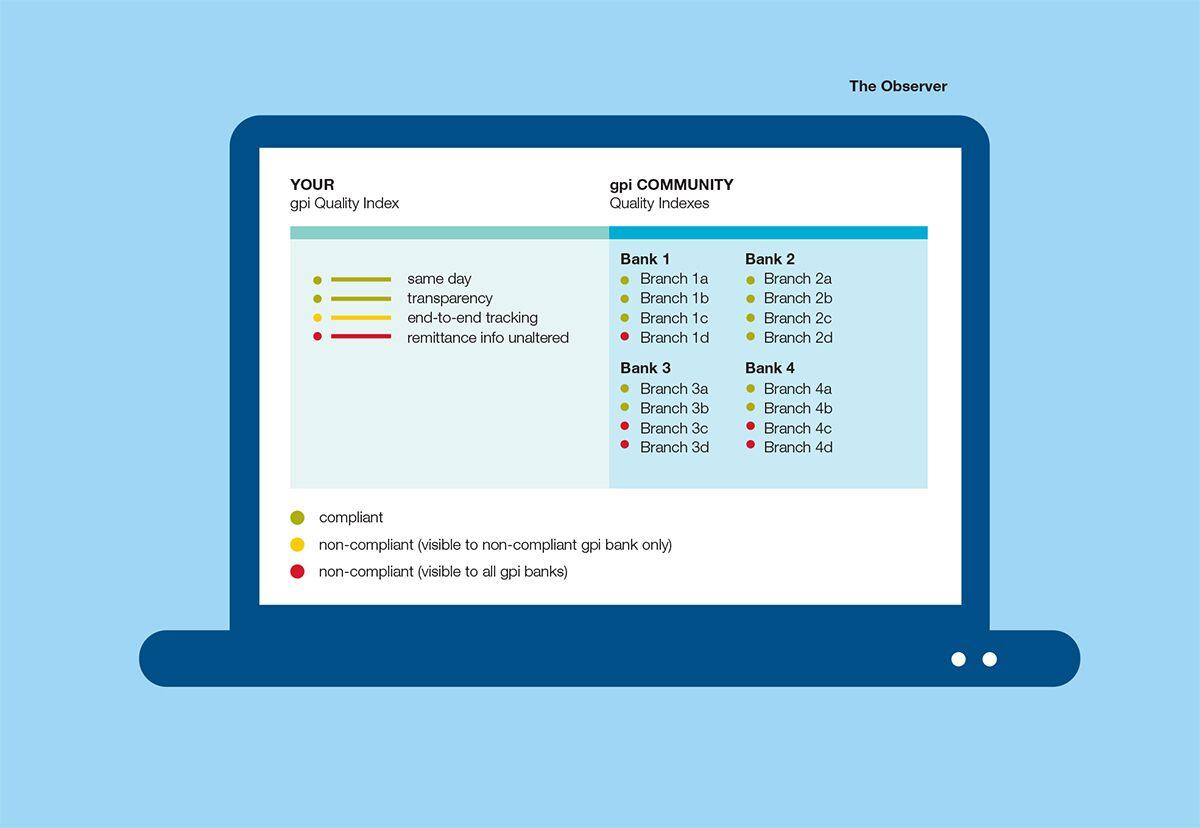 The gpi Directory
A complete list of all gpi members
All member banks are listed in the gpi Directory. This includes details such as: which banks can send and receive gpi payments by business identifier code (BIC); in which currencies; reachable through which channels; cut-off times; and if a bank acts as an intermediary for gpi payments. 
The Directory benefits all banks involved by enabling comprehensive end-to-end path finding for gpi payments. It is available in a wide variety of formats and accessible via automated delivery channels.
See existing gpi members and find out how you can get started on gpi.