Alliance Remote Gateway: a simplified Swift infrastructure
Simplifying your Swift infrastructure
With Alliance Remote Gateway, there's no need to host Swift connectivity products such as Alliance Gateway, SwiftNet Link and Hardware Security Modules (HSMs) on your premises. When you adopt our Community Cloud service, we'll host and operate the technical components required to connect to Swift – enabling you to reduce the cost and complexity of your infrastructure.
Alliance Access and Alliance Entry have built-in support for Alliance Remote Gateway, so there's no need to install or operate additional software. You'll continue to run Alliance Access or Alliance Entry at your premises with full access to all features including message entry and display, routing, operator definitions, scheduling and printing. You'll also be able to access SwiftNet services.
ARG removes the need to maintain, test and operate a back-up connectivity infrastructure, considerably reducing costs. 
Alliance Remote Gateway is operated from one of the Swift Operating Centres (OPC) and hence does not offer the same level of resilience as on-premises Alliance Gateway. As PKI certificates are hosted at the Swift OPC, customers should verify that this is compatible with their institutional policies.
Before ordering Alliance Remote Gateway, please contact your local Swift Office and they will perform an assessment to determine whether Alliance Remote Gateway is right for your organisation. The service is not compatible with some products and services such as Accord.
Alliance Remote Gateway is suitable for connecting customers who send and receive up to 20,000 messages per day with standard throughput expectations.
Contact your Swift account manager for more information.
Features of Alliance Remote Gateway
Alliance Remote Gateway supports standard Alliance Access and Alliance Entry flows, including all FIN and InterAct messages and FileAct files, as well as access to Browse services. All Alliance Access and Alliance Entry adaptors are also supported, enabling straightforward integration with back-office systems.
Other features of the service include:
Low upfront investment and usage-based yearly fee
Strong authentication, encryption and message non-repudiation
Available 24/7/365, except for Allowable Downtime Window
Supported on Windows, Linux, AIX and Oracle Solaris operating systems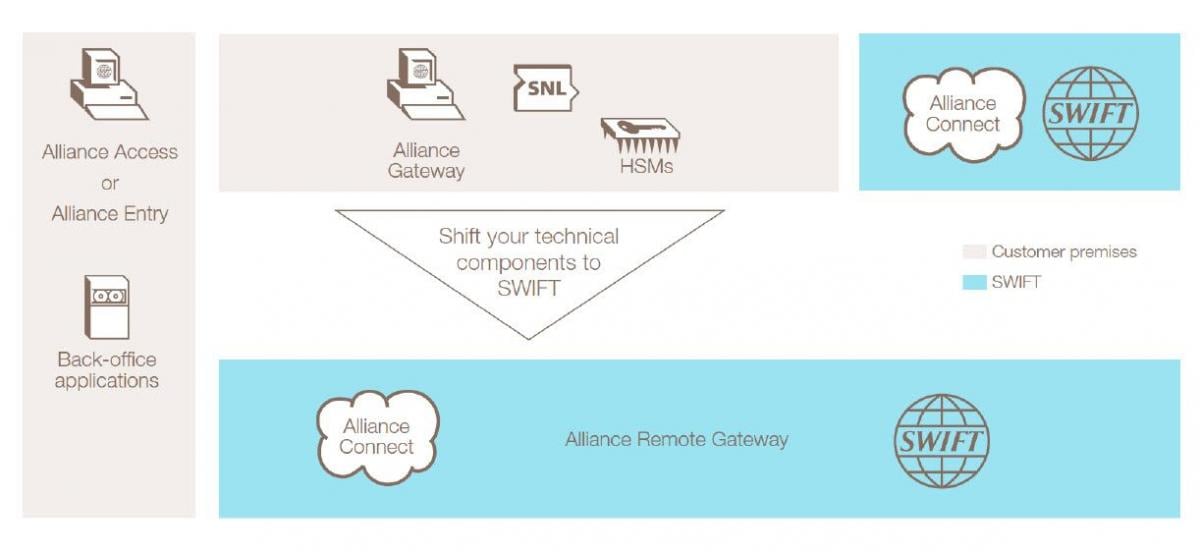 Services and support
Using Alliance Remote Gateway is easy with our setup services, which include requirements assessment, solution design, remote setup and configuration assistance, supported by end-to-end project management.
Additional services are also available, such as assistance with moving FileAct from Alliance Gateway to Alliance Access or Alliance Entry. Global 24/7/365 support is included in the Alliance Remote Gateway subscription fee.
Pricing information
Invoiced as a yearly subscription fee, Alliance Remote Gateway also requires a one-time setup service charge. Messages, files and Alliance Connect fees are as listed in the standard Swift pricelist. One-time fees and yearly maintenance fees for Alliance Access and Alliance Entry are not included.