Why payment confirmations?
Strategic planning will go a long way when it comes to implementing payment confirmations by November 2020.
Both manual and automated channels are available to confirm payments to the Tracker, dependent on payments volumes and organisational preferences.
Batch confirmations allow a single end-of-day report of multiple payments to the Tracker, informing all parties in the payment chain of the final status of the transactions.
Benefits of batch confirmations
- Reduce the implementation effort to a simple end-of-day export file from your payment application
- No need for IT development as most applications have a built-in feature to generate an export file for posting
- An automated solution for universal confirmations of payments, limiting the manual effort required to manage exceptions when the payment cannot be credited immediately
How Batch Confirmations work
1. Every MT 103 payment received will be processed in a payment application, which will update the general ledger on the payment value date
2. The payment system generates CSV files regularly or in an end-of-day report to confirm the status of the daily processed transactions
3.   The CSV file(s) will be processed by the Alliance interface and converted to individual payment updates in the Tracker
4. Depending on the step 2, the Tracker is immediately updated or as soon as the payment application has performed a bulk of credit operations or at the end of the day. User can opt for API or MT 199 updates.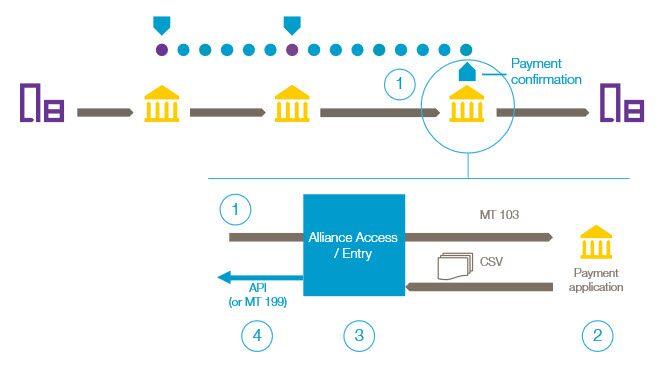 Batch confirmations use an STP flow that you can combine with the Basic Tracker GUI to manage exceptions.
Timeline
Key milestones will take place on the following timescale:
Available now

- www.swift.com/confirm

- CSV specifications here

- Readiness Portal for confirmations operational

- Basic Tracker GUI, live

July 2020

- Release of Alliance Access/Entry with built-in batch confirmation functionality*

- SR 2020 mandatory confirmations, test phase

November 2020
- SR 2020 mandatory confirmations, go-live
* - Alliance Access & Entry 7.5 & 7.4.50
- AMH 3.x or 4.0 via consulting services
- Other FIN interfaces and payment applications, consult your supplier
Are you ready for batch confirmations?
You can check if your CSV data format complies at MyStandards Readiness Portal.
Log in to MyStandards and upload your CSV file for an immediate validation result.