African startups win a 10,000 USD prize each and a chance to share their insights about innovation in Africa with FinTech experts from around the world
Mauritius, 18 May 2016 – The Innotribe Startup Challenge attendees selected the three most promising FinTech companies during its second annual showcase for Africa. The event was held in Mauritius on Wednesday 18 May, in partnership with SWIFT's African Regional Conference (ARC).
The three winners of the African Startup Challenge are:
Based in South Africa, Hello Paisa is a low cost international money transfer solution for remittances. "My experience at Innotribe has been invaluable. The quality of the coaching sessions has been extraordinary, and the lessons learnt will stay with me forever. To represent the best the African continent can offer in the FinTech space at Sibos is truly an honour and we are humbled", says Ahmed Cassim, Managing Director, Hello Paisa
 
Also based in South Africa, The Sun Exchange is a peer-to-peer lending platform for investors to fund solar energy projects across the globe. "It has been pretty intense coaching for the past couple of days with pretty blunt and to the point feedback to help hone not only our pitches but identify the strengths and areas of innovation of our businesses. It is an honour and a privilege to be invited to present our international finance origination service to the Geneva audience, and demonstrate how borderless peer-to-peer lending holds the key to a cleaner and more lucrative future for not just Africa, but for the whole planet", says Abraham Cambridge, Founder and CEO, The Sun Exchange
 
Based in Cameroon, WeCashUp has created a cross border mobile money platform, enabling users to make secure payments via their mobile phones all across Africa. "The Innotribe startup competition has been an infinitely unique experience. I've been challenged so much by the coaches and I learnt so much that I think my team and I received everything to become a world class startup. I recommend Innotribe to all the startups who want to put a dent in the universe like us", says Cedric Atangana, CEO and Co-founder, WeCashUp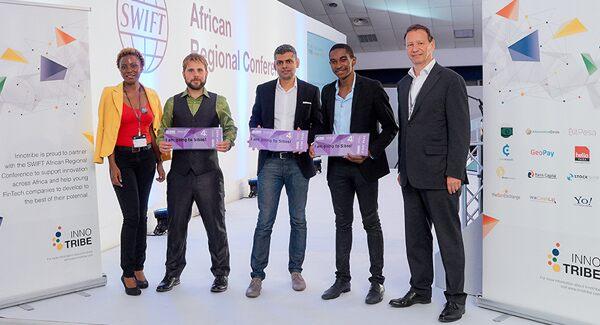 Winners of this year's challenge received a 10,000 USD cash prize and invitations to attend Sibos, SWIFT's annual global financial services conference, taking place from 26-29 September in Geneva. The startups will have the opportunity to share the stage with FinTech experts, providing great insights on innovation happening across Africa to the financial industry at large.
In its 23rd year, ARC brings together policy makers, industry leaders and the broader financial community from across the African continent. This year's conference theme 'Facing Global Challenges' focused on Africa's positive trends: a growing and young workforce, plentiful natural resources and seven of the world's 10 fastest growing economies. Typically attracting up to 500 delegates from around 40 countries, the conference was the perfect place for our startups to deliver compelling pitches around their innovative products and demonstrate how they could support the economic development of the continent.
"Our partnership with the SWIFT African Regional Conference over the last two years has highlighted how much SWIFT's member institutions are keen to understand the FinTech innovation that is happening in their own communities and the importance for local startups to benefit from in-depth industry feedback and gain exposure at a global stage", says Fabian Vandenreydt, Global Head of Securities Markets, Innotribe and the SWIFT Institute at SWIFT. "It was a real pleasure for us to provide expert mentoring and in-depth industry feedback to all participating startups and we wish them a lot of success in their future developments".
Commenting on Africa's innovation landscape, Sido Bestani, Head of Middle East, Turkey and Africa at SWIFT says: "This year's Innotribe Startup Challenge highlights the exciting developments across African FinTech and the range of different business sectors represented shows that innovation is not just focused in one area, The showcase at ARC is a wonderful opportunity for SWIFT and Innotribe to be part of this journey and we look forward to continuing our support for the three winners when they come to Sibos in Geneva later this year."
The Mauritius showcase was the first regional showcase to be held in 2016. The next regional Startup Challenge will be held in Mexico City on 29 June during SWIFT's Latin American Regional Conference.
For more information about Innotribe and the Startup Challenge, please visit: www.innotribe.com.
About Innotribe
Launched in 2009, SWIFT Innotribe is about innovation and connecting people, networks and ideas. We bring together global innovators and investors, strategists, and influential decision-makers from leading financial institutions across the globe, providing them early insights into innovations that could disrupt current business models and create opportunities for new ones. Through the Startup Challenge competition, we bridge the gap between the startup ecosystem and the financial service community.
For more information, please visit www.innotribe.com  or follow us on Twitter: @innotribe and Linkedin: Innotribe.
About SWIFT
SWIFT is a global member-owned cooperative and the world's leading provider of secure financial messaging services.
We provide our community with a platform for messaging and standards for communicating, and we offer products and services to facilitate access and integration, identification, analysis and financial crime compliance.
Our messaging platform, products and services connect more than 11,000 banking and securities organisations, market infrastructures and corporate customers in more than 200 countries and territories, enabling them to communicate securely and exchange standardised financial messages in a reliable way.  As their trusted provider, we facilitate global and local financial flows, support trade and commerce all around the world; we relentlessly pursue operational excellence and continually seek ways to lower costs, reduce risks and eliminate operational inefficiencies.
Headquartered in Belgium, SWIFT's international governance and oversight reinforces the neutral, global character of its cooperative structure. SWIFT's global office network ensures an active presence in all the major financial centres.
For more information, visit www.swift.com or follow us on Twitter: @swiftcommunity and LinkedIn: SWIFT.
Contacts:
Cognito
 swift@cognitomedia.com 
+44 (0)20 7426 9400