The publication of first specifications marks an important milestone in the transformation of correspondent banking.
ISO 20022 provides an unprecedented opportunity for the global financial community to transform international payments. The rich, structured data enabled by ISO 20022 from end to end will drive the next stage of correspondent banking transformation with improved speed, efficiency, and compliance.
With Payment Market Infrastructures of all major currencies either live, or in the process of adopting ISO 20022, the Swift community decided it is now time to adopt this financial standard to further enable the modernisation of cross-border payments.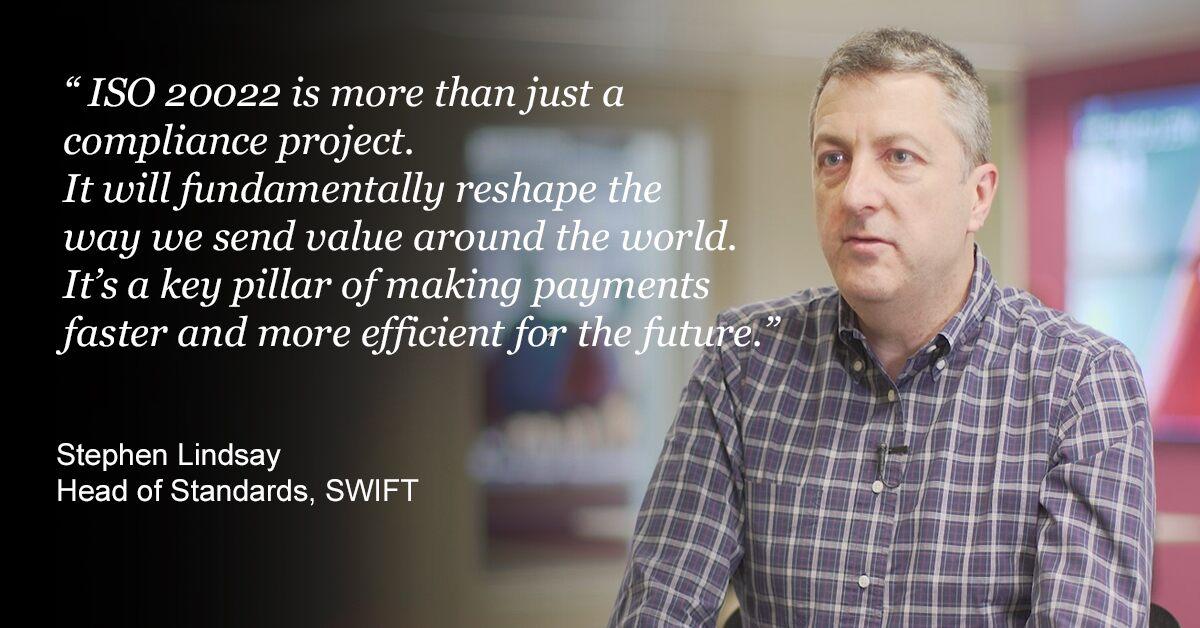 Updated usage guidelines for implementation now available
Over the past year, the Cross-Border Payments and Reporting Plus (CBPR+) working group, an expert working group overseen by the Payments Market Practice Group (PMPG), has been defining the usage guidelines for consistent use of ISO 20022 in cross-border payments.
As part of a first phase of specification definition, four Payments Clearing and Settlement (pacs) and three Cash Management (camt) usage guidelines are now available on MyStandards. These guidelines are available for download in multiple formats and supported by the MyStandards Readiness portal for testing.
The following core payments and reporting usage guidelines are now available on MyStandards:
pacs.008 – FI to FI Customer Credit Transfer
pacs.009 – FI to FI Institution Credit Transfer
pacs.002 – FI to FI Payment Status Report
pacs.004 – Payment Return
camt.053 – Bank to Customer Statement
camt.054 – Bank to Customer Debit Credit Notification
camt.056 – FI to FI Payment Cancellation Request
To support the move to CBPR+ compliant ISO 20022 messages, Swift and working group members are also defining a set of translation rules from the new standards to MT, and vice versa. During the coexistence period from November 2021 to November 2025 these translation rules will enable coexistence measures in the Swift network, over APIs and at customer premises.
CBPR+ working group members are also in the process of testing translation rules between pacs.008 and MT 103 messages. Translation rules will be published as they are approved on MyStandards in a new Translation Portal planned to go live in January 2020.
The following additional usage guidelines will be published as part the first phase of usage guideline definition before end-Q1 2020:
head.001 – Business Application Header
camt.052 – Bank To Customer Account Report
camt.057 – Notification to Receive
camt.060 – Account Reporting Request
The CBPR+ group will continue to define further usage guidelines aligned with the High Value Payment System (HVPS+) guiding principles, ensuring interoperability with domestic high value payment systems.
A second phase of CBPR+ usage guideline definition will also commence in Q1 2020.
Better data will unlock new efficiencies
Adoption of ISO 20022 will continue the transformation of correspondent banking already ongoing. International payments often contain unstructured and ambiguous transaction data, causing unnecessary delays and failed processing. ISO 20022 will modernise international and domestic payment rails, enabling richer and new payments services.
The adoption of ISO 20022 will also benefit corporate payments. It will allow for rich invoice and tax information, originator and beneficiary details, and necessary regulatory information for beneficiary jurisdictions.
Increased use of mandatory and structured data will further enable automation of reconciliation processes and improve visibility of cash positions for beneficiaries.
Finally, ISO 20022 also provides a common data dictionary, agnostic of syntax and technology choice. This will support new emerging services such as APIs, and provide quality data for machine learning and artificial intelligence, enabling innovative new client service propositions.
More information
Check out the first specifications and consult our dedicated hub to find out more.
For further information, you can contact our team of experts at iso20022programme@swift.com.
Are you a third-party application provider?
All the information you need to help you support your customers for CBPR+ compliant ISO 20022 payments will be made available on this website and MyStandards. Members of Swift's Partner Programme will receive additional support and can self-attest readiness for their customers. They can also use the Vendor Readiness Portal (VRP), which allows Swift customers to see which vendors are ISO 20022 CBPR+ ready.
Workshops specifically tailored to third-party application providers will be held in Q1 2020.
For further information please contact ISO20022programme.vendor.support@swift.com