At Sibos corporate treasurers and banks came together to explore key trends shaping the future of global treasury
Delivering a smooth and efficient experience is crucial for banks to support their corporate customers in growing their business in a competitive market. At Sibos 2019, we hosted a two-day programme of talks and interactive sessions exploring how banks and corporates leverage collaboration to meet these challenges.
We've picked out three key trends shaping the future of global treasury.
Know Your Customer (KYC) processes are being simplified
KYC is one of the biggest challenges in the compliance space, both for financial institutions and corporates. Data is frequently disseminated across multiple sources and is often incomplete or out of date, which can cause costly delays.
In a recent survey, carried out in partnership with Eurofinance, 93% of treasurers reported that responding to KYC requests was more challenging today than it was five years ago. The survey also showed that delays in KYC processes have an impact on account opening and, in some cases, directly affect treasurers' decisions to work with specific banks.
This was a key driver of the conversation held at Sibos during the session 'KYC utilities: what does success look like'. The discussion, moderated by Barbara Casu, Director of the Centre for Banking Research, Cass Business School – City University of London, explored the benefits of investing in data collection, standardisation and verification.
Considering these challenges and the consequences on their relationships, both corporates and banks on the panel recognised that this needs to be simplified.
'The expansion of our KYC Registry to corporates is the result of close collaboration with our community of banks and corporates. By opening the registry to corporates, we are empowering banks and corporates to tackle the inefficiencies arising from the lack of standardisation across data and jurisdictional requirements.' said Marie-Charlotte Henseval, Swift's Head of KYC Compliance Services.
End-to-end payments tracking is increasingly becoming a must have
Speed, certainty and fee transparency on payments are essential to effectively run treasury and cash management processes. As they internationalise their operations, corporates can face challenges around the status of cross-border payments and how much they are charged for them.
Banks have already taken steps to improve the customer experience through Swift GPI, streamlining the way they can respond to customer queries. Some have taken this further by enabling access to gpi tracking information through online banking portals, giving visibility around payment flows directly to their customers. But, when doing business with several banks, corporates still have to log in through each individual portal to keep track of all their payments.
At Sibos, both banks and corporates joined us to discuss these challenges in our 'Creating value for corporates' session. Moderated by Sebastian Rojas, Head of Swift GPI for corporates, the panel gathered speakers from Airbus, BNP Paribas, Booking.com and HSBC, to discuss how banks are extending the value of gpi to their corporate clients with direct payment initiation and tracking information into ERP and TMS systems.
 "Large corporates are not only looking to automate their treasury processes; they also want to be able to obtain and integrate crucial payment data such as tracking, fees, performance, etc. into their treasury systems. By doing so, they can obtain higher visibility on what is happening with their payments, identify any hold-ups along the way and most importantly proactively address queries or claims without having to contact their banks." said Sebastian Rojas. "gpi for corporates now enables multi-bank payment tracking and full visibility across the payment process."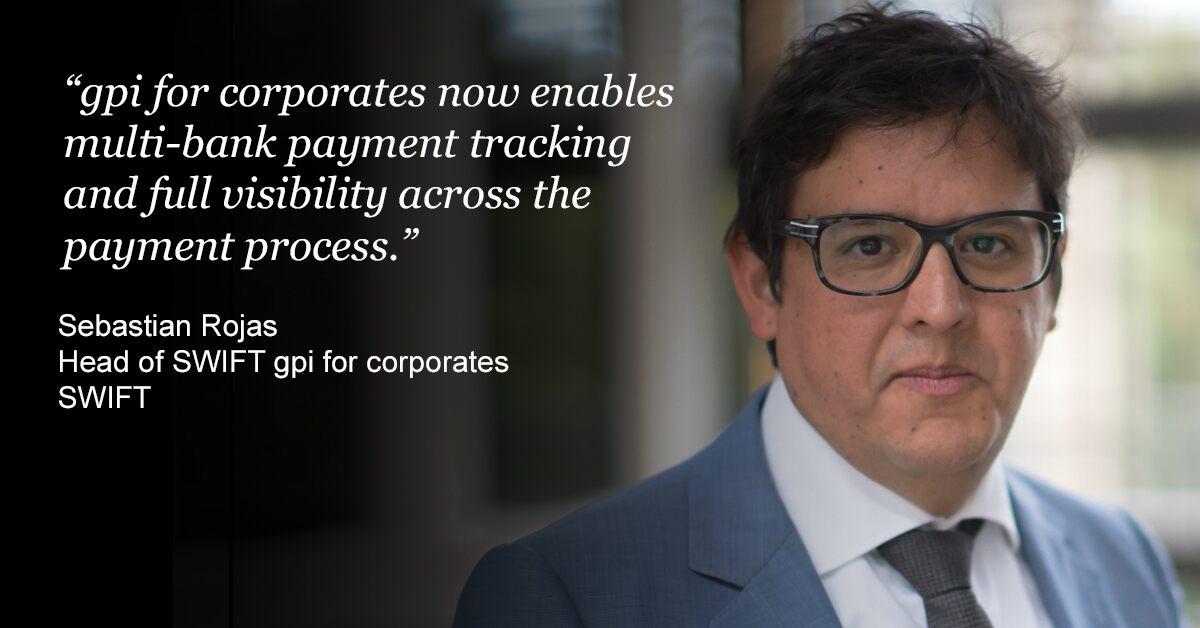 Digitisation and automation to change the face of trade finance
Visibility and transparency are the most common challenges affecting the growth of trade finance business - which still heavily relies on paper-based exchanges and manual processing. Our recent joint report with Boston Consulting Group (BCG), presented at Sibos 2019, explores the emergence of new trade finance ecosystems.
Findings show that in the past few years, the industry has turned to new trade platforms to solve these issues, but these are yet to meet a meaningful adoption rate to fully deliver on the promise.
According to the report, the current ecosystem of platforms still lacks the standards and inter-connectivity needed to enable wider adoption.
At Sibos, the corporate and banking community gathered with us to draw key learnings from standardisation and co-creation in cross-border payments and to explore how this can support the evolution of trade finance.