SWIFT hosts ISO 20022 MI Summit.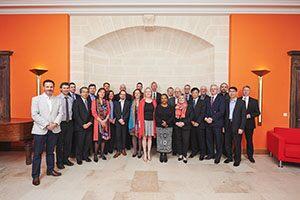 A group of 26 senior executives from 20 global market infrastructures gathered at the 'ISO 20022 MI Summit' meeting, with a goal to establish a common framework for ISO 20022 harmonisation.These market infrastructures are the backbone of the financial markets, representing the payments and securities segments, across all regions, worldwide.The full-day Summit was held in late April in La Hulpe, Brussels, and was hosted by SWIFT.
Strong traction
The Summit reflected that there is strong global traction for ISO 20022. Currently, there are over 200 initiatives around the world that either have implemented, or are planning to implement, ISO 20022 across payments, cash management, securities, trade and treasury. This adoption of ISO 20022 is growing rapidly and has become the clear choice for market infrastructures around the world.
Flexibility and fragmentation
Group openly discussed local experiences and shared best practices. They agreed that the flexibility of ISO 20022 allows the market infrastructures to implement different message versions, different market practices and/or different timetables, when compared to their peers.

Further, financial institutions which have a global footprint are evaluating the collective impact of having to implement numerous ISO 20022 projects, staged across multiple market infrastructures, each potentially with their own 'flavour'.
A choice of 31 flavours is great for ice cream, but is a worse-case scenario when you are trying to adopt a singular definitive standard
The group agreed that this inherent flexibility, coupled with the rapid growth in the market, will lead to 'fragmentation', unless quickly addressed.
We need to balance inherent flexibility and the resultant fragmentation, versus loss of freedom, the need for a more persistent process and the need to drive market interoperability
Need for a harmonisation framework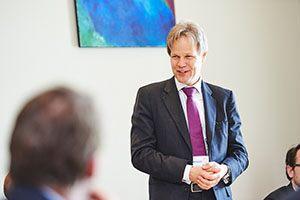 In response, the group debated SWIFT's proposal for tighter community management and agreed to establish a common framework for ISO 20022 harmonisation - one that ensures consistency and efficiency, and reduces industry costs and risks.This harmonisation framework is focused on a number of pillars: sharing of information using MyStandards as the central harmonisation platform, establishing global market practice and introducing stricter message version control and release management.The group also argued that conformance to these principles may have to be phased over time to reflect that Summit participants are at different maturity levels of ISO 20022 implementation. Some have already implemented ISO 20022 projects and have been 'live' with their participants for many years, whereas some are at much earlier stages, where the standard is still 'under consideration'.
Work together
At the conclusion of the Summit, the group agreed to continue to work on the harmonisation framework over the next few weeks with bi-lateral discussions, across a number of fronts:
Further articulate the issues and determine how variants should, or should not, be tolerated;
Refine the harmonisation framework and how to start implementing the agreed principles;
Understand how institutional maturity would be factored into conformance.
The group believed that the framework would strongly benefit the market by providing cost-effective and efficient communications for all adopting market infrastructures and their communities.

For the next milestone, the group agreed to reconvene at Sibos in Singapore, in October, with the aim of finalising an implementation roadmap.
Getting these major market infrastructures to work together is significant. As the tidal wave of projects could become all-consuming, any harmonisation is better than no harmonisation
ISO 20022 harmonisation 'principles'
1. Drive harmonisation by collaborating and coordinating together
2. Increase transparency, raise awareness of conformance and simplify documentation by publishing standards release details (such as message types, message versions, market practice and cut over dates) across the market in a common and consistent manner, using a central platform such as 'MyStandards'
3. Reduce fragmentation by minimising the number of standards release versions that need to be simultaneously supported, and by minimising the number of non-critical 'variants'
4. Increase harmonisation by aligning with the latest message and market practice versions
5. Increase harmonisation by agreeing on the approach for developing and maintaining global market practice, across all segments
6. Increase harmonisation by synchronising the release of new standards versions with the annual cadence of other industry release cycles, such as SWIFT's MT process 
ISO 20022 MI Summit Participants

| | |
| --- | --- |
| 1. APCA | 11.ECB |
| 2. ASX | 12. Euroclear |
| 3. Banca d'Italia | 13. Hong Kong Interbank Clearing |
| 4. Bank of Canada | 14. IPFA |
| 5. Bank of England | 15. JASDEC |
| 6. Canadian Payments Association | 16. NSD |
| 7. Clearstream | 17. SADC |
| 8. Deutsche Bundesbank   | 18. The Clearing House |
| 9. DTCC  | 19. US Federal Reserve |
| 10. EBA  | 20. VP SECURITIES |