Ebury to extend reach of gpi benefits to more consumers, NGOs and SMEs
Ebury has become the first FinTech to go live with SWIFT's global payments innovation (gpi).
The move marks an important milestone for SWIFT gpi with new entrants now joining up in addition to traditional banks, evidencing the widespread appeal of the new service.
Half of gpi payments are credited within 30 minutes, many within seconds – and almost 100% within 24 hours – enabling Ebury's clients to fast-track their international payments. The service also enables the company's end-clients to monitor and track their payments globally in real-time, providing an unprecedented level of visibility, including information about the banks involved in the payment chain and any fees deducted.
Mark Hewlett, Wholesale Banking Relationship Director at Ebury, said: "We have been excited about gpi since the beginning and immediately recognised how it could help improve our value proposition to businesses trading internationally, in particular our NGO and SME customers. It has the additional benefit of improving our own operations; with gpi, our payment confirmations to beneficiaries are showing within minutes, sometimes seconds. We are incredibly pleased to confirm we are now live after going through testing."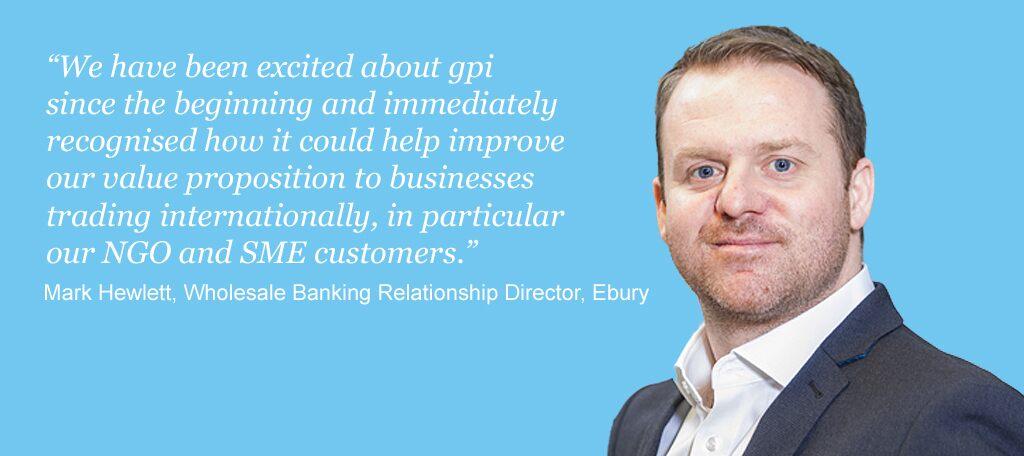 Harry Newman, Head of Banking at SWIFT, said: "It's great to see Ebury up and running on gpi as the first FinTech to offer a transformed and faster cross-border payments experience to their diverse customer base. It's clear that the benefits of gpi are being recognised not just by the global banks and corporates who are already using it, but now FinTechs. Ebury were early to spot the enormous advantages that gpi can bring to customers and have acted fast in completing testing and going live."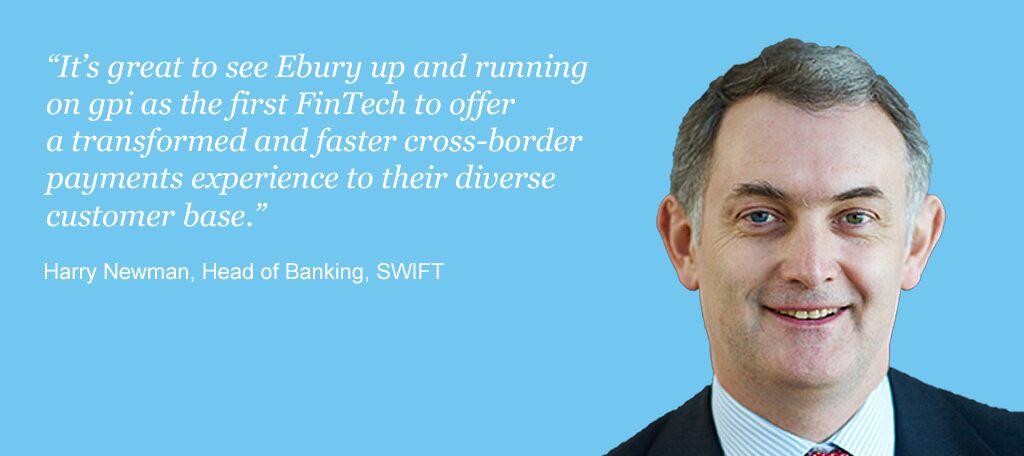 To date, over 200 financial institutions around the world are signed up to SWIFT gpi, with over USD 100 billion in SWIFT gpi payments being sent daily across 500+ international payment corridors – representing over a third of all SWIFT payments.
Following the SWIFT community's recent decision to move ahead with global gpi adoption, SWIFT gpi will be the standard for all cross-border payments by the end of 2020.
In a period of rapid growth and innovation, Ebury became the first FinTech to directly participate in the Faster Payments Scheme in the UK in March, further cementing its competitive positioning as one of the fastest growing FinTechs in the UK.
To find out how SWIFT gpi is transforming cross-border payments, visit www.swift.com/gpi; for more information about Ebury, visit www.ebury.com.