In his new article, Wim Raymaekers, Head of Banking Market at Swift, sets out how in 2019 we're continuing to pave the way towards frictionless cross-border payments
It's been amazing to see just how much, and how quickly, cross-border payments have transformed.
This is due to the efforts of many, and I've had the privilege to work alongside the Swift community of banks, corporates, fintechs, and market infrastructures to drive this transformation.
The results have been incredible.
I'm talking of course about SWIFT gpi and the numbers speak for themselves:
$40 trillion gpi payments sent in 2018
56%+ of all Swift payments are now sent on gpi
All payments on Swift are tracked end-to-end, thanks to the Unique End-to-End Transaction Reference
Same day credit to the end beneficiary of nearly all payments: 50% within 30 minutes; 40% credited within 5 minutes; many in just seconds
More than $300 billion carried over gpi every day across 1,100+ country corridors, representing 80% of all Swift cross-border payments (and growing!)
Tracking payments across 55 networks and market infrastructures
This was unthinkable not so long ago, and shows that Swift is answering the call for greater speed, transparency and tracking of cross-border payments.
We are tirelessly innovating, and our work doesn't stop here.
Bringing gpi to all banks
Throughout 2019, we are continuing in our mission to transform cross-border payments by reaching out to the Swift community and helping them to join the gpi journey. We're doing this by continuing to make it easier than ever for our banks to adopt gpi.
Our aim is to make cross border payments to be as seamless for banks as domestic payments.
Since November 2018, all payments made over Swift can now be tracked from end to end thanks to a Unique End-to-end Transaction Reference (UETR) included in all Swift payment instructions.
Currently, when a payment is received by a gpi bank, those payments are confirmed by a credit transfer, providing end-to-end visibility and tracking to the sender, cutting down on investigations and  improving customer service.
By the end of 2020, all Swift institutions will also be able to confirm inbound payments. To facilitate this, this year we are introducing a simple version of the gpi Tracker. When realised, our 'Tracker for all' vision will help ensure all financial institutions have access to payment tracking and updating capabilities, bringing the benefits of gpi to the whole community.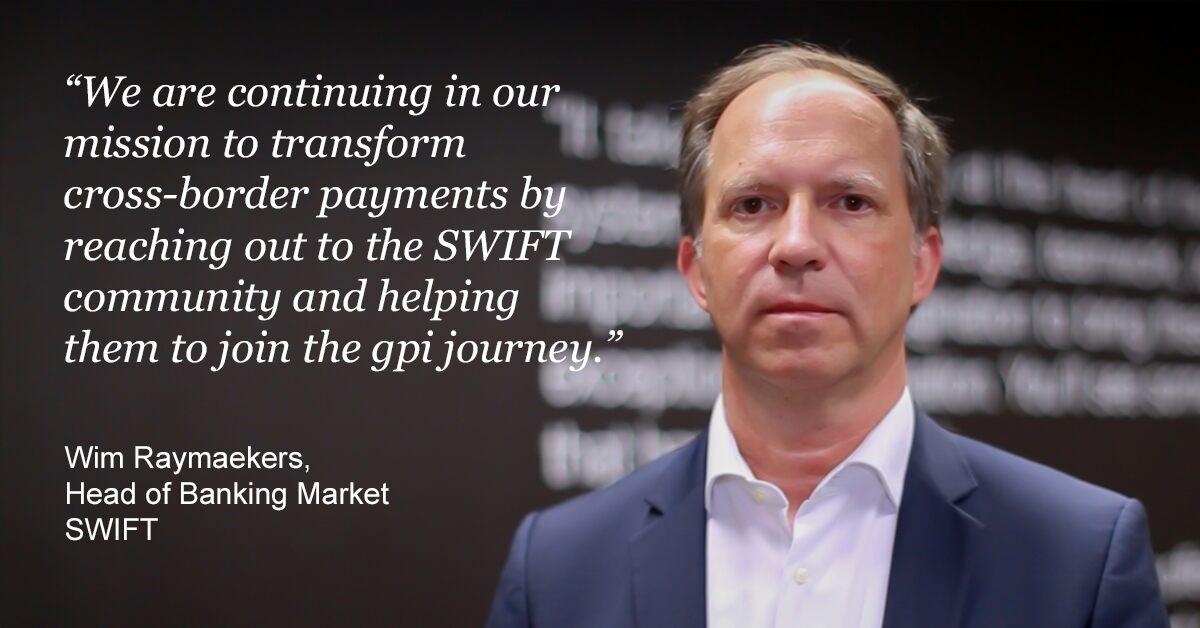 Delivering more value in 2019
We're also continuing to drive new continuous innovative enhancements, reducing friction and expanding the value of gpi along a strategic roadmap, adding value and reducing cost by harnessing the power of Swift.
Letting payments fly
Following feedback from our community, this year will see Swift address one of the major pain points for banks: payments getting stuck in transit due to inaccurate beneficiary account information.
Following the completion of our pre-validation pilot programme later this year, initiating banks will be able to access a real-time API-based mechanism, enabling them to seamlessly check beneficiary account information with the ultimate receiving banks.
As explained by my colleague Marc Delbaere in his article, this will allow banks to remedy any inaccurate or missing information instantly, reducing delays and costs and letting payments fly smoothly across borders.
Removing the friction
Another major pain point we're aiming to tackle is exceptions and investigations. We know through conversations with our customers that chasing up missing payments with counterparties is a source of frustration. It's a labour intensive and costly exercise, which adds complexity and unnecessary process loops into payment transactions.
A new case resolution service, set to launch in H2, will allow gpi banks to easily and quickly investigate payments to get to the bottom of the problem and resolve any issues.
Solving pain points for corporate treasurers
Following the successful pilot programme last year, in mid-2019 we will open up gpi to corporate treasurers.
The pilot project has enabled corporates to initiate and track gpi payments across all of their banking portals through a single window in their treasury management and ERP systems.
Swift will allow major multi-banked corporates to solve some of their key challenges such as improving liquidity management, receiving payment confirmations, optimising payments routes and getting more value out of their banking relationships.
This will also allow banks to offer a more comprehensive service to their corporate customers, offering more transparency and flexibility for corporates initiating payments.
But that's not all. We've seen how gpi is bringing new efficiencies to originating banks through confirmation and end-to-end tracking. By enabling visibility of incoming payments and payment initiation services, however, we will tackle a range of other challenges faced by banks and corporate treasurers around the world.
New horizons
One of our key objectives for gpi is to extend the value of the platform to different ecosystems.
Enabling e-commerce with gpi
As a first step, we recently announced a new proof of concept, which will allow participants involved in closed trade transactions on DLT (and non-DLT) ecosystems to settle the payment leg of their trades using gpi and benefit from fast, secure settlement using a fiat currency.
The first participant in the pilot is blockchain infrastructure provider R3. In partnership with R3, we'll test the link up of gpi with R3's Corda Settler platform, which opens up a whole host of new use cases for gpi. We will also welcome other interested parties, including non-DLT based ecosystems, to partner with us to explore further use cases.
Reaching new markets
In addition, we're continuing to explore the potential of gpi in different use cases and in new markets. Our successful trial linking gpi (via banks) into the domestic real-time system NPP in Australia, showed the power of connecting gpi with major infrastructures.
The trial achieved transit times of under one minute end-to-end and we're continuing discussions with other countries to build similar links. 
This will provide the basis of a retail international payment system operating in near real-time, which will open up a host of new opportunities for banks to be more competitive.
The journey continues
Innovation is like a journey, a path of continuous, relentless and agile improvements. Swift has pursued this path with our community, taking a major leap forward in transforming the cross-border payments experience.
There's still much to be done, and 2019 promises to be a pivotal year in the development of gpi, taking it to the next level to answer the challenges of our community.
I truly believe that gpi is the biggest innovation our industry has seen in decades, and I'm excited about the journey we are on.