Discover how Swift is now supporting over 100,000 legal entities with their bank connectivity
Swift has been helping corporates simplify their multi-bank relationships since 1997, and this month we're celebrating reaching the major milestone of 2,000 corporate groups connected to our network.
Over the past 20 years we've grown to provide almost half the Fortune 500 companies with a reliable, secure and standardised flow of information between them and their banks, whilst boosting operational efficiency, lowering costs, and facilitating increased automation and standardisation across the industry.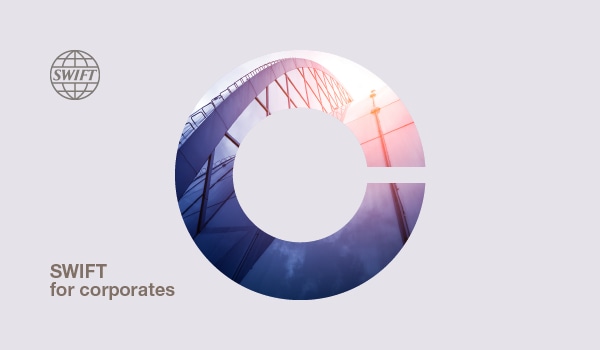 Global standardised messages for corporates
Swift's standardised corporate environment (SCORE), launched in 2007, enables corporates to communicate with multiple banking partners using their own Business Identifier Code (BIC) and global standardised messaging services.
A BIC acts as the global corporate seal for the group. Behind the 2,000 corporate BICs on the Swift network sit an estimated 100,000 unique corporate legal entities, all of which benefit from the standardised flow of information between Swift banks and corporates.
Fostering innovation through collaboration
Throughout the growth of the SCORE model, we have collaborated with banks and corporates on a number of additional value-added services designed for companies working with multiple banking partners in a local or global context.
The most recent example has been the birth and rapid growth of the Swift Global Payments Innovation (gpi). Swift GPI has set a new standard in global cross-border payments, granting corporates access to fast, fully traceable and transparent international payments. And the recent launch of our gpi for Corporates (g4C) standard now allows gpi to be brought directly into corporates' back office environments.
Examples of other services Swift has developed for corporates include:
MyStandards - a web-based tool for banks to ease and speed up bank integrations for their corporate customers
SwiftRef - a standardised source of banking reference data that can be used to increase straight-through processing, minimise payment failures and keep a company's payment systems up to date 
Payment Fraud Controls and Financial Crime Compliance tools to help customers comply with sanctions regulations
Flexible connectivity options
Whilst initially connecting to Swift was only possible for companies with the resources to implement and maintain an on-premises technology stack, cloud technology has significantly lowered those barriers, while still preserving security standards.
Our partners in the treasury management, payments, ERP or trade finance space can also offer embedded Swift bank connectivity as an integral part of their own solutions.   
By providing certainty in uncertain times and by driving innovation to solve industry challenges, we look forward to continuing to service the needs of our corporate users and the financial industry in the spirit of collaboration and community.