Financial inclusion, securities markets and regional harmonisation some of the important topics unpacked in Nairobi.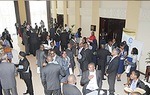 The first SWIFT Business Forum East Africa in Nairobi brought together close to 300 delegates from the financial community to discuss the many opportunities and challenges the region faces. The afternoon's keynote speaker, Ehoumann Kassi, Managing Director, Ecobank East Africa, highlighted the importance of regional harmonisation projects to support the growth of regional trade.
"There is still a lot to achieve, but the momentum for regional trade is building," said Kassi. "Four of the countries in the East African Community, Rwanda, Uganda, Kenya and Burundi, do more trade with each other than any other countries in Africa. We already have a young and growing population, and with Ethiopia and South Sudan, that brings an even more dynamic demographic to the EAC. This, the investment in infrastructure and increasing integration, are a good basis for future growth."
However, there are a lot of challenges too, added Kassi. "We have overlapping of trade blocks. Each member of EAC belongs to another trade block. These may have different trade tariffs and other rules, so this adds layers of complexity. Also, the cost is higher in Africa than in other countries. When you lift a container in Africa, it costs $2000; the same container cost in Asia is $900, we have a long way to go to be more competitive."
Empower regional payments; reduce reliance on the dollar
Kassi also highlighted the region's reliance on the dollar and the additional costs that this adds to business. "We have to find a way to reduce reliance on the dollar and instead bridge the gap between deals conducted in the Burundi franc and Kenyan shilling, for example. The East African Payment System can play a growing role in resolving this challenge for the region."
The session on financial inclusion highlighted its key role as a driver for economic development. Panellists shared examples of where progress has been made in East Africa and how regional players are harnessing technology to drive up financial inclusion rates. However, they also highlighted the gaps in extending financial services to the region's smallholder farmers and extending the reach of mobile microfinance.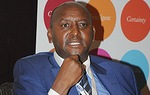 Stephen Mwaura, Head, National Payments System, Central Bank of Kenya, said that the start of successful financial inclusion begins with access to banking services. Here, the industry must be doing something wrong, he cautioned. "In the 100 years that we have been doing banking in Kenya, only 20% of the population has gained access to banking. It makes you wonder whether the system is working properly. When 80% of the population is unbanked you cannot effectively implement monetary policy either," he said. "Access to financial services and inclusion will be the best way of eliminating poverty and banks will have to be more innovative. Perhaps one of biggest impacts of mobile money and mobile payments has been to force banks to be more creative in response."
Banks are indeed working on ambitious projects. Natalie Baatjies, Senior Director, Financial Inclusion, Visa, outlined the company's wide-ranging programme in Rwanda. Through a public-private partnership with the government of Rwanda, the company has taken a holistic approach. "We are working to enable a government and empower a whole nation," said Baatjies.
For example, Visa has put in place a financial literacy programme, established a payment acceptance network - in shops, hotels, garages and supermarkets - and helped the government to increase the number of ATMs from 15 in 2011 to more than 300 today. All the systems are interoperable and accessible by customers of multiple banks.
ATMs & Mobile not the solution for financial exclusion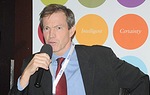 However, John Staley, CFO and Executive Director, Equity Bank, argued that technology is not the answer to the financial exclusion challenge; what people need are access and usability, he said. "ATMs are not the solution for Africa...and neither is mobile the only answer. Here, in the home of mobile money, 98% of transactions are still happening in cash. M-Pesa is largely digitising transactions of $30-40 upwards. Poor people are transacting from $5 down. This is a huge gap," said Staley.
"We made an assumption that poor people have electronic money; they do not," continued Staley. "We have found more success with agents in Kenya and at the moment there are 20000 throughout the country. This is having a huge impact on transactions, which are rising significantly. People need this sort of accessibility. It's not just about giving people bank accounts, it's about giving people accounts that they can use."
The securities markets panel brought together capital markets experts from across East Africa to discuss how to encourage greater levels of intra-regional investment and deepen capital markets. Panel moderator and head of Business Development for Sub-Saharan Africa, Ian Bessarabia, said: "The securities markets in East Africa are growing rapidly, but in order for this growth to be sustainable, it is critical that all stakeholders work together, in order to help the marketplace evolve in a way that improves the efficiency of the market and creates deeper liquidity for the benefit of listed companies and investors."
Crucial role of international standards
The success of the event, the quality of the speakers and the level of engagement by the local community show how much appetite there is in the region to drive change and capitalise on the opportunities.
The panel agreed that financial market infrastructures are an essential part of this story, helping to create a virtuous circle: making markets more accessible and more efficient, reducing transaction costs and eliminating settlement risks. Moreover, speakers highlighted that the adoption of international standards and global best practices by market infrastructures and other players provides comfort to market participants that securities markets are robust and helps to encourage greater levels of investment from domestic and international investors.
James Gikonyo, Head of ICT at Kenya's Central Depository & Settlement Corporation (CDSC) said that CDSC is already working to upgrade its infrastructure. This presents both the CDSC and market participants with a great opportunity to standardise and automate their processes, he said. "As part of the project, CDSC, in consultation with the community, has ensured the changes incorporate global standards and will use the SWIFT network. This not only takes the Kenyan market forward in the right way, but will ensure that Kenya is not left behind when it comes to integration initiatives with other markets. This will help to drive up trading activity on our securities markets. For our domestic operations, CDSC will be SWIFT-ready at go live. This means communication with the Central Bank and custodians will be via SWIFT; other market participants, such as brokers and registrars, will join SWIFT when they are ready."
Geoffrey Maregwa, Head of Operations: Investor Services, CfC Stanbic Bank, said that standardisation and automation are key elements of the bank's approach and central to the success of the bank's platform. "We look at the entire value chain. We ask how do we increase the value of clients' businesses and how can we cut their costs, at the same time as attracting new business to our platform? In response, we have developed an infrastructure that gives clients a seamless working environment, provides a secure and stable infrastructure, at the same time as increasing efficiency. Standardising how we communicate and implementing international standards and best practice are central to that."
Gideon Chokah, Director, Investors & Intermediaries, Transaction Banking, Standard Chartered Bank Kenya, agrees. "Capital markets in this region have some of the greatest growth potential in Africa. My challenge to the market and to the brokerage houses in this room is to make the 'mind shift' to adopting international standards, to adopt SWIFT. That will eliminate manual processes, facilitate more sophisticated services, and enable us to grow the securities markets in a secure and stable way.  Let us take our capital market to where it belongs. That means benchmarking against international standards.
Securities market convergence will support capital markets growth
Others believe that African markets should take a bigger step in order to drive growth. Caleb Musau, Head of Operations and Technology, Nairobi Securities Exchange, argued that African capital markets can learn lessons from other successful markets - greater convergence.
Musau said: "The African Securities Exchange Association (ASEA) is a forum for exchanges and it helps us to see that we need each other more than we thought we did. There is pride in having a national exchange, but, probably, that is not the way to go. In developed markets, the strategy is convergence. Euronext comprises five different national markets. If they have found value in unifying, we have every reason to find value in converging our capital markets in Africa. It will make our markets more attractive and more visible, helping will bring more investors into our markets."
Growing trade corridors 'vital'
Most of the countries in East Africa are amongst the highest movers in terms of SWIFT traffic - with the region as a whole growing by 22.5% versus total SWIFT growth globally of 8.6% for the first four months of this year. Equally, Ecobank's Kassi had earlier noted that they are also some of the highest in terms of trading with each other. The next panel looked at the role of trade corridors and higher levels of intra-regional trade in promoting sustainable growth.
The East African region is mostly experiencing vibrant growth as demonstrated by SWIFT data, with Kenya, Tanzania, Uganda and Rwanda all climbing in our global country rankings in the last year, Uganda and Rwanda by more than 10 places.
Policy makers play a pivotal role in creating the right framework in which trade can flourish and for companies to grow, said Moses Kiptui, Assistant Director & Head, Macroeconomic Analysis, Kenya School of Monetary Studies Research Centre. Central banks too are important. "Central banks can help to mobilise as many retail savings as possible and support the development of capital markets. This will help to provide the capital needed for investment."
Alice Zulu, Senior Group Manager, Trade Finance, Ecobank Kenya, noted that there is strong momentum for integration in East Africa and picked up the theme of corporate growth. Kenyan manufacturing companies, for example, are taking full advantage of the East African Community (EAC) to grow their business with many also using that experience to move beyond the EAC, she said.
Commercial banks must support growth
Commercial banks play a critical role, added Zulu. "There is a huge number of mid-sized corporates that are looking to grow and commercial banks must be there to support them, as these companies are the real engines for growth in the economy.  But banks will have to look beyond traditional offerings as there will not always be enough lending capacity. From a trade perspective, we are looking at more creative ways that we can support customers - using structured trade finance and credit wraps etc - so that we can help these mid-sized companies as they grow."
Asia is an increasingly important trading partner for African countries, with China and other Asian investors also playing a significant role in building the physical infrastructure of trade, including roads and railways.
Paul Mungai, Transactional Products & Services, Head: Trade Finance, Stanbic, says that this investment must support local needs also.  "The trade corridor with Asia is important, but we have to make sure that the infrastructure that is being built not only helps to export our resources but also helps our corporates and citizens to grow their trade with each other and grow their business. We have to move beyond exporting natural resources and add value here. Trade finance is central to helping companies achieve this," said Mungai.
EAPS should replicate SIRESS
In a comment from the audience, Central Bank of Kenya's Mwaura, said it was all very well getting the right infrastructure in place to support regional trade, but market participants have to use it. Reiterating Kassi's call to facilitate local payments, Mwaura bemoaned the fact that, while East African banks could send a payment, in real time, to any commercial bank, anywhere in the EAC using the East African Payment System (EAPS, built on SWIFT infrastructure), volumes remain low because banks still rely heavily on a correspondent banking model.
Compare this to SIRESS [the payment system in the Southern African Development Community], said Mwaura. He ended with a call to action for the banks in the room.
"We in East Africa should be embarrassed. SIRESS recently reached the R1 trillion settlement mark. Direct regional payments are the way to drive up intra-regional trade. SWIFT's Africa White Paper shows the high volume of payments still going via the US while the goods go somewhere else. This is crazy. We must change this. It is commercial banks that have to drive this change but they have to change their mindset and their behaviour.  We have to do this to move forward." 
Related links
Event picturesDownload BF East Africa report (PDF):