Belinvest, one of the largest banks in Belarus, has become the first bank in the country to go live on SWIFT's Global Payments Innovation (gpi), responding to the demand for faster and more transparent cross-border payments.
The SWIFT global payments innovation (SWIFT gpi) is the largest change in cross-border payments over the last 30 years and is the new standard. SWIFT gpi dramatically improves the customer experience in cross-border payments by increasing their speed, transparency and end-to-end tracking. Hundreds of thousands of cross-border payments, totalling over $300bn, are sent every day using the new gpi standard. Payments are made quickly, typically within minutes, even seconds.
"In the age of rapidly changing environment, technological development and decision-making time reduction our clients not only appreciate services availability and their security. The transparency of processes that allow to manage financial flows easily and react to the slightest market changes is also of great importance to them. While pioneering new products and services we create precisely this environment for doing business. We are structuring EcoLogical relations which allow our partners to develop the business of their own" said Andrei Brishtelev, Chairman of the Board, Belinvestbank. "Nowadays thousands of companies worldwide use the possibilities of SWIFT gpi. The service helps to be always well-informed about the location of funds, increases the transparency of settlements. We are pleased that now it has become available for Belarusian manufacturers as well as suppliers of goods and services."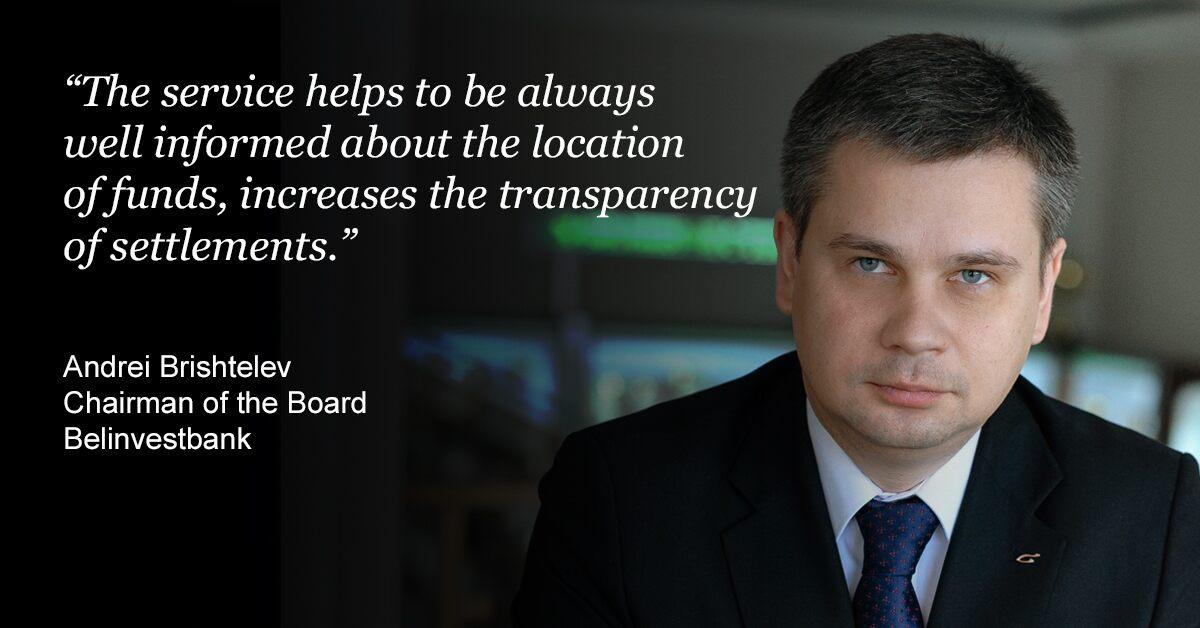 "We are happy to welcome Belinvest as the first bank in Belarus to go live on SWIFT gpi. With new features being added to gpi on an ongoing basis, we are sure that Belinvest's customers will see a marked improvement in their cross-border payments service and be able to reap the benefits of this new standard from day one," said Ekaterina Kalinina, Head of Russia and CIS, SWIFT.
With SWIFT gpi, the correspondent banking community, together with fintechs, corporates, and others, is collectively removing frictions and reducing the costs associated with cross-border payments. Since its launch in January 2017, gpi has dramatically improved the cross-border payments experience for corporates in over 1,100 country corridors. On average, 40% of SWIFT gpi payments are credited to end beneficiaries within 5 minutes. 50% are credited within 30 minutes; 75% within 6 hours; and almost 100% within 24 hours.
Belinvestbank JSC is one of the biggest systemically important banks of the Republic of Belarus. It has a vast regional network and is one of the biggest issuers of bank payment cards in the country. Belinvestbank effectively combines vast experience and traditions that have been cumulated over a 27-year development history with the implementation of modern business practices. More details are available following the link.
Learn more about SWIFT gpi