Less than two years since launch, gpi captures over half of cross-border Swift flows
During 2018, Swift's gpi payments service continued to radically transform correspondent banking. With the support of hundreds of financial institutions, including the world's 60 biggest banks, it is now being used to send hundreds of billions in payments every day – more than half (55%) of Swift's cross-border traffic.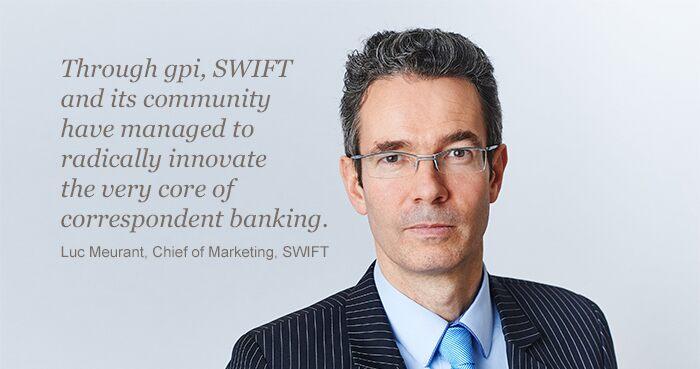 "The pace of its adoption since its launch in early 2017 is particularly impressive; less than two years' since its launch, gpi is rapidly becoming the cross-border standard. It was designed, developed and deployed in record time, and the industry has responded to it with huge enthusiasm, enabling us to move towards universal adoption by the end of 2020." said Luc Meurant, Chief Marketing Officer at Swift.
Already the new standard, Swift GPI has dramatically improved the customer experience in cross-border payments by increasing the speed, transparency and traceability of payments. Swift GPI payments are typically made within minutes or even seconds. Overall, over 50% of Swift GPI payments are credited to end beneficiaries within 30 minutes, and almost 100% of payments within 24 hours. Payments that take longer typically have clear known reasons, such as being subject to payment regulations in the receiving country.
Major milestones in 2018
In addition, Swift announced a number of significant developments and enhancements to the service during the year, including:
This year also saw Swift GPI win three prestigious industry awards. Swift GPI was recognised as Best Payments and Settlement Technology Provider at the Central Banking Awards, the Best Corporate Payments Initiative at the Banking Technology Awards and Best Product Innovation by The Economic Times.
Luc Meurant added: "The increased speed offered by gpi benefits banks as well as their end customers. For banks, it helps to reduce the capital requirements needed to support international payments, while for banks' end customers it frees up cash and enables goods to move faster. The service has dramatically enhanced the customer experience by eliminating many of the issues that have previously led to time-consuming and costly enquiries. The transparency it enables not only reduces the total number of enquiries, but also the time needed to handle those that are left."