The banking and securities communities gather to align on standards and best practices
Over 130 industry experts including banks, central bank, market infrastructures, securities firms, asset management companies, fund companies and corporates gathered in October 2018 at Bursa Malaysia in Kuala Lumpur for the Standards Masterclass. The Masterclass provided an excellent opportunity to network with industry peers and led to fruitful discussions covering the evolutions in financial standards world, the latest developments in the Malaysia market, and ISO 20022 standards for new technologies. The event was held at Bursa Malaysia and it represented the close collaboration between Bursa and SWIFT.
Datin Azalina, Chief Operating Officer at Bursa opened the Standards Masterclass and provided a warm welcome to the participants.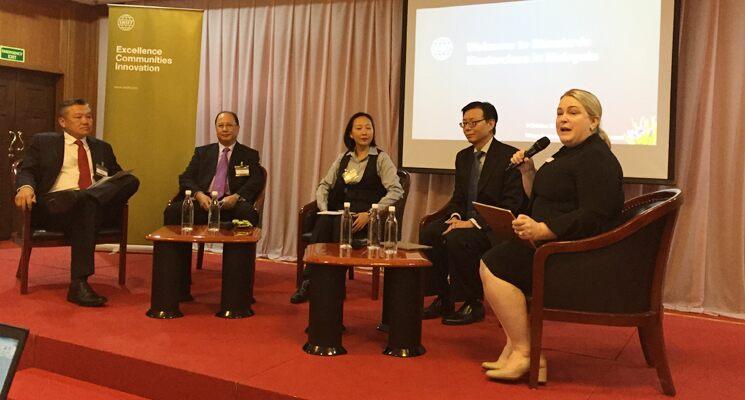 Malaysia Market Updates
Four external panellists, Mr Tay Yu Hui, Acting Director, Market Operations, Bursa Malaysia, Mr Tay Gim Soon, Chief Operating Officer, PayNet, Mr Aloysius Wee, Head of Securities Services, HSBC Malaysia, Mr Thomas Tan, Senior Managing Director, Head of Financial Institution Group, CIMB Bank together with an eloquent moderator, Lisa O'Connor, Head of Standards APAC, SWIFT discussed the latest Standards developments and initiatives in Malaysia. These included adoption of ISO 20022 in initiatives such as retail payments and RTGS, Bursa Malaysia's shortening of settlement cycle to T+2, SWIFT gpi as the new norm for cross-border payments and the improvements it brings to corporates, as well as the emergence of new technologies such as blockchain, cryptocurrencies and data analytics.
Standards Release 2019 Business Highlights and Cat 7 Updates
With SR 2018 being already released, all eyes were on the next standards release 2019 and the impacts they might have on financial institutions and communities. Kiyono Hasaka explained to the audience how some of the changes may impact banks and financial institutions at different levels such as interfaces, back-offices, business flows and processes and asked institutions to start their impact assessment to prepare for the next maintenance of the MT standards release in the best conditions.
ISO 20022 Study
Following the community consultation conducted by SWIFT from April to June this year, the SWIFT board announced in September the decision to migrate cross-border payments and cash to ISO 20022 beginning in November 2021 Cindy Foo also shared that dedicated sessions on ISO 20022 migration would take place at Sibos Sydney. More information on the migration strategy and guidelines will be available in the SWIFT board Information Report in December which will be provided to the community.
ISO 20022 for Emerging Technologies and APIs
As emerging technologies such as distributed ledger technology and APIs are reshaping the financial landscape, Tom Alaerts  presented the industry trends driving these innovations. Through a number of use cases, Tom emphasised the importance of reusing the ISO 20022 dictionary to communicate business concepts and processes clearly in multi-party networked scenes.  This way, no matter the technology used, business concepts remain aligned.
Corporate to Bank in Malaysia and SWIFT Standards Tools
Corporate to Bank (C2B) market practice is a growing topic in Malaysia but also more broadly in the ASEAN region and in particular in the Philippines and Indonesia. An increasing number of international corporates are now requesting banks to accept ISO 20022 as a message standard rather than MT messages. Corporates' demand for multibank coordination of ISO 20022 implementations is driving initiatives such as the Common Global Implementation market practice (CGI-MP).
Corporates and their banks can leverage the CGI-MP as an internationally aligned starting point, eliminating the need to define the C2B standards from scratch.
In the Philippines and Indonesia, C2B working groups have been set up and the resulting practices published. A similar initiative in Malaysia would certainly prove beneficial. Standards tools such as MyStandards and Readiness Portal are also supporting corporate onboarding and are bringing a competitive advantage in the C2B space, since they can cut onboarding time and effort in half.
Bernard Woodruff, Country Manager for Malaysia, SWIFT provided the closing remarks for the event, advising on the importance to be aware of the standards developments and initiatives taking place and taking early actions.