SWIFT's RMB Tracker shows that the Renminbi is the fourth most active currency for payments between India and China/Hong Kong by value while the US dollar continues to dominate the corridor
Brussels, 26 May 2016 – Recent SWIFT data shows that India's use of RMB for payments in value with China and Hong Kong is on the rise, but the country still shows one of the lowest RMB adoption rates among Asian countries, ranked 38th worldwide.
In April 2016, 3.8% of all payments made between India and China / Hong Kong were exchanged in RMB while this was only 0.2% back in April 2014. Since 2014, the Chinese currency moved from position number six to position four for payments by value overtaking the Hong Kong dollar and the British pound. The US dollar, however, continues to lead the corridor with a share of almost 80%, followed by the Indian rupee (7.2%) and the euro (6.3%).
"China has emerged over the last decade to become India's largest trading partner," says Michael Moon, Head of Payments, Asia-Pacific at SWIFT. "As a result, RMB adoption is slowly gaining traction for payments between India and China. Over time, and in line with the growing importance of this emerging trade corridor, we expect to see greater use of the RMB between these two countries. It is an exciting time for the Indian banking community. Not only are they helping to further internationalise the RMB, but are embracing new tools to support trade growth and financial sector globalisation."
Earlier this year, SWIFT and nine Indian banks launched SWIFT India, a joint venture that provides domestic financial messaging service for Indian banks, global banks, securities houses and corporates. SWIFT India will support growth in automation, financial message standardisation, systems and processes for all financial market participants in India. These capabilities encompass all important infrastructure enablers that can support further development of cross-border payments for India.
In April 2016, the RMB fell to position six as global payments currency by value with a share of 1.82%. The Renminbi is now trailing the Canadian dollar with a share of 1.83%, showing a minor gap between the two currencies. Overall, RMB payments value decreased by 7.73% compared to March 2016, whilst in general all payments currencies decreased by 4.60%.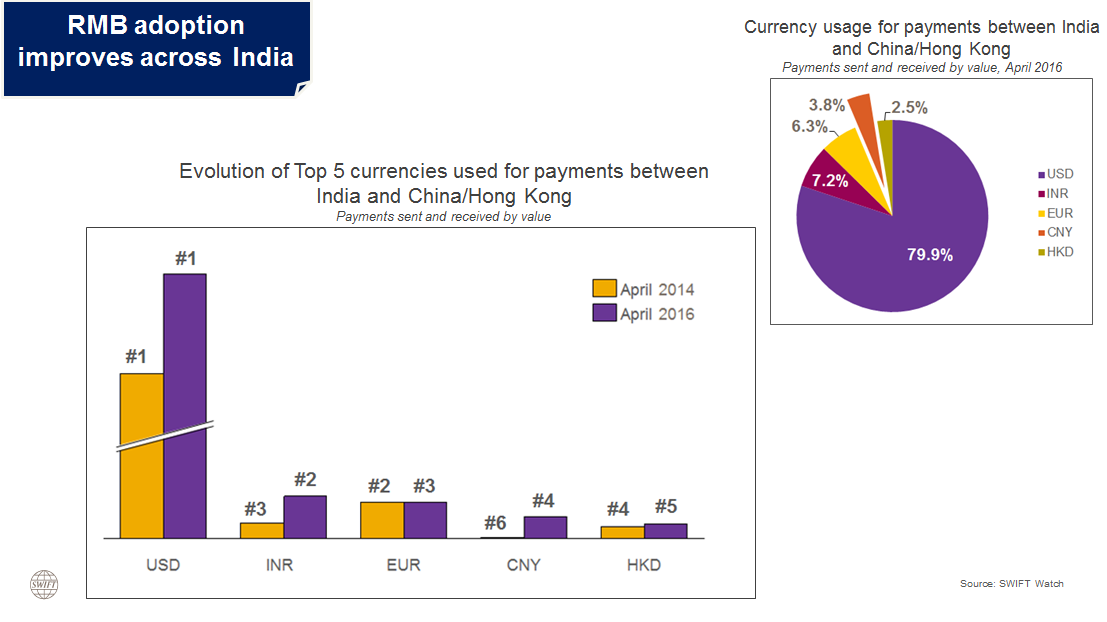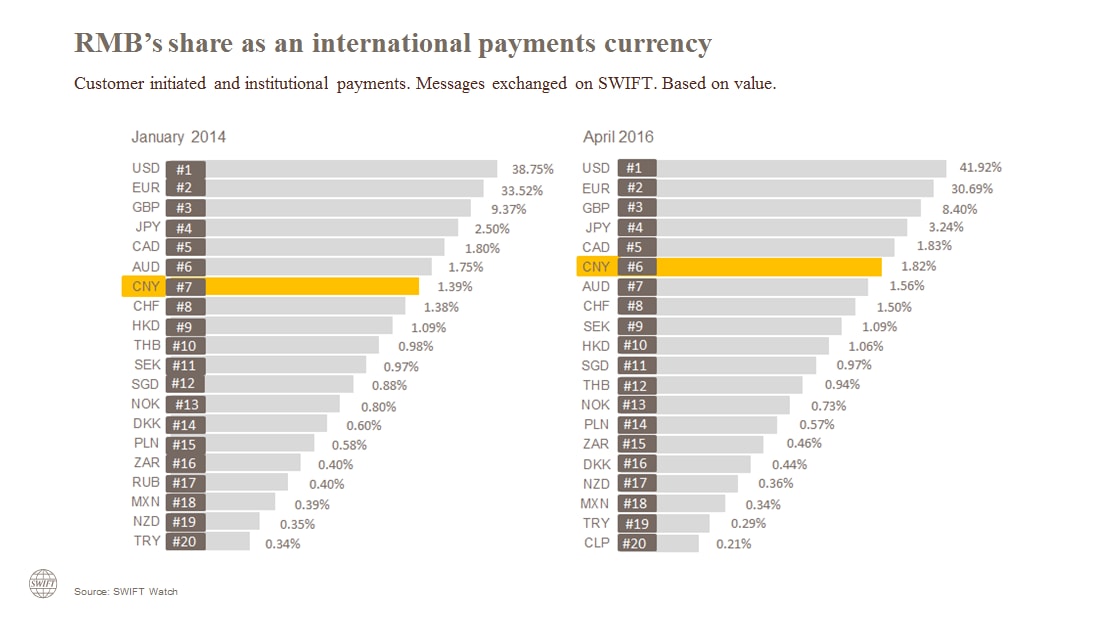 About SWIFT and RMB Internationalisation
Since 2010, SWIFT has actively supported its customers and the financial industry regarding RMB internationalisation through various publications and reports. Through its Business Intelligence Solutions team, SWIFT publishes key adoption statistics in the RMB Tracker, insights on the implications of RMB internationalisation, perspectives on RMB clearing and offshore clearing guidelines, supports bank's commercial RMB product launches and provides in-depth analysis and business intelligence, as well as engaging with offshore clearing centres and the Chinese financial community to support the further internationalisation of the RMB.
The SWIFT network fully supports global RMB transactions, and its messaging services enable Chinese character transportation via Chinese Commercial Code (CCC) in FIN or via Chinese characters in MX (ISO 20022 messages). It offers a suite of dedicated RMB business intelligence products and services to support financial institutions and corporates. In addition, SWIFT collaborates with the community to publish the Offshore and Cross-Border RMB Best Practice Guidelines, which facilitate standardised RMB back office operations.
Please click here for more information about RMB Internationalisation or join our new 'Business Intelligence Transaction Banking' LinkedIn group.
About SWIFT India
SWIFT India Domestic Services Pvt Ltd ("SWIFT India") is a joint venture created by SWIFT SCRL (Society for Worldwide Interbank Financial Telecommunication), the global banking cooperative, and (in alphabetical order) Axis Bank, Bank of Baroda, Bank of India, Canara Bank, HDFC Bank, ICICI Bank, Punjab National Bank, State Bank of India and Union Bank of India, to address domestic market needs of the Indian financial services industry. Based on proven SWIFT technology, the company provides messaging services to domestic market infrastructures, banks and corporates, enabling the financial community to exchange automated, standardised financial information securely and reliably, thereby reducing costs and risks, improving compliance and services to its customers.
For more information, please refer to our website www.swiftindia.org.in.                                 
About SWIFT
SWIFT is a global member-owned cooperative and the world's leading provider of secure financial messaging services.
We provide our community with a platform for messaging and standards for communicating, and we offer products and services to facilitate access and integration, identification, analysis and financial crime compliance.
Our messaging platform, products and services connect more than 11,000 banking and securities organisations, market infrastructures and corporate customers in more than 200 countries and territories, enabling them to communicate securely and exchange standardised financial messages in a reliable way.  As their trusted provider, we facilitate global and local financial flows, support trade and commerce all around the world; we relentlessly pursue operational excellence and continually seek ways to lower costs, reduce risks and eliminate operational inefficiencies.
Headquartered in Belgium, SWIFT's international governance and oversight reinforces the neutral, global character of its cooperative structure. SWIFT's global office network ensures an active presence in all the major financial centres.
For more information, visit www.swift.com or follow us on Twitter: @swiftcommunity and LinkedIn: SWIFT
Contacts:
Cognito
 swift@cognitomedia.com 
+44 (0)20 7426 9400
Disclaimer
SWIFT does not guarantee the fitness for purpose, completeness, or accuracy of the RMB Tracker, and reserves the right to rectify past RMB Tracker data. SWIFT provides the RMB Tracker on an 'as is' basis, and for information purposes only. As a mere informative publication, the RMB Tracker is not meant to provide any recommendation or advice. Any person consulting the RMB Tracker remains solely and fully responsible for all decisions based, in full or in part, on RMB Tracker data. SWIFT disclaims all liability regarding a person's use of the RMB Tracker. The RMB Tracker is a SWIFT publication. SWIFT © 2016. All rights reserved.