Nine startups will compete in Mexico on 29 June and benefit from expert mentoring, in-depth industry feedback and networking opportunities to take their innovative solutions to the next level
This press release is also available in Spanish.
Brussels, 20 June 2016 – Working in close collaboration with Innotribe, over 70 judges from across the financial, technology, and investment communities evaluated close to 50 applications submitted for the first edition of the Startup Challenge in Latin America. These judges were carefully chosen from our 500+ judging pool for their strong expertise on FinTech activity happening in the region. They assessed the startups on their ability to provide an important innovation for the financial industry in the near future and ultimately narrowed the selection process to the following contestants:
| Company description | Country |
| --- | --- |
| Aflore connects 65% of unbanked population in Latam through a network of community financial advisors | Colombia |
| Alegra is a book-keeping application for SME in Latam | Colombia |
| Bayonet has created a global database of consumers payment history to enable companies to make informed decisions around creditworthiness | Mexico |
| BitNexo uses the bitcoin blockchain to clear payments between emerging markets via direct currency conversion | Chile |
| Bitso connects Mexico's traditional banking infrastructure to the new digital era of bitcoin and blockchain for international cross border payments | Mexico |
| Destacame improves access to credit and other financial services for individuals and SMEs currently excluded from the financial system | Chile |
| FOL has created an "online platform" to invest in mutual funds, requiring low value investments and allowing you to compare funds | Chile |
| Quotanda has created a marketplace for student financing, managed by schools to help connect borrowers with lenders | Mexico |
| Seguridad Biométrica de México has created biometric authentication protocols using fingerprints, voice and facial gestures recognition | Mexico |
These companies are now preparing themselves to pitch their innovative solutions in Mexico City on 29 June, during the SWIFT Latin American Regional Conference. Attracting delegates from across the region, this two-day event provides an opportunity to discuss the latest developments in the financial industry and to network with industry peers. This year's conference will focus on Latin America's evolution and transformation. The global picture poses clear opportunities but it also calls for changes that will ultimately ensure the region's competitive prowess. Industry leaders will discuss their vision and aspirations for the region, through a combination of plenary sessions and dedicated streams focusing on payments, securities, technology and regulation.
"The FinTech revolution is well underway in Latin America, with many creative alternatives to traditional banking developed by young and dynamic startups." says Fabian Vandenreydt, Global Head of Securities Markets, Innotribe and the SWIFT Institute at SWIFT. "The Startup Challenge is an enriching experience for every participant as they benefit from expert mentoring and get that much needed exposure to banks and financial institutions. We are delighted to bring the programme to Latin America for the first time this year. It is an exciting step and we look forward to seeing the selected startups in action in Mexico."
As a part of the Startup Challenge, each selected company receives complimentary coaching sessions with seasoned entrepreneurs, venture capitalists and bank representatives who will give them sound advice ahead of the formal pitches taking place on 29 June.
During the showcase, the audience will vote for the three best startups who will be invited to Sibos, SWIFT's annual global financial services conference, taking place from 26-29 September in Geneva. The three finalists will have the opportunity to share the stage with FinTech experts, providing great insights on innovation happening on the ground in Latin America to the financial industry at large. They will also receive a 10,000 USD cash prize each.
For more information about Innotribe and the Startup Challenge, please visit: www.innotribe.com.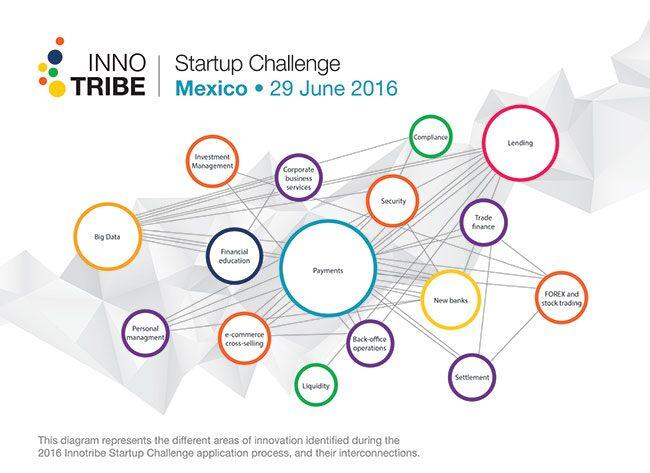 About Innotribe
Launched in 2009, SWIFT Innotribe is about innovation and connecting people, networks and ideas. We bring together global innovators and investors, strategists, and influential decision-makers from leading financial institutions across the globe, providing them early insights into innovations that could disrupt current business models and create opportunities for new ones. Through the Startup Challenge competition, we bridge the gap between the startup ecosystem and the financial service community.
For more information, please visit www.innotribe.com  or follow us on Twitter: @innotribe and Linkedin: Innotribe.
About SWIFT
SWIFT is a global member-owned cooperative and the world's leading provider of secure financial messaging services.
We provide our community with a platform for messaging and standards for communicating, and we offer products and services to facilitate access and integration, identification, analysis and financial crime compliance.
Our messaging platform, products and services connect more than 11,000 banking and securities organisations, market infrastructures and corporate customers in more than 200 countries and territories, enabling them to communicate securely and exchange standardised financial messages in a reliable way.  As their trusted provider, we facilitate global and local financial flows, support trade and commerce all around the world; we relentlessly pursue operational excellence and continually seek ways to lower costs, reduce risks and eliminate operational inefficiencies.
Headquartered in Belgium, SWIFT's international governance and oversight reinforces the neutral, global character of its cooperative structure. SWIFT's global office network ensures an active presence in all the major financial centres.
For more information, visit www.swift.com or follow us on Twitter: @swiftcommunity and LinkedIn: SWIFT
Contacts:
Cognito
swift@cognitomedia.com 
+44 (0)20 7426 9400