A single, standardised source of quality reference data
SWIFTRef provides and maintains all of the information you need to make seamless payments and optimise your business processes.
Thanks to its industry role, SWIFT is uniquely placed to collect reference data from data originators and financial community members. And as the ISO Registry for BIC and IBAN formats and the prime issuer of LEIs, SWIFT is itself a key originator of reference data. Sourced exclusively from authorised data owners, SWIFTRef includes the most accurate reference data.
SWIFTRef for Payments Processing
Send payments with confidence using robust data and comprehensive information
SWIFTRef BIC-LEI Relationship File
Enabling market participants to link and cross-reference the two key entity identifiers
Resource centre
All the information you need to get the most out of your reference data
Maintain and contribute your reference data
Add or complement your organisational reference data on the SWIFTRef database
Contact us
Access Reference Data support from SWIFT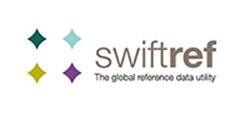 Want to know more about SWIFTRef?
Get in touch with one of our experts and get your questions answered.