Our automated solutions deliver securely and efficiently for your business
As an investment manager, you face many challenges: you're dealing with shrinking margins, expanding asset classes, more counterparties and increasing competition. You're responding to increased risks and growing regulatory demands.
In this environment, strong operational foundations are essential. You need scalable technology solutions that strengthen your business model, give you visibility on your cash and assets and deliver securely and reliably to your counterparties and business partners. You're looking for automation and standardisation to reduce operational risks and deliver cost savings and efficiency. And you want industry solutions to meet financial crime compliance obligations effectively.
We can meet your needs with,  secure and reliable messaging for settlement and reconciliation, corporate actions and collateral management, easy connection and integration options and cost-effective sanction screening.
Let us help you build strong operational foundations that deliver, letting you focus on delivering for your customers.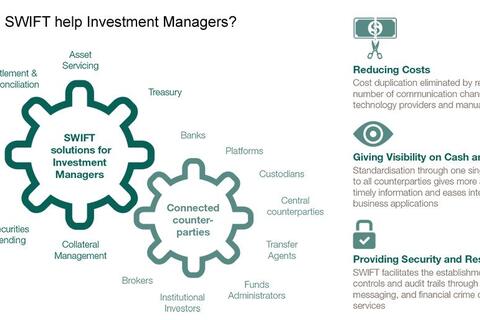 Download the UTI paper
How can a unique transaction identifier for the securities industry help you prevent settlement fails, reduce costs and risk, and improve your customers' experience? Download our paper to find out.
In focus: manage collateral more efficiently
Regulatory changes have increased the requirement for collateral – and the costs and risks of managing collateral for investment firms. Our solutions for collateral management enable secure, timely delivery of standardised messages, enhancing straight-through processing and capturing all your collateral management activity. They cater for all types of collateral, major instruments and markets and cover your collateralisation model, including bilateral, OTC derivative clearing, triparty and central counterparty clearing.
Read more
Discover our messaging solutions for collateral management
We'll help you reduce operational costs and risks
Visibility on your cash and assets
Standards, messaging and automation solutions
Help to meet regulatory requirements