Welcome to the 4th edition of ISO 20022 in bytes. In this edition we've got a deep dive into how the German community is fostering harmonisation and interoperability of payments with CBPR+, by actively engaging in domestic and global working groups.
Despite the unprecedented times we're living through, the mobilisation of the SWIFT community to prepare for the adoption of CBPR+ (and HVPS+ for domestic payment systems) has been remarkable, with more than 60% having started their ISO learning or testing phase, according to a recent readiness report. For ISO 20022, 2021 holds a number of significant milestones - a year of preparation, deployment and testing before the start of the coexistence with go-live of the transaction manager in November 2022.
The voice of the German community
We made it! The CBPR+ ISO 20022 specifications for implementation in November 2022 are now finalised. This process has been months in the making and we, the German community, are very honoured to have been an integral part of this journey towards the new high-value payments world of 2022.
Hear more from Paula Roels, CBPR+ Country Representative, Deutsche Bank, Andreas Schenk, Senior Business Expert, Commerzbank and Ralf Schmidt, Senior Payments Expert, Deutsche Bundesbank.
With the launch of the international Cross-Border Payments and Reporting Plus (CBPR+) group in January 2019, a common platform for payments experts from all over the world was created with the aim to define the future messaging standard in the correspondent banking space. To ensure that all voices are heard, be it on a national or organisational level, local communities have created their own "mirror" CBPR+ groups, taking on the task of providing expert input into the discussion.
The German community has seized this opportunity and has come together in a local CBPR+ group to gather insights and views from the entire country. The group is represented by a variety of local and global German institutions, and even the central bank. Given Europe´s impending migration to ISO 20022, the community has advanced in preparation for the switch and therefore has been able to bring in expert views, contributing to the harmonisation of both ISO 20022 usage guidelines, CBPR+ and User Detailed Functional Specifications (UDFS), and making them interoperable.
In the face of the global shift towards ISO 20022 it is important to act on an opportunity not only to harmonise the payments landscape as much as possible, but also address current pain-points and consider new communication methods and digital services to the benefit of the underlying clients.
"In Europe, we will be pioneering on the ISO 20022 messaging as the Eurosystem/EBA CLEARING migrate in November 2022. This is why we have joined forces and worked collaboratively on the interoperability between the two usage guidelines, as we feel it will be a key influence on the success of the project, avoiding data truncation and diverse data requirements for our clients."
Ralf Schmidt, Senior Payments Expert at Deutsche Bundesbank adds: "Being part of the German CBPR+ group allowed Deutsche Bundesbank to bring in the perspective from its role as a user and service provider of very specific cash management services, e.g. related to cash withdrawals and lodgements, and contribute to the global discussion."
Depending on the country where a transaction is made, it is processed slightly differently. The inter-play between the local CBPR+ groups and the global payments community has helped us look beyond silos and ensure that the expectations of each country are considered when rethinking current processes.
As the final specifications are published, we are witnessing one of the largest moves towards ISO 20022 since the migration programme began. However, the journey is not over yet. We are excited to continue working together on our mission to harmonise the high-value payments landscape, bringing together people, organisations, and countries to form a united payments world.
The transformation in payments
Here is the latest news from the ISO programme.
CBPR+ messages are now baselined for the go-live
The CBPR+ working group has endorsed the final version of the Cross Border Payments and Reporting messages (and translation rules) that will go-live from November 2022.
All usage guidelines have been posted in one single Collection on MyStandards since 31 March. It was agreed that the Collection will be named "CBPR plus ISO 20022 PORTFOLIO – November 2022 – version 2.0". It should be noted that there will be no reference to Phase 1, 2, 3 anymore and the final list of messages that will be available in November 2022 are below:
CBPRPlus-pain.001.001.09_CustomerCreditTransferInitiation
CBPRPlus-pain.002.001.10_CustomerPaymentStatusReport
CBPRPlus-pacs.008.001.08_FIToFICustomerCreditTransfer
CBPRPlus-pacs.008.001.08_STP_FIToFICustomerCreditTransfer
CBPRPlus-pacs.009.001.08_FinancialInstitutionCreditTransfer
CBPRPlus-pacs.009.001.08_COV_FinancialInstitutionCreditTransfer
CBPRPlus-pacs.009.001.08_ADV_FinancialInstitutionCreditTransfer
CBPRPlus-pacs.002.001.10_FIToFIPaymentStatusReport
CBPRPlus-pacs.004.001.09_PaymentReturn
CBPRPlus-pacs.010.001.03_Interbank Direct Debit
CBPRPlus-camt.056.001.08_FIToFIPaymentCancellationRequest
CBPRPlus-camt.029.001.09_ResolutionOfInvestigation
CBPRPlus-camt.060.001.05_AccountReportingRequest
CBPRPlus-camt.052.001.08_BankToCustomerAccountReport
CBPRPlus-camt.053.001.08_BankToCustomerStatement
CBPRPlus-camt.054.001.08_BankToCustomerDebitCreditNotification
CBPRPlus-camt.057.001.06_NotificationToReceive
The MT/MX equivalence table available on MyStandards has been updated to reflect the translation rules available, and the deployment and retirement date of the legacy messages. The CBPR+ Readiness Portal has also been updated. The Translation Portal will be updated by July 2021.
The usage guidelines for the new ISO messages that will replace the MT110, MT111 and MT112 for Cheques and the MT190, MT290, MT191 and MT291 will target implementation in November 2023. These new ISO messages are currently being evaluated by the ISO PaySEG, and the CBPR+ working group has agreed to work on Usage Guidelines of these new messages later in 2021.
Similarly, at the request of the industry, the existing ISO messages covering the Exceptions and Investigations processes (other than the Cancellation Request and the Response) are going through an important review by the ISO PaySEG. Those messages were developed almost 10 years ago and the industry believes they should be modernised before implementation by the CBPR+ community.
SWIFT platform connectivity guidance
We are pleased to confirm the platform connectivity guidance is now published on swift.com. This document provides critical information on the different implementation options available during the coexistence period, starting November 2022 with the go-live of the SWIFT transaction manager. This guide is relevant for your ISO 20022 project and business teams, and describes the design foundation required to achieve SWIFT's vision for instant and frictionless payments through mutualised central services, while facilitating the coexistence period which will end in November 2025.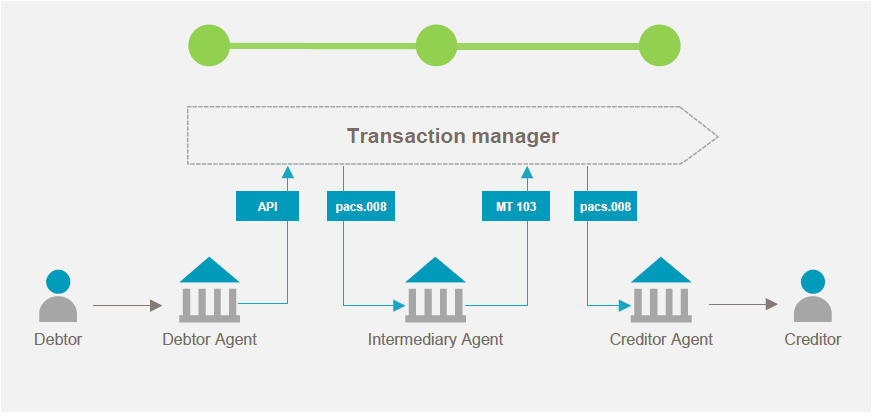 Test Sparring Partner
The Test Sparring Partner (TSP) is an automated testing facility that will support the community in its readiness testing of CBPR+ messages and flows. Playing the role of a fictitious institution on the FINplus Pilot service, it allows users to simulate flows as a Debtor, Creditor or Intermediary Agent for a set of pre-defined test scenarios.
The first version of the CBPR+ TSP allows the testing of pacs flows in sending, receiving and relaying and will be gradually expanded to the other messages part of the CBPR+ migration scope. We are already looking for 'premium' early adopters that want to start benefiting from advanced features in Q2 2021. If you are interested, please reach out to your SWIFT Account Manager.
FINPlus service
The FI-to-FI InterAct messaging service traffic continues to grow, supporting multiple market practices, including the live traffic for the European securities and CSDs regulation, and the pilot services (for test traffic) which was launched in November 2020 for CBPR+.
More than 1800 BICs are registered on the FINPlus service, a pre-requisite to join the CBPR+ Test Sparring Partner service or to complete solo or point-to-point testing.
The chart below reflects the monthly traffic for the 3 FINplus services, including the live (swift.finplus) and two pilots (current and future environments).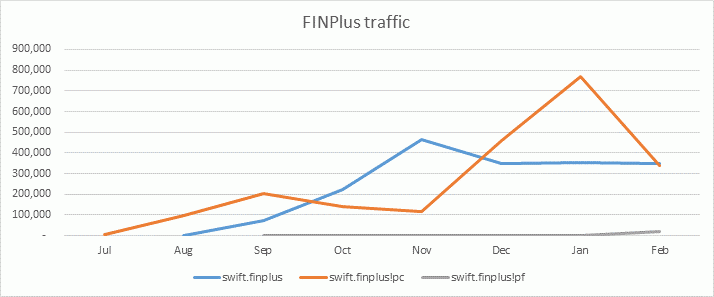 The vendor community
SWIFT is working with the vendor community to enable financial institutions to benefit from ISO 20022. You can read our latest collaboration piece "In focus with ACI: Delivering value beyond compliance with ISO 20022."
SWIFT's Partner Programme continues to provide everything that a third-party Payments application and/or connectivity provider needs to adopt ISO 20022 in compliance with the CBPR+ usage guidelines. All the information, specifications and details of compatibility labels can be found on the Vendor Readiness section of the Programme Hub.
Registered providers that have successfully uploaded CBPR+ compliant messages to the Vendor Readiness Portal can self-attest that their product is 'ISO 20022 CBPR+ ready'. Self-attestation is free and the best way to promote a product's CBPR+ readiness to the global payments community. To date, 61 registered providers are 'ready', and a further 83 are implementing and testing. Self-attested CBPR+ ready providers are listed on the CBPR+ self-attestation page.
If you have any questions about our vendor community programme please contact ISO20022programme.vendor.support@swift.com.
Customer Readiness
2021 is a pivotal year for implementation and testing for customers willing to reap the full benefits of ISO from November 2022 (accelerated for financial institutions with direct participation in Payment Market Infrastructures going live by November 2022).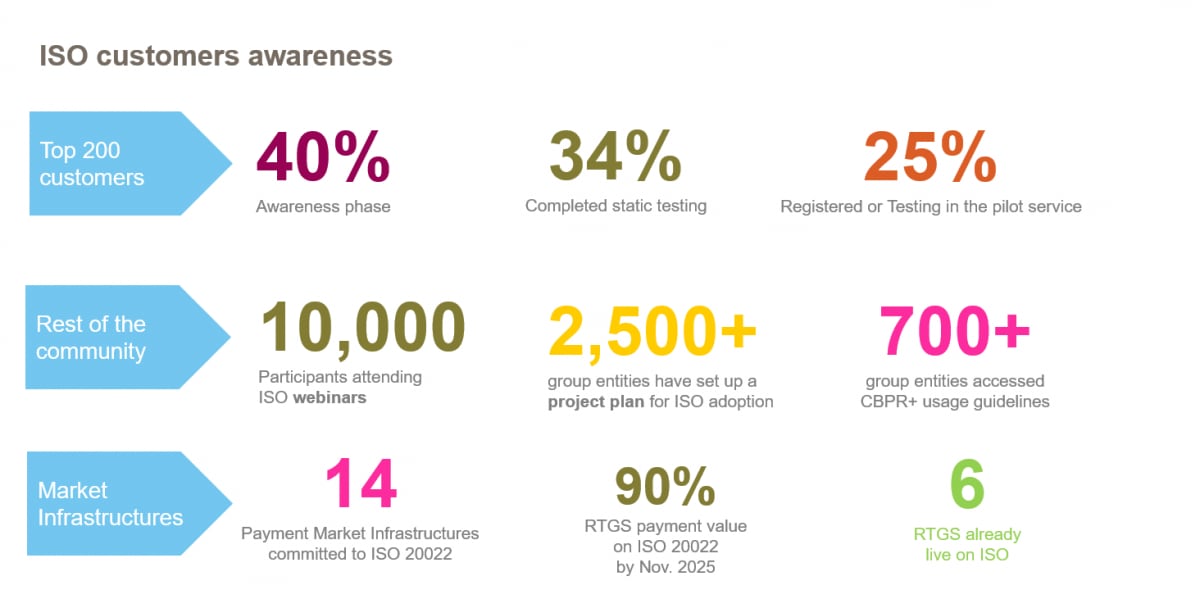 Coming to you
To help keep you up to date with the latest developments of SWIFT's new platform, we ran a series of informative webinars at the end of March. In these sessions, we shared how we plan to transform cross-border payments by making them instant and frictionless, and covered what you need to do to ensure a smooth adoption of the platform. 
The webinars were run in eight different languages to accommodate our global audience. Click the here to catch up on these webinars if you missed them.  
To ensure everyone can benefit from these webinars, we plan to run an additional session on April 22 for our Oceanic community. We will also run another session in Japanese towards the end of April.
As each stage of the ISO 20022 adoption journey gets underway, we'll continue to organise more sessions to ensure your transition is smooth and straightforward. Watch this space – there's more to come.
Update from Latin America
On March 22, Guatemala became the second banking community within LATAM to order ISO 20022 trainings for its entire community. Belize, a rather small community of only four banks, was the first one in February 2021. The decision follows a larger plan of preparation for the upcoming ISO 20022 adoption, which the community felt had to start with some practical skills learning.
The decision to lean onto SWIFT for support was natural. We believe SWIFT is best placed to give us the knowledge and tools needed to achieve a successful and timely ISO adoption. The change will bring more standardisation and automation to cross-border payments that will ultimately benefit the Guatemalan companies and individuals.
The courses are scheduled to start in late May and run through the month of June with several badges of participants being divided in smaller, more manageable learning groups.
Additionally we are reaching out to the regional vendor community with the first semi-annual partner event of 2021 tentatively planned for April. SWIFT will also present our ISO Adoption and Transaction Management Strategy at the Pegasystems Customer Advisory Group.
Lastly SWIFT and Bank of International Settlement (BIS) hosted an Innovation Hackathon March 12 – 19th 2021.
The aim is to discover and build creative solutions using ISO & API's to streamline cross-border payments.