Due to the start of the go-live and the coexistence period for ISO 20022 for CBPR+ changing to 20 March 2023 some of the information in the content is out of date. For more information on the migration to ISO 20022 in payments please visit our readiness page. 
Welcome to the 8th edition of ISO 20022 in bytes, the first for 2022, as we continue supporting our community with ISO 20022 go-live for cross-border payments and reporting (CBPR) and coexistence, starting from November. With nine months to go, this is a key year for all of us as our community engages in preparation, testing and the transition to live activities.
We have now completed a number of the critical CBPR+ programme milestones necessary for financial institutions to ensure readiness by November of this year:
Central messaging and translation services are now available for testing.
The latest CBPR+ market practices and translation libraries have been published.
Messaging interfaces are ready to support MX and new multi-format messages.
A mass provisioning has been completed to ease your journey.
There is more detail to support your readiness activities below.
Standards: Publication and deployment of CBPR+ 2.1
Updated CBPR+ usage guidelines and translation rules that support the new message collection (v2.1) going live in November were published in January on MyStandards, the Readiness Portal and the Translation Portal.
Check in with your vendor: These changes affect all CBPR+ messages, so please make sure your application vendors are compliant with this release to support your next testing cycle.
Deployment on FINplus pilot: CBPR 2.1 will be deployed on the FINplus pilot service on 28 February 2022.
Recommendation on CBPR+ schemas: We've optimised the Schema Export of these usage guidelines to use ISO20022:2013 (v1.5). The only change to CBPR+ schemas is to remove a superfluous xs:sequence around ChoiceComponents. This is a cosmetic change that is fully backwards compatible with previous CBPR+ ISO20022:2004 (v1.0) schemas so no action is required. If you generate CBPR+ schemas from MyStandards, we nonetheless recommend that you regenerate now and compare them with any that you are currently using, to confirm that there's no impact on your existing systems.
Process for future releases: Once the CBPR+ messages start being exchanged in the live service, the release management cycle will follow the yearly standards release process. This is established today on the FIN service for MT messages. The deadline to submit change requests (either at the usage guideline level or base message level) will remain 1 June. Implementation on the Swift Network, FINplus, will take place on the third weekend of November the following year. These requests will need to be approved in line with the Standards Maintenance governance process and potentially ISO 20022, as per the ISO 20022 development timeline.
FINplus/CBPR+: Starting your testing journey 
The In-flow Translation service became available for testing within the FINplus pilot future environment last November. The service will go live in August 2022 on an opt-in basis and on a mass basis in November 2022.   
Mass provisioning completed in January: Customers eligible for the FINplus pilot service were automatically provisioned in the testing service embedding the In-flow Translation service. This subscription was made transparent to facilitate many-to-many CBPR+ industry testing.  
Update and configure your messaging interface: Beyond the above central provisioning to facilitate registrations, FIs need to complete a configuration of their messaging interface. This is in order to be able to process ISO 20022 and multi-format messages. Configuration activities include input/output queues definition, routing rules, RMA relationship, and addressing names and connectivity to SwiftNet. They need to be completed per interface instance.
More information can be found in the Customer Adoption Guide and RMA process.
Recommendation on environment sizing: Swift conducted a performance testing exercise in Q4 2021. The resulting recommendations have been published in the latest Connectivity Pack document. We encourage all customers to evaluate the sizing of their environment based on these updated recommendations, to ensure the necessary resources.
New pricing principles, bringing advantages for early testing, which include:
No charge on CBPR+ traffic exchanged on the FINplus pilot service until the end of 2023.
The In-flow Translation service will be free of charge on the FINplus live service for the first year of coexistence until the end of 2023.
Note: The Swift price list for messaging and solutions will be updated accordingly.
Market Infrastructures
Payments market infrastructures (PMIs) continue to adopt HVPS+ to meet the CBPR+ timelines (an exception is the recent revised timeline to the Bank of England's (CHAPS) ISO 20022 migration project, with a new live date postponed to spring 2023, with a big-bang approach). Today, more than 30 domestic payment systems are planning to go live on ISO 20022 in 2022, while 80 will be live by the end of the coexistence period in November 2025.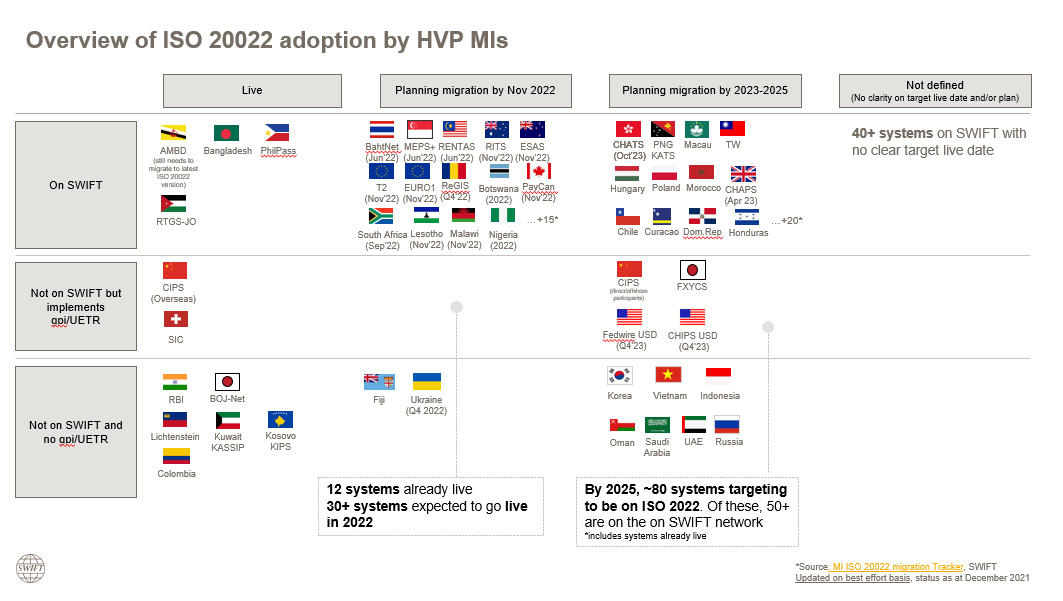 ISO 20022 readiness: Book your free webinar
If you were unable to attend our readiness webinars in 2021, you will have recently received an invitation to join a session as part of our current series, running in February and March. The events will cover the minimum requirements for November 2022. Attendance is highly recommended for those who missed last year's sessions and can also be useful for any others that may appreciate an overview or refresher.
Learn about:
Ensuring readiness for ISO 20022 go-live and coexistence.
The mandatory action to upgrade the messaging interface, and key steps and dates for your testing journey.
All the available support, including documentation, training and testing resources.
Book the webinar of your choice here.
Stay tuned for our next phase of webinars, beginning in March, which will cover the wider testing journey. 
More resources   
November 2022 is the date our payments community is getting ready for. New and updated material to support your readiness journey includes:
For more resources, see the ISO 20022 Customer Adoption Support Page on MySwift (log in required).
And we are continuing to expand our set of e-learning modules and videos.
Visit Swift Smart to find out more
Need further support on the implementation of ISO 20022? Swift Standards Consulting Services can help.