The Banking Insights trade finance dashboard
Get immediate insights into your trade finance performance
The Banking Insights trade finance dashboard provides specific insights, at BIC8 level, into your correspondent banking performance, derived from your unique SWIFT message data. It covers: Collections and cash letters (Category 4) Documentary credits (Letters of Credit) and Guarantees (Category 7).
Once you enter the trade finance dashboard within Banking Insights, simply select the analysis you require.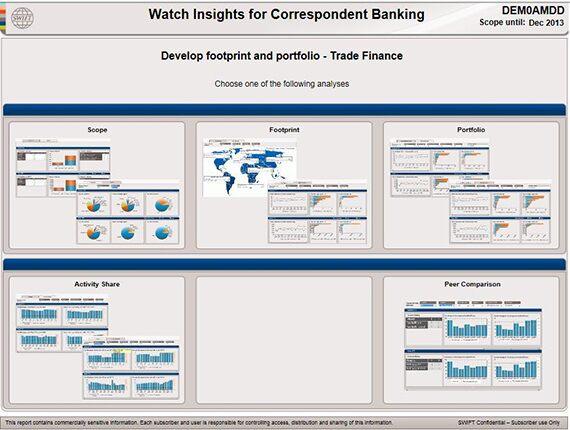 There are five analysis options
Scope analysis shows your total volumes and values over SWIFT, their evolution and your ranking within your BIC8 country compared to SWIFT totals.
Portfolio analysis helps visualise your trade finance data according to currency and message type.
Footprint analysis helps visualise your data according to region and country, displaying the data as an interactive map.
Activity share analysis compares your data to the overall market.
There's also an option to make a comparison against an average peer group.