SWIFT's RMB Tracker shows double-digit growth for cross border payments between several Asia countries and China and Hong Kong
Brussels, 1 September 2015 - SWIFT's latest RMB tracker shows double-digit growth for RMB cross border payments in value compared to July 2014 in several major markets in Asia with China and Hong Kong. According to SWIFT data, six of the top ten countries for RMB payments based on value are located in Asia Pacific. Next to Singapore (+19%), South Korea (+173%) and Taiwan (+45%) showed the greatest increase in RMB payments in value with China and Hong Kong compared to last year.  
As a result, RMB adoption by South Korea and Taiwan for payments with China and Hong increased to 84% and 80%, respectively, for all payments across currencies. Adoption by Australia and Malaysia has also progressed well, to 18% and 15% respectively, whilst RMB usage by Japan (5%) and India (1%) with China and Hong Kong remains marginal. Overall, RMB adoption for payments in Asia has progressed from 24% to 33% in the last year.
"The appointment of clearing centers in Taipei, Singapore, Seoul and more recently Sydney and Kuala Lumpur clearly promotes the use of the currency for global trade and finance across the region", says Michael Moon, Head of Payments, Asia Pacific, at SWIFT. "Japan and India, which are also important countries in the region, are showing a significant increase compared to last year. However, the dominance of the Japanese yen and US dollar for payment flows with China and Hong Kong has a strong impact on RMB adoption rates in those markets, which is still quite low."
Moon adds, "Following the devaluation of the RMB by the People's Bank of China in August 2015, SWIFT will continue to closely monitor the use of the RMB as an international currency for payments and in foreign exchange. At this time it is difficult to ascertain the impact the devaluation has had on the RMB usage for payments with China and Hong Kong." 
In July 2015, the RMB held its position as the fifth most active currency for global payments in value with a record high share of 2.34%, a slight increase from 2.09% in June 2015. Overall, RMB payments increased in value by 8.12% in July 2015, whilst all payments currencies decreased in value by 3.84%.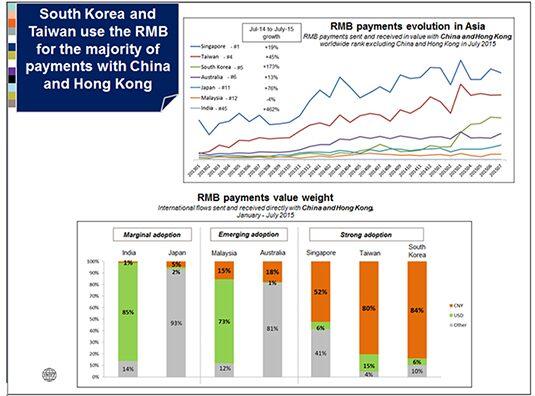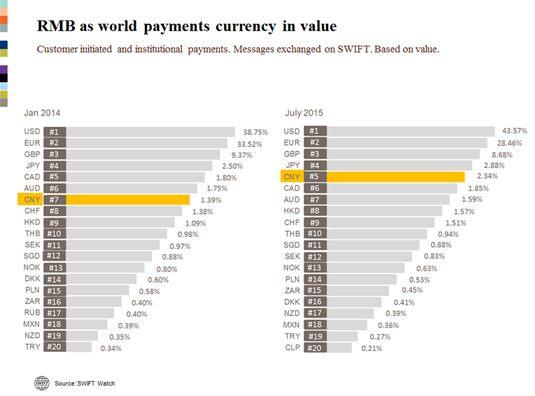 About SWIFT and RMB Internationalisation
Since 2010, SWIFT has actively supported its customers and the financial industry regarding RMB internationalisation through various publications and reports. Through its Business Intelligence Solutions team, SWIFT publishes key adoption statistics in the RMB Tracker, insights on the implications of RMB internationalisation, perspectives on RMB clearing and offshore clearing guidelines, supports bank's commercial RMB product launches and provides in-depth analysis and business intelligence, as well as engaging with offshore clearing centres and the Chinese financial community to support the further internationalisation of the RMB.
The SWIFT network fully supports global RMB transactions, and its messaging services enable Chinese character transportation via Chinese Commercial Code (CCC) in FIN or via Chinese characters in MX (ISO 20022 messages). It offers a suite of dedicated RMB business intelligence products and services to support financial institutions and corporates. In addition, SWIFT collaborates with the community to publish the Offshore and Cross-Border RMB Best Practice Guidelines, which facilitate standardised RMB back office operations.
Please click here for more information about RMB Internationalisation or join our new 'Business Intelligence Transaction Banking' LinkedIn group.
About SWIFT
SWIFT is a member-owned cooperative that provides the communications platform, products and services to connect more than 10,800 banking organisations, securities institutions and corporate customers in over 200 countries and territories. SWIFT enables its users to exchange automated, standardised financial information securely and reliably, thereby lowering costs, reducing operational risk and eliminating operational inefficiencies. SWIFT also brings the financial community together to work collaboratively to shape market practice, define standards and debate issues of mutual interest.

For more information, visit http://www.swift.com/ or follow us on Twitter: @swiftcommunity and LinkedIn: SWIFT
Contacts:
Cognito
swift@cognitomedia.com
+44 (0)20 7426 9400
Disclaimer
This report is provided for information only. If the customer or any third party decides to take any course of action or omission based on this report and/or any conclusion contained therein, they shall do so at their own risk and SWIFT shall not be liable for any loss or damage, arising from their acts or omissions based on this report and/or any recommendations contained therein.