Your solution for instant payments
Discover how we are simplifying Instant Payments across the globe
Swift recently designed, built and implemented Australia's New Payments Platform (NPP). Having successfully delivered this project, we are now redeploying many elements of this system to support other markets looking to offer an instant payment solution.  
Multiple clearing and settlement mechanism connectivity 
In November 2018 SwiftNet Instant will go live, enabling seamless connectivity to multiple clearing and settlement mechanisms (CSMs). This means customers will not have to build bespoke links to each system but will have access through a single user interface to multiple instant payments systems in Europe for both domestic and cross-border payments. This will include the TARGET Instant Payment Settlement (TIPS), commissioned by the Eurosystem, and RT-1, the instant payment service offered by EBA CLEARING.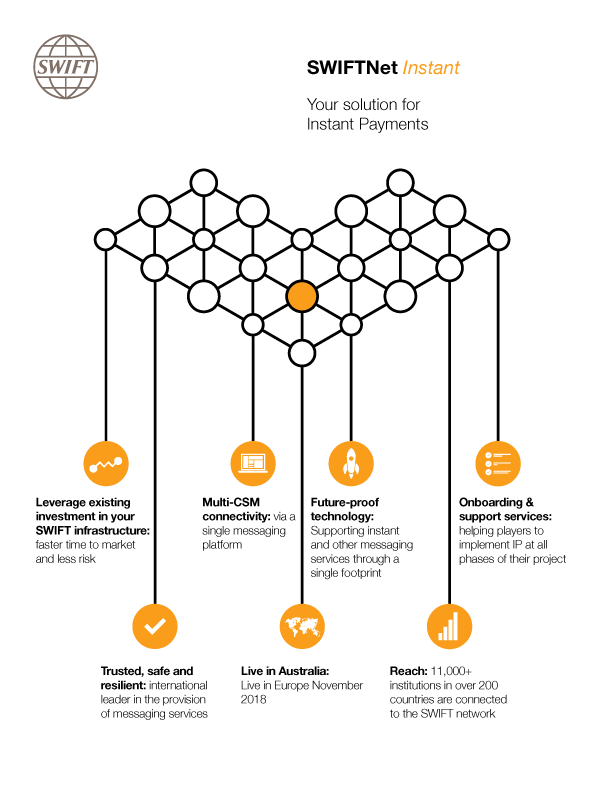 Leverage your existing Swift infrastructure
The Swift user community will be able to transition to instant payments simply and smoothly by leveraging existing investment in their Swift infrastructure. They will also have the reassurance of working with known and trusted processes and for both existing and new customers, we will offer complete on-boarding services to reduce risk and manage costs.  
Future-proof solution
Swift is committed to the future vision of the Eurosystem Market Infrastructure Gateway (ESMIG). The aim of ESMIG is to integrate both the high value payments system (TARGET2) and the securities settlement platform (TARGET2-Securities), with TIPS, so users have a single window into central bank money across cash and securities. Migration to this single European gateway will be one of the most crucial tasks facing European banks and other financial institutions in the coming years. By implementing SwiftNet Instant, customers will be future proofed and ready for this development.
Swift also offers unparalleled reach. We are connected to more than 11,000 banking and securities organisations, market infrastructures and corporate customers in over 200 countries and territories. This puts us in a unique position to deliver the infrastructure necessary to facilitate instant payments efficiently and with minimal integration required for institutions already connected to the Swift network. 
By choosing SwiftNet Instant you can benefit from a proven future-proof solution, delivered by experts. 
Customers can also benefit from the added value of Swift's wider network of products and services connected to our instant payments solutions, including our Customer Security Programme (CSP) and global payments innovation (gpi).