The SWIFT ecosystem of registered application and connectivity providers will play a key role in enabling our strategy to provide frictionless and instant transactions from account to another, anywhere in the world.
Registered application and connectivity providers will be able to build capabilities on the SWIFT platform to support a set of common transaction processing services, such as pre-validation of essential data, sanctions screening, fraud detection, data analytics, transaction tracking and exception case management - mutualising capabilities that today are typically provided, and invested in, by each financial institution individually. By bringing together data and common services, we aim to significantly improve end-to-end efficiency and reduce total costs, while bringing new business value to end customers with faster, more reliable transactions and better, richer data.
More information
Log in to mySWIFT to download the SWIFT platform evolution: Connectivity guidance info paper to find out more about our platform approach.
Register here for the monthly Global Vendor Webinar where you can hear about the latest on transaction management for application or connectivity providers.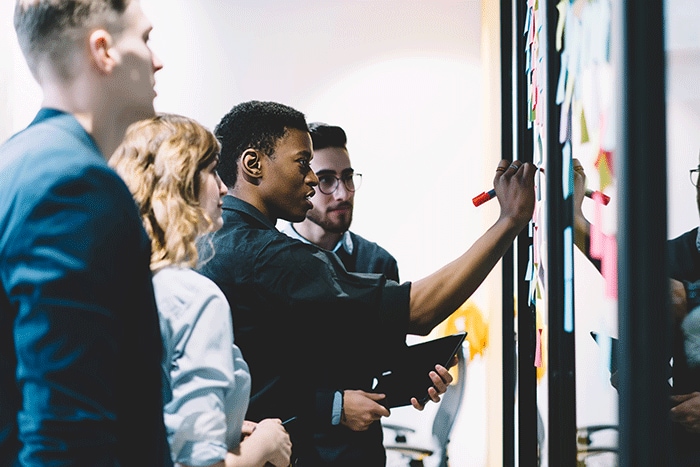 What do Partners need to do for go-live in November 2022?
To help unlock the huge opportunities for our community, registered application and connectivity providers will be required to support key enabling capabilities from November 2022 onwards.
Connectivity providers (interface and/or service bureau)
Interface providers must adhere to the SWIFT Compatible Interface specifications*
Service Bureau providers must adhere to the Shared Infrastructure Programme T&Cs and the Provider Security Controls Framework
In summary, they must support ISO 20022 and the multi-format message
Work with your customers / end users to ensure they can receive and process the output from the interface / service bureau
*Specifications are only available to providers who have bought a SNL Developer license or a SAG Developer license to develop a messaging interface
All Business Applications
Check that your connectivity solution supports FINplus and multi-format message handling

If using a SWIFT connectivity solution:

SWIFT Alliance Access v7.6+
Alliance Messaging Hub v4.2+

If using a third-party connectivity solution, please contact the provider to understand their release plan

Ensure your application(s) can receive and process the output from the connectivity solution
API Enabled Business Applications
Transaction management services are enabled by Software Development Kits (SDK) and/or the Microgateway
Register on the SWIFT Developer Portal
Your account must be approved (subject to screening undertaken by SWIFT)
Decide if the SDK and/or Microgateway is the right solution for you and your client
Download SWIFT SDK 1.0.8 / Microgateway 1.0.6
Request consumerKey/consumerSecret for the APIs supported by the SWIFT SDK/Microgateway on the SWIFT Developer Portal and proceed according the SWIFT SDK Configuration Guide / Microgateway Getting Started Guide
You can find the APIs in the API Catalogue and a number of API use cases in the API Playground to help you find the APIs that best suit your needs
Once you create an app, its status will be set to "Sandbox" and its credentials can be used to access API products in the Sandbox environment
Make calls to APIs in the Sandbox
Promote your app to live (full details here)
ISO 20022
ISO 20022 is the new global language for payments messaging. Already used by payment systems in over 70 countries, in the coming years it will be the de facto standard for high-value payment systems of all reserve currencies, supporting 80% of global volumes and 87% of value of transactions worldwide.
By creating a common language and model for payments data, ISO 20022 significantly improves the quality of data across the payments ecosystem. Richer, structured, meaningful data will enable new client experiences, while improving compliance and efficiency.
All the information and specifications needed to adopt ISO 20022 can be found on the ISO 20022 vendor landing page.
SWIFT gpi
SWIFT gpi enables financial institutions to send and receive funds quickly and securely to anyone, anywhere in the world, with full transparency over where a payment is at any given moment. SWIFT gpi dramatically improves cross-border payments across the correspondent banking network, providing certainty and a smooth international payments experience.
All the information and specifications needed to support SWIFT gpi can be found here.
This webpage will be updated shortly. In the meantime, the SWIFT Release timeline can be found here.