SWIFT's Value-Added Network (VAN) solution for T2S
Introduction
SWIFT's Value-Added Network (VAN) Solution for T2S defines the components required by users connecting directly to T2S to access the T2S platform through SWIFT.
SWIFT's VAN Solution for T2S is based on existing services and products. These include SWIFTNet messaging (Browse, InterAct and FileAct), PKI certificates and related security management, security equipment, Alliance Connect Packs, lines and related equipment, Alliance Gateway, and SWIFTNet Link.
Customers can decide to:
Deploy a non-dedicated connectivity infrastructure to use for T2S operations and other purposes
Implement a dedicated infrastructure
Outsource their T2S operations
SWIFT shields customers from the proprietary T2S communication protocol by running, in its operating centres, a T2S gateway that allows customers to use the existing SWIFTNet messaging services. Some specific rules apply when using the SWIFTNet messaging services to access the T2S platform.
The T2S platform uses ISO 20022 messages. Specific to the T2S implementation of ISO 20022 is the usage of payload signing with a PKI certificate.
Perimeter and main components of SWIFT's VAN Solution for T2S
Customers may choose to subscribe just to Browse for the screen-based (GUI) access to T2S. SWIFT provides this access in line with the specific T2S requirements. This includes, for example, the mandatory use of personal tokens that contain the end-user's certificates.
When subscribing to SWIFT's VAN Solution for T2S, the customer automatically benefits from the SWIFT Support Module for T2S, which provides relevant operational information and helps to solve critical technical problems faster.
Specific service levels related to the provision and the use of SWIFT's VAN Solution for T2S apply, for which the customer is entitled to specific Key Performance Indicators (KPIs), defined by the T2S requirements.
Detailed information about the features and functions of SWIFT's VAN Solution for T2S are provided in the related Service Description. A copy is available upon request to those customers that intend to become a Directly Connected Actor in T2S, and who are considering using or will use SWIFT as their VAN provider. For more information, please contact your SWIFT account manager.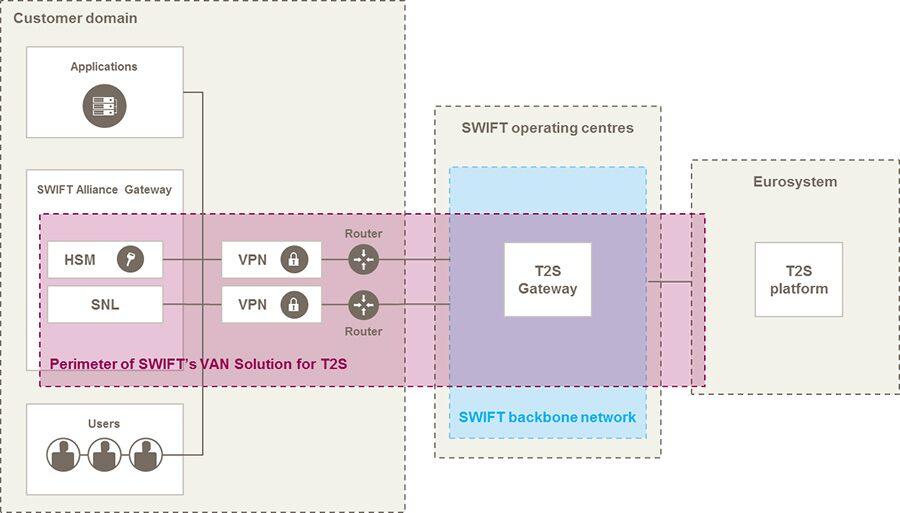 Documentation for SWIFT VAN users
Access to the following documents is restricted to subscribed users of SWIFT's VAN Solution for T2S and who have 'T2S operational support' in their profile.