Other products and services for T2S
Introduction
SWIFT's VAN Solution offers the technical infrastructure to exchange data with T2S. SWIFT also offers applications to handle the T2S flows and provides a suite of services to help prepare and implement T2S.
Alliance Portfolio
Organisations can opt to build their complete connectivity infrastructure based on the Alliance Portfolio, which complements SWIFT's VAN Solution for T2S with products from SWIFT. We offer products that support a complete messaging solution for T2S, right from the connectivity gateway up to the T2S enabled integration layer with back-office applications.
Alliance Access is our prime messaging interface allowing the exchange of messages and files with T2S over SWIFT. It enables the connection of single or multiple destinations with maximum automation of system management tasks. Even though standard SWIFT protocols are used over SWIFT for T2S, an additional set of T2S requirements apply to the messages. Alliance Access provides all the necessary services to allow a back-office application to integrate with T2S over SWIFTNet.
This integration work can also be shielded from the user by the Connector for T2S module in Alliance Access, which allows back-office applications to exchange T2S payload information only; you can rely on Alliance Access to handle the communication with T2S (creation of message headers, signature generation and verification, compression and decompression, handling of oversize and time-out for queries, etc.).
Connector for T2S is a module built on the Alliance Access Integration Platform that runs inside Alliance Access. The Integration Platform also enables the building of other functionalities that could help simplify the communication with back-office systems, such as message format transformation from ISO 15022 to ISO 20022.
The SWIFT Consulting Services team are experts in managing SWIFT integration projects and are well placed to deliver the right solution for you.
Alliance Gateway is our communication interface, which shields the application and messaging components from the network connectivity. It can concentrate and manage the message flows through one single interface, connecting to the SWIFT network via SWIFTNet Link instance, which takes care of the lower level protocol stack. SWIFTNet Link is part of SWIFT's VAN Solution for T2S.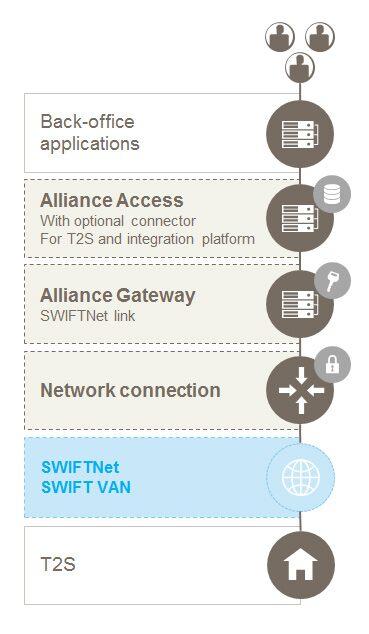 SWIFT Services for T2S
SWIFT offers a full range of services to ensure a smooth transition to the T2S environment. From the analysis stage through to implementation, integration of ISO 20022 standards, testing and migration all the way to live operations.
Our services cover:
SWIFT Training, including web classes, classroom courses and onsite training on T2S and T2S ISO messages for securities settlement and management, liquidity and collateral management.
Preparation workshops examining the background to T2S, presenting the general principles and providing an overview of likely impact.
Standards Consulting Services, providing a review of flows and messages, as well as message quality assessment including gap analysis, and using MyStandards, the collaborative web platform via which to capture, document and share standards usage guidelines.
Impact Assessment Studies providing a review of areas impacted by T2S from an operational and infrastructure/interface standpoint, a 'heat map' for immediate action review and total cost of ownership (TCO) analysis.
Integration and Installation Services covering functional analysis, technical design, development, testing and go-live assistance.
Testing Services helping you prepare readiness for T2S User Testing, both for Business and Technical testing.
Project Management Services, including end-to-end project management of SWIFT related projects for T2S.
Services to help you manage your customer community readiness. These include training, message impact assessments, standards documentation.
Consult Standards for T2S to find out more about MyStandards and the MyStandards Readiness Portal for T2S.