The SWIFT gpi customer credit transfer
Key features
The gpi customer credit transfer SLA dramatically improves the business-to-business cross-border payments experience for corporate customers. It commits participating banks to deliver on four core principles:
Faster, same-day use of funds *
Same day use of funds is increasingly the norm for domestic payments systems and corporates are naturally demanding similar service levels for their cross-border payments.
Corporates want the ability to pay with precision, according to their trading agreements, without having cash trapped in the payment cycle – and without risk of penalties for late payments.  
The gpi customer credit transfer delivers same day use with certainty. The benefits are clear – improved liquidity, reduced cost of working capital and reduced risks.
(*) within the timezone of the receiving gpi member
Traceability
The gpi customer credit transfer also provides end-to-end traceability of payments . The payer receives positive confirmation that their supplier or counterparty's account has been credited, improving supply chain communications and efficiency.  SWIFT gpi includes a Tracker 'in the cloud' allowing banks to track the status of payments across markets and geographies.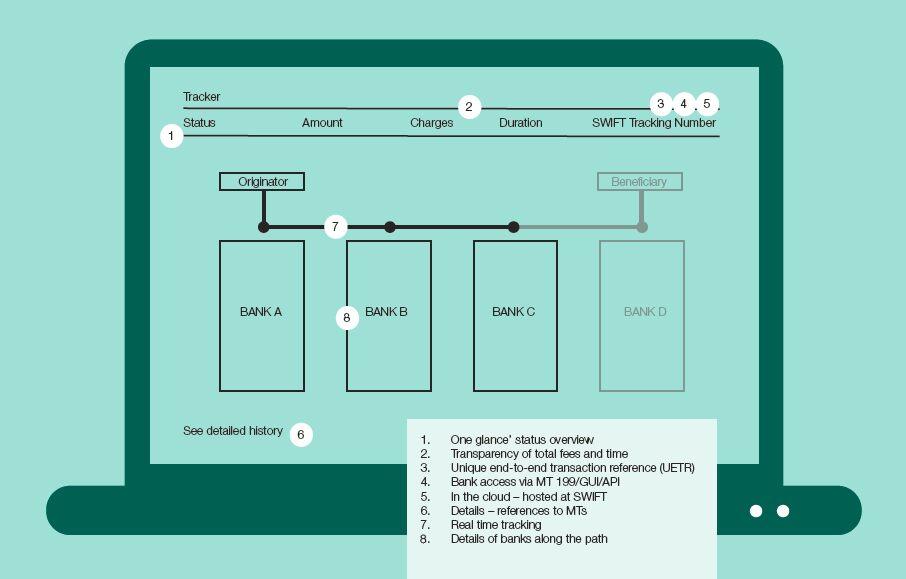 Transparency
Lack of transparency around fee deducts also reduces efficiency for corporates and can lead to supplier disputes and reconciliation issues when payments are not received in full. The gpi customer credit transfer puts an end to these uncertainties by delivering full transparency of fees.
Remittance information transferred unaltered
The gpi customer credit transfer enables corporates to include  up to 140 characters of remittance information which is carried unaltered across the payments process. This facilitates reconciliation of payments and prompt posting to accounts, improving working capital efficiency and reducing errors and investigations.