Browse securely using SWIFT
With Browse, you can access web services securely over your existing SWIFT infrastructure with session integrity, confidentiality protection, strong user authentication and non-repudiation - avoiding the need for costly proprietary communication channels.
Deliver online services securely and cost-effectively
Browse enhances the delivery of your existing or new online services to your customers and makes connection easier, more secure and more reliable. The content of your existing services can remain unchanged, so end-users see exactly the same screens and content as before.
With no need for proprietary channels, Rolling out new services is faster and more cost-effective, and it's also simpler for end-users to access services – helping you to increase client reach.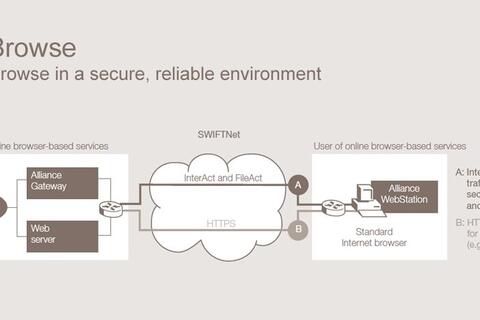 Integration with InterAct and FileAct
Sensitive business transactions can be exchanged using InterAct and FileAct and benefit from high security, reliability and central message validation.
Closed user group control
Service providers control all Browse exchanges via a Member Administered Closed User Group.
Single URL for resiliency
Service providers may choose to operate multiple web servers for a service accessed through a single URL service name. This set-up provides web server resilience, which is transparent to end-users