Your easy online access to Entity Reference Data
Onboarding, risk management and compliance departments  need to collect and validate a series of key information on the institution's existing and future business counterparties.
This information needs to be standardised, actionable and easy to understand in order to to compare entities effectively.
Whether you are a financial institution or a corporate, Bankers World Online ENTITY allows you to:
Get a single and consistent way of looking at all entities
Prospect and assess new potential business counterparties
Verify and validate information on existing business counterparties
Perform basic due diligence on entities
Benefits
Easy access through our secure online platform
Single source for look-ups on accurate and always up-to-date global entity data
Direct link to KYC Registry and Bankers World Online REACH (for payments data)
Features
Find out what issues you can solve with this directory, and what kind of information it includes.
Document centre
Find all the resources related to this directory in one place, from fact sheets and case studies to support documentation.
Request trial access
Try the SWIFTRef Global Payments Reference Data Utility for free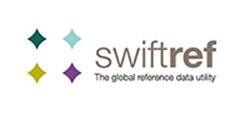 Want to know more about SWIFTRef?
Get in touch with one of our experts and get your questions answered.