Take transaction screening off your worry list
Real-time, up-to-date screening
With SWIFT's Sanctions Screening, your messages are screened in real-time against up-to-date and comprehensive sanctions lists. We host, manage and maintain the screening engine, including a range of logical tests (to detect misspellings, abbreviations and phonetic similarities) and sensitivity thresholds. And we maintain some 30 sanctions lists from all the major regulatory bodies, so you can rest assured your screening is always compliant with the latest requirements.
Ready to deploy and use
Because Sanctions Screening is a fully-managed service, with no infrastructure required on your side, your institution can be up and running quickly. We take care of the technical complexity, leaving you free to act on the results.
SWIFT's Sanctions Screening is an easy-to-implement, user-friendly and cost-effective service that gives our anti-money laundering programme added assurance. SWIFT provides the tool that enables us to mitigate potential risks in our day-to-day business.
Flexible set-up and reporting options
You can choose real-time screening of all structured message formats, (including FIN, ISO 20022, SEPA and non-SWIFT formats) or opt for just your incoming and outgoing FIN messages.
To ensure you can handle flagged messages in line with your overall compliance and operational processes, the filter can be set to block all suspicious transactions for investigation, or to alert you to matches without blocking delivery. There's also a choice of standard or "four-eyes" workflow options.
You select the sanctions lists you want applied, and you can add your own private lists as needed.
We've also built in automatic monthly reporting along with the audit requirements you need: a trail of all configuration choices, actions and decisions; screening parameters; most relevant matches; and sanctions lists content.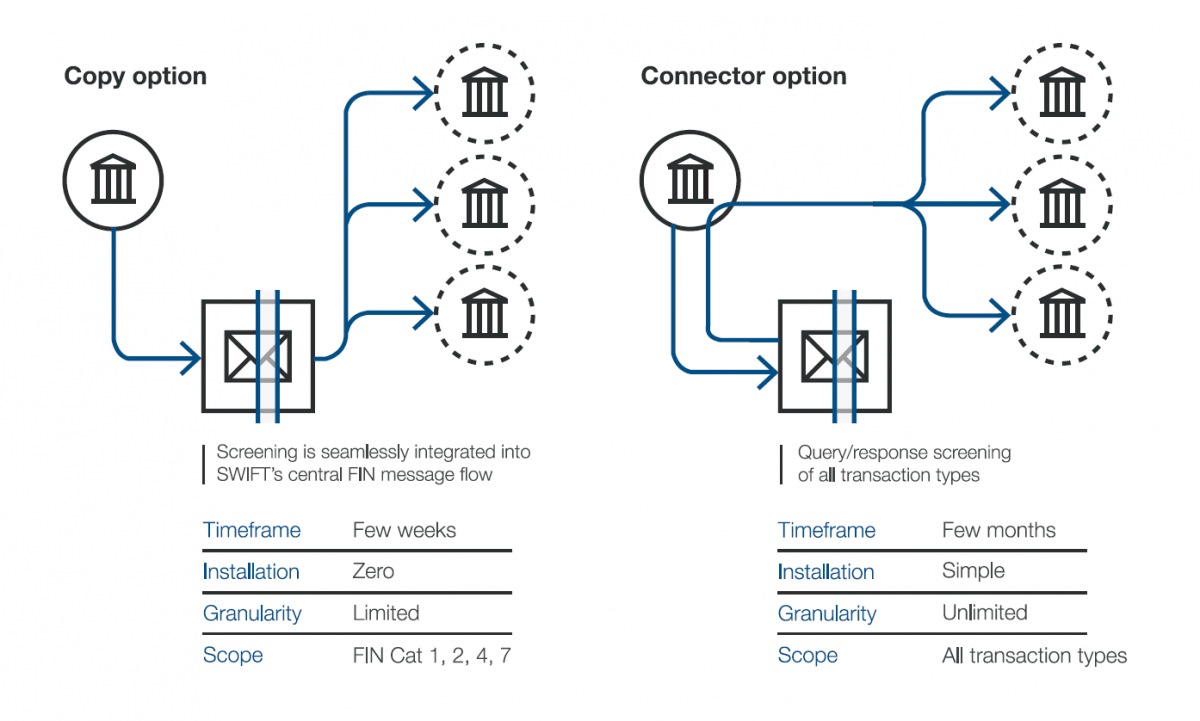 Independent quality assurance
For added reassurance, SWIFT has commissioned regular independent reviews of the effectiveness of Sanctions Screening. These reports provide transparency around filter capabilities and generic and user-specific filter configuration settings. The independent reports are available to users.