Memorandum of understanding cements cyber security cooperation
Brussels, 30 November 2016 – SWIFT and Fox-IT announce the signing of a memorandum of understanding to reconfirm their cooperation to combat cyber security challenges affecting the global financial community.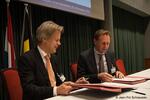 In the framework of the Belgian state visit to the Netherlands, SWIFT and Fox-IT signed a memorandum of understanding which cements their commitment to support SWIFT's cyber security efforts. The signing was attended by Minister-President Geert Bourgois, Minister-President Rudi Vervoort, and Secretary of State Pieter De Crem from Belgium, as well as of Minister for Foreign Trade and Development Cooperation Liliane Ploumen, from the Netherlands.
Fox-IT is working closely with SWIFT on cyber security and, together with BAE Systems, is supporting SWIFT in the implementation of the cooperative's Customer Security Programme (CSP).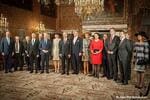 SWIFT's Customer Security Programme, which launched in June 2016, is a dedicated initiative designed to reinforce and evolve the security of global banking, consolidating and building upon existing SWIFT and industry efforts. Together with BAE Systems, Fox-IT is working closely with SWIFT's Customer Security Intelligence team to build out the co-operative's customer security information sharing initiative.
Under the information sharing initiative, the group investigates customer security incidents and supports customers' own investigations. SWIFT has  already published customer-anonymised findings about the modus operandi used in the attacks, developed multiple Indicators of Compromise (IoCs), and provided customers with details on how to protect against such attacks.
Alongside other measures introduced through SWIFT's CSP, this proactive intelligence-gathering and forensic analysis has already delivered tangible results, helping to detect and prevent attacks against SWIFT customers.
About SWIFT's Customer Security Programme
SWIFT's Customer Security Programme, which launched in June 2016, is a dedicated initiative designed to reinforce and evolve the security of global banking, consolidating and building upon existing SWIFT and industry efforts. The programme will clearly define an operational and security baseline that customers must meet to protect the processing and handling of their SWIFT transactions. SWIFT will also continue to enhance its own products and services to provide customers with additional protection and detection mechanisms, and in turn help customers to meet these baselines.
The programme will focus on five mutually reinforcing strategic initiatives:
Improving information sharing amongst the global community
Enhancing SWIFT related tools for customers
Enhance guidelines and provide assurance frameworks
Support increased transaction pattern controls
Enhance support by third party providers
About SWIFT
SWIFT is a global member-owned cooperative and the world's leading provider of secure financial messaging services. We provide our community with a platform for messaging, standards for communicating and we offer products and services to facilitate access and integration; identification, analysis and financial crime compliance. Our messaging platform, products and services connect more than 11,000 banking and securities organisations, market infrastructures and corporate customers in more than 200 countries and territories, enabling them to communicate securely and exchange standardised financial messages in a reliable way. As their trusted provider, we facilitate global and local financial flows, support trade and commerce all around the world; we relentlessly pursue operational excellence and continually seek ways to lower costs, reduce risks and eliminate operational inefficiencies. Headquartered in Belgium, SWIFT's international governance and oversight reinforces the neutral, global character of its cooperative structure. SWIFT's global office network ensures an active presence in all the major financial centres.
For more information, visit www.swift.com  or follow us on Twitter: @swiftcommunity and LinkedIn: SWIFT
Contacts:
Brunswick Group LLP
swift@brunswickgroup.com   
+44 (0)20 7404 5959
About Fox-IT            
Fox-IT, an NCC Group company, prevents, solves and mitigates the most serious cyber threats with smart solutions for government, defense, law enforcement, critical infrastructure, banking, and multinational corporations worldwide. It is Fox-IT's mission to make technical and innovative solutions that ensure a more secure society. We accomplish that by offering advanced cyber security solutions and services that are trusted by government bodies and major enterprises worldwide. We have a strong focus on innovation and a tireless dedication to our clients, our values and our integrity.
As advancements in internet technology expand opportunities for misuse by increasingly sophisticated cyber criminals, state actors and terrorists, Fox-IT is continuously at the forefront of protecting our customers against these threats. Our products and services improve prevention, detection and response capabilities by continuously monitoring network and endpoints of our customers with our own innovative products and specialist staff. We harden the security of critical it networks and systems and train employees in various areas of cyber security. Intelligence is key throughout the services we deliver and with our highly experienced security specialists gathering and analyzing threat intelligence on a 24/7 basis we have one of the most advanced Security Operation Centers worldwide.
We monitor the it infrastructure of numerous large enterprises and focus on areas where systems are most vulnerable, and in sectors where security is most essential including government systems up to 'state secret level' sensitivity and in critical infrastructure industries like energy and banking.
For further information about Fox-IT, please visit www.fox-it.com/en  or follow us on Twitter: @foxit and LinkedIn: Fox-IT
Contact:
Fox-IT
Info@fox-it.com
+31 (0) 15 284 7999