World banking experts will meet the most promising fintech companies selected during the 2015 Regional Showcases and vote for this year's winner
Brussels, 2 September 2015 – As part of Sibos in Singapore, SWIFT's annual conference, the Innotribe Startup Challenge Finale will take place on 14 October. This year over 370 companies applied to the Startup Challenge, with 60 companies selected to enter the programme. During four regional showcases in London, Cape Town, Singapore and New York, these companies presented their business ideas to an audience of more than 800 industry experts, VCs, representatives from leading financial institutions, and bank decision-makers who selected the 20 finalists – 12 early-stage and 8 growth-stage companies – advancing to the Finale at Sibos.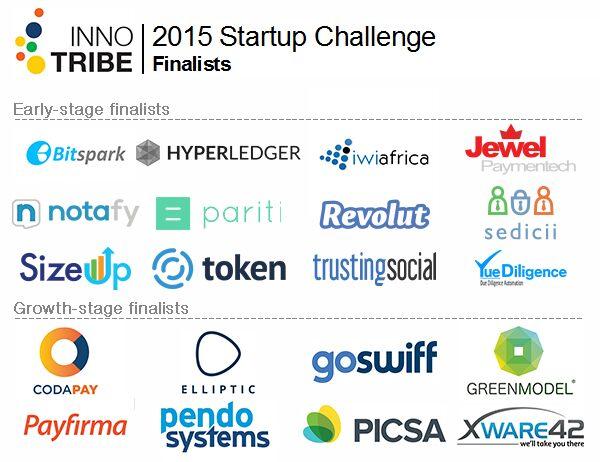 Please click here to access all details about the 20 finalists who advance to the Finale at Sibos.
As in previous years, the 12 early-stage finalists will pitch and showcase their business ideas to Sibos delegates who will select this year's winner. A cash prize of USD 50,000 will be awarded to the winning early-stage finalist.
For the first time this year, the remaining eight growth-stage finalists will host individual exhibition booths on the Innotribe stand at Sibos and have the opportunity to give live product demos to Sibos delegates throughout the week. They will be joined by some Startup Challenge alumni: EssDOCS, AMP Credit Technologies and Matchmove.
Fabian Vandenreydt, Head of Markets Management, Innotribe and the SWIFT Institute at SWIFT says: "Since 2011, the Innotribe Startup Challenge has brought the SWIFT Community in direct contact with more than 650 FinTech startups from around the world. This programme not only supports community engagement, but also enables SWIFT and its member institutions to stay abreast of current innovation activity in today's fast changing landscape. Innotribe was one of the initial facilitators to help accelerate and spread the first wave of FinTech innovation across the industry, and we will continue to play an important role in this process."
The Innotribe Startup Finale is open to all Sibos participants and is sponsored by Deutsche Bank, HP, IBM, Invest NI, Level39, Luxembourg for Finance, and Wells Fargo.
During Sibos week, a four day programme will be run in the Innotribe stand (A20), located on the exhibition floor next to the SWIFT stand (A50) with dedicated sessions around Platforms, Society, Innovation Mind-shift, and Machine Intelligence. 
For all information about the Innotribe programme at Sibos 2015, please visit sibos.com.
About Innotribe
Launched in 2009, SWIFT Innotribe is about innovation and connecting people, networks and ideas. We bring together global innovators and investors, strategists, and influential decision-makers from leading financial institutions across the globe, providing them early insights into innovations that could disrupt current business models and create opportunities for new ones. Through the Startup Challenge competition, we bridge the gap between the startup ecosystem and the financial service community.
For more information, please visit http://www.innotribe.com/  or follow us on Twitter: @innotribe and Linkedin: Innotribe.
About SWIFT
SWIFT is a member-owned cooperative that provides the communications platform, products and services to connect more than 10,800 banking organisations, securities institutions and corporate customers in more than 200 countries and territories. SWIFT enables its users to exchange automated, standardised financial information securely and reliably, thereby lowering costs, reducing operational risk and eliminating operational inefficiencies. SWIFT also brings the financial community together to work collaboratively to shape market practice, define standards and debate issues of mutual interest.
For more information, visit http://www.swift.com/ or follow us on Twitter: @swiftcommunity and LinkedIn: SWIFT
Contacts:
Cognito
swift@cognitomedia.com 
+44  (0)20 7426 9400