From big tech to fintech, here's what you need to know from this year's forum
SWIFT's Business Forum New York 2018 welcomed 700 guests from across the world of banking, technology and beyond, to debate the future of the financial services industry. Representatives from FIs, big tech, fintechs, global news outlets, academics and international organisations, all joined together to debate some of the critical themes facing the industry – How will big tech firms entering financial services impact the market? How can new technologies such as AI, machine learning and quantum computing transform our services? And, how can we use these technologies to deliver intuitive applications that work for us as humans, not machines?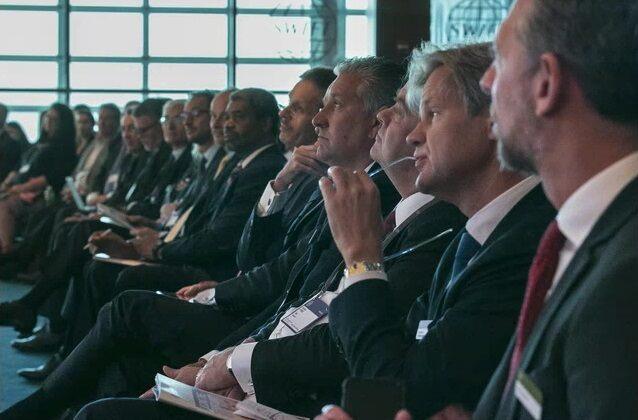 Below we have pulled-out three key insights to take away from these discussions:
Learn from the big tech – facilitate user platforms & ecosystems
Based on the sheer scale of the number of users on the their platforms, companies such as Facebook, Google, Apple and others should be thought of more as countries than tech companies, said Rana Foroohar,  Global Business Columnist, The Financial Times and Global Economic Analyst, CNN, in her opening keynote on Re-imagining Financial Services.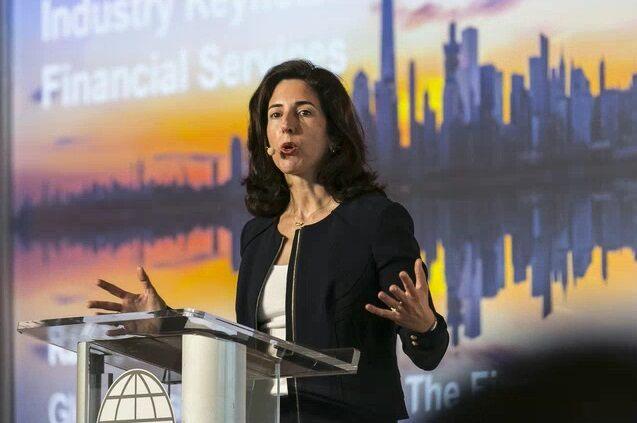 These platforms have disrupted and transformed sectors across the globe, and now they are entering financial services, noted Foroohar. They have the power, not only to compete in the market, but become the market, and there is nothing to stop a company like Google or Amazon coming into this space in the US and globally. Tech platform players can sit in the middle of a commerce market and take a percentage of every transaction, similarly to the traditional financial services model, she continued.
FIs need to adopt a whole new world-view in order to thrive in this world, she said, by studying the business model that is challenging them, and identify how they themselves can facilitate user platforms and ecosystems.
Foroohar underlined the power of data in this quest. "Data is dollars," she said. The tech firms have grown through a number of reasons – one of which is the power of data. The personal data that we are willing give them is essentially the new oil, she said. Yet, sounding a positive note, she said that banks are sitting on a tremendous amount of data that is not currently being monetised – and when you have the data, you can enhance it into smart data by applying technologies such as machine learning. Now is the time to understand how that can work in the financial sector, said Foroohar, not just to better know your customers' needs, but to understand how to service them in a way that they want.
Trust is fundamental, she stressed. Banks have long protected their customers' data and become their trusted advisor. To compete with the coming challenge from big tech in financial services, she concluded, FIs need to build ecosystems, leverage their data and deliver trust, transparency and value to their customers.
Seize the opportunities new technologies can offer – now!
It was clear from discussions throughout the day that we now sit on the cusp of a technological wave that will transform financial services as we know them today. As such, there was a general consensus that FIs should already be embracing new technologies – from quantum computing to AI, machine learning, cloud edge computing and beyond – to ensure they are the first to offer their users the financial services of the future.
The session, Technology Enabling Digital Transformation, brought together a multi-disciplinary panel of speakers from big tech, fintech and banking to discuss how their organisations are already deploying these technologies and what the financial industry can learn from their experiences.
Asked how AI could change the landscape, Mike Blalock, General Manager, Financial Services Industry Vertical at Intel said it will usher in a much better world, solving real-world problems in a fraction of the time. Financial services is a data business, he said, and we are going from a person-based ecosystem to a machine-based ecosystem, which massively ramps up the amount of data being generated. We are in the early stages of AI, Blalock said, and are only leveraging 1% of the data we possess, so there is a huge opportunity to grow this.
Saket Sharma , Chief Information Officer, Treasury Services Technology, BNY Mellon, agreed that AI is still in its infancy. Noting the current move from predictive to prescriptive data analytics, he said we still don't know what it will mean from a risk perspective when machines make assumptions on a prescriptive model.
Amar Parikh, Customer Engineer at Google Cloud said that financial services companies generate so much data, and if they have the ability to add real-time analytics and machine learning to this they could benefit and create new revenue streams. Yet Parikh noted that with the high regulatory and compliance requirements in financial services, a business like Google Cloud needs the capabilities to respond to this. Security is also vital at every layer, he said, and customers need to understand how they can use the tools available to have the best controls possible.
Blalock concluded by summoning the theme of the forum, saying that FIs need to 'seize the opportunity' of new technologies right away. A lot of banks have AI projects, he said, but they need to move faster to have an institution-wide view of AI in order to take the opportunity that now exists, before third-parties beat them to the punch.
Never forget your users are humans, not machines
While the potential for deploying new technologies in financial services was a key theme of the forum, Amber Case, Cyborg Anthropologist & Harvard Fellow, reminded us in the closing plenary that, whatever the technology deployed, applications must be designed for humans, not machines.
The core of Case' argument was the need for 'calm technology' – technology that sits in the background, requiring the least possible amount of attention to solve a problem, and thus becoming a part of the user's life rather than a distraction from it. Technology should amplify the best of humanity by blending tech seamlessly with our everyday lives, she said.
It is possible to have 'too much tech', she said. For example, 'smart' watches that notify you to the exactly same information as your phone, or 'smart' fridges that ping you with unnecessary alerts about the condition of your vegetables. Humans need applications that are fun to look at and intuitive, she said, only alerting you to the things you care about, by learning about your individual needs.
More devices, features and functionalities are not necessarily the answer, she said. We should design products that work well, launch well, are easy to support, easy to use, and remain unobtrusive, she said. When applying this sentiment to B2B, FIs should deliver 'calm financial services' with low impact, light footprint that require as little time, energy and cost as possible for end-customers to run and maintain. 
For additional coverage of the event, visit the Finextra live blog, or the wrap up article.