Central Banking recognises gpi at FinTech & RegTech Global Awards in Singapore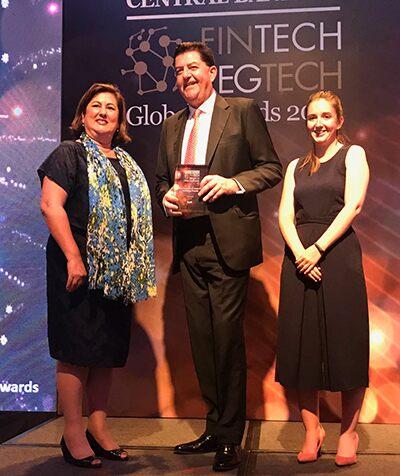 SWIFT has been recognised for the functionality and success of SWIFT gpi, winning the award for Best Payments and Settlements Technology Provider at Central Banking's first annual FinTech & RegTech Global Awards in Singapore, bringing together a wide range of organisations from startups to multinational infrastructure providers.
These awards aimed to highlight:
Innovation in products and policy, markets, economies and society.
How the best results are achieved through partnership
The best work among central banks, other financial regulators and supervisors and the broader practitioner market.
SWIFT gpi has seen incredible growth since its launch in 2017, with over 220 customers now adopting the initiative which is rapidly transforming the cross-border payments landscape. With over 100 billion USD being sent daily over SWIFT gpi, across over 600 international payment corridors, and half of all payments credited end-to-end in less than 30 minutes – the success is clear to see.
The gpi service brings a number of benefits to gpi customers:
Faster, same day use of funds within the time zone of the receiving gpi member
Transparency of fees
End-to-end payments tracking
Remittance information transferred unaltered
Luc Meurant, SWIFT's Chief Marketing Officer, said: "I am delighted that SWIFT has won this year's award for Best Payments and Settlement Technology Provider with our global payments innovation (gpi) initiative. The award is a welcome acknowledgement of the transformative effect gpi is having on the industry and its end customers. Looking forward, following the SWIFT community's recent decision to move ahead with global gpi adoption, SWIFT gpi will be the standard for all cross-border payments by the end of 2020."
Eddie Haddad, Managing Director of SWIFT APAC was there to collect the award on behalf of SWIFT: "SWIFT gpi is one of the biggest innovations in correspondent banking over the last 30 years and winning this Central Banking innovation award is great recognition for gpi and the speed at which our customers have embraced the new service." 
Read more about the awards and winners.
Find out more about SWIFT gpi on swift.com.