A group of banks join with Swift to test real-time gpi cross-border payments in Europe through the Eurosystem's TARGET Instant Payments Settlement (TIPS)
The European Central Bank (ECB) and Swift have launched an initiative to extend the reach of instant cross-border payments deeper into the European market by enabling Swift GPI in the TIPS system.
A group of banks will carry the cross-border legs of the payments, which they will then settle through TIPS, allowing for instant crediting of accounts at ultimate beneficiary banks across Europe.
Enabling real-time cross-border payments
By processing gpi payments instantly, even when the final leg of the payment needs clearing in the destination country, ubiquitous availability of real-time cross-border payments is achievable.
Swift GPI is already transforming cross-border payments. 50% of gpi payments are credited to end beneficiaries within 30 minutes, 40% in under five minutes, many in seconds.
However, payments are sometimes delayed when the final legs need to be cleared within the recipient country. This is due to the limited operating hours of local clearing systems. Through real-time, 24/7 availability of central bank money provided by TIPS, these frictions can be removed, allowing payments to be credited in seconds.
The support of the ECB to this initiative is in line with our strategic objective of ensuring that our TARGET Services keep pace with the evolving needs and requests of banks in the payment landscape. By facilitating gpi, TIPS proves its flexibility to cater for additional use cases. This shows how the 24/7 availability of central bank money provided by TIPS can open new possibilities for the market.
A tried and tested model
Swift ran a similar trial last year with Australia's domestic instant payment system, the New Payments Platform (NPP), and a group of banks from Australia, China, Singapore and Thailand.
The trial demonstrated that by enabling gpi in real-time domestic systems, cross-border payments can be effected almost instantly, even when they involve domestic settlement and non-gpi banks.
We are now working with our community to extend the scope of this initiative to other real-time systems around the world.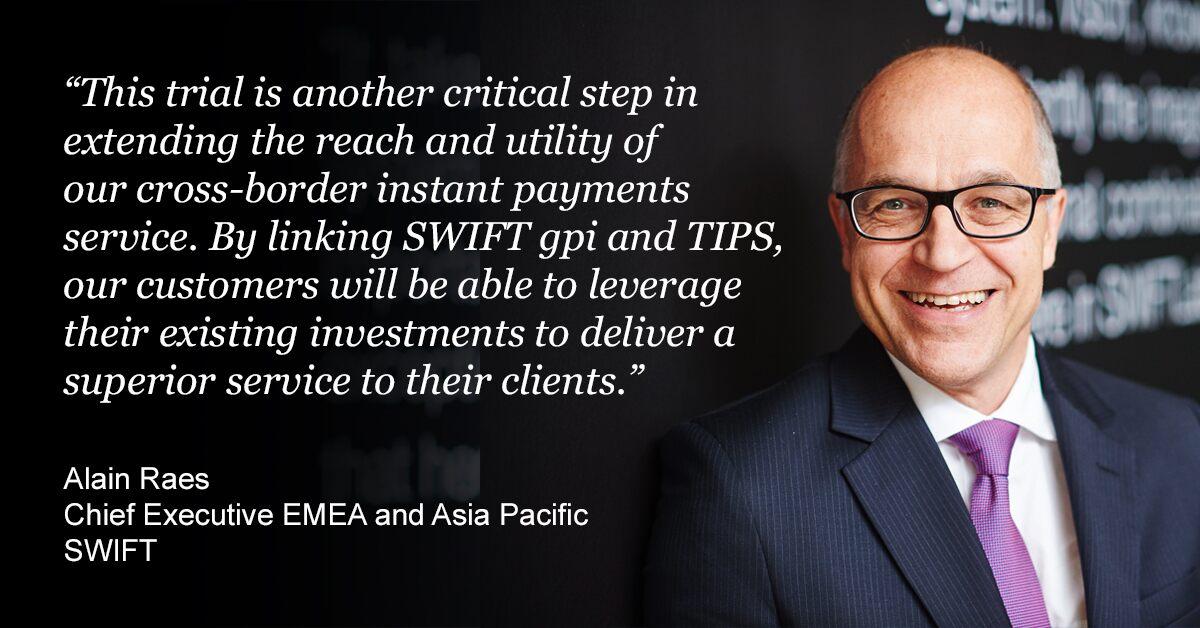 The banks taking part in the European pilot include Banque Internationale à Luxembourg, BBVA, Deutsche Bank, Natixis, Santander and UniCredit.