Swift is to provide connectivity to all Eurosystem market infrastructures (also known as TARGET services) via the new European Single Market Infrastructure Gateway (ESMIG), supporting the free flow of cash, securities and collateral across Europe.
Our appointment as a Network Service Provider for the Eurosystem's TARGET Services supports our position as provider of secure, global and interoperable services for the financial community. It also reflects our commitment to supporting market infrastructures and driving modernisation of the payments industry.
Alain Raes, Chief Executive EMEA and Asia Pacific, Swift, said: "We are delighted to become a Network Service Provider for all TARGET Services. We take our role in this major infrastructure project very seriously and are already working with both the Eurosystem and our customers to raise market awareness about the tight timeline and to ensure a smooth and successful community migration."
Supporting our community
We are providing full support for our community's TARGET consolidation projects and migration to ESMIG. Our solutions provide high quality and competitively priced access to TARGET Instant Payment Settlement (TIPS) for instant payments, TARGET2 (T2) for high value payments, TARGET2-Securities (T2S) for securities settlement, and the future Eurosystem Collateral Management System (ECMS).
Customers will also be able to future-proof their investment with a range of products and services designed to help them be fully prepared for the "big bang" migration of TARGET2 RTGS traffic to ISO 20022 in November 2021. These include standards (ISO20022) validation services, standards translation and testing capabilities.
We will be organising a series of meetings and events for the TARGET community to provide more information on the TARGET consolidation and ISO 20022 migration.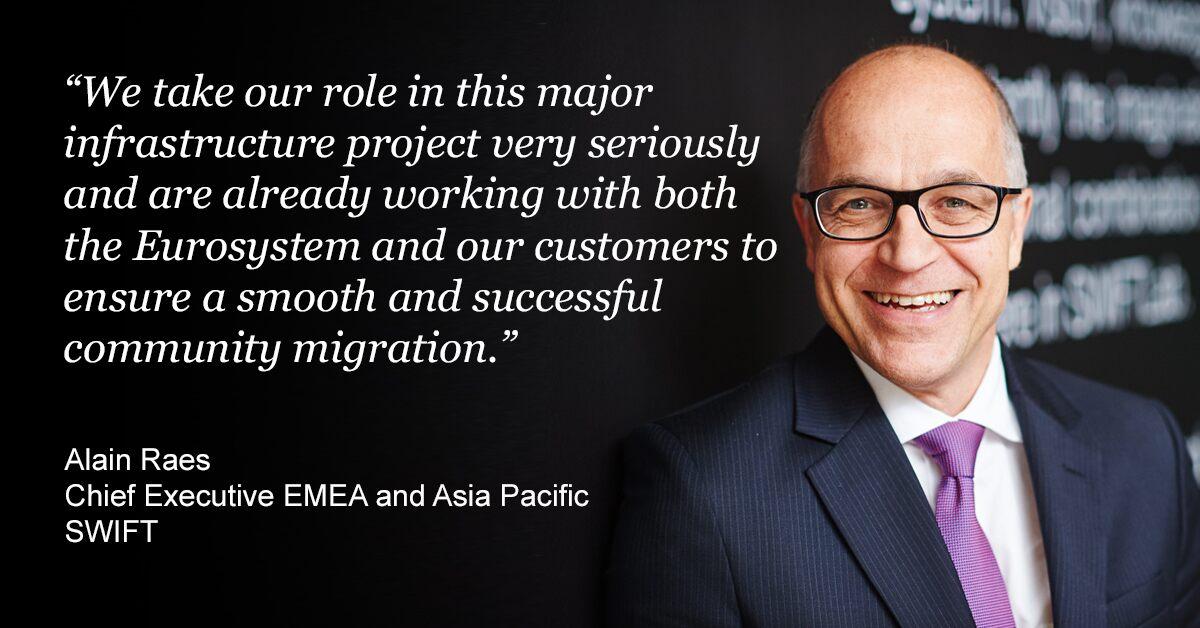 Unlocking new efficiencies
Customers will now be able to combine Swift's ESMIG connectivity offering within their existing Swift connectivity to EBA CLEARING's EURO1/STEP1, RT1 and STEP2 services. This means banks will be able to process all euro payments - high-value, SEPA, instant and cross-border - through Swift.
This single gateway to all TARGET services will help you future-proof and maximise your investment.
We encourage the industry to plan this migration in conjunction with other migration projects happening in parallel:
- in the market infrastructure space (EBA CLEARING's EURO1, The Bank of England's CHAPS, the US Federal Reserve's Fedwire, The Clearing House and others)
- in the crossborder payments area, with the migration to ISO 20022, scheduled to start in November 2021.
Read the full press release: Swift selected as a Network Service Provider to all TARGET services.