The Premium Services Forum is an exclusive event focusing on key challenges the industry is facing
The APAC Premium Services Forum is an opportunity for SWIFT's Premium Support customers in the region to gather, exchange ideas and prepare for the challenges ahead. This year's forum took place on November 15 in Hong Kong and gathered 17 customers from 10 institutions from all over Asia Pacific.
The agenda was built around the challenges the industry has to face, with operational excellence at the core of the discussions, while the small group of participants allowed for in-depth and interactive discussions.
Areas of focus this year included:
The future of payments: from domestic real-time payments to faster and more efficient cross-border transactions
Cyber security and fraud
Customer experience with the evolution of SWIFT interfaces and the rise of APIs
Customer support experience as support and training remain critical to every institution
The Forum allows exclusive customers to learn more about SWIFT's roadmap and initiatives and leaves them more prepared.
Payments are changing, institutions need to be ready
On domestic payments, Peter Gallagher, deputy Head of Payments Settlements of the Reserve Bank of Australia, shared his early experience on the Australian New Payments Platform. Launched for public use in February this year, the NPP has brought real-time domestic payments to Australia, along with the use of an addressing service and the possibility to build overlay services on top of the platform's basic infrastructure. His explanations on the Fast Settlement Service (FSS), operational and support arrangements with a 24x7 model, as well as NPP's future roadmap in the context of open banking were particularly well received by other market infrastructures in the region.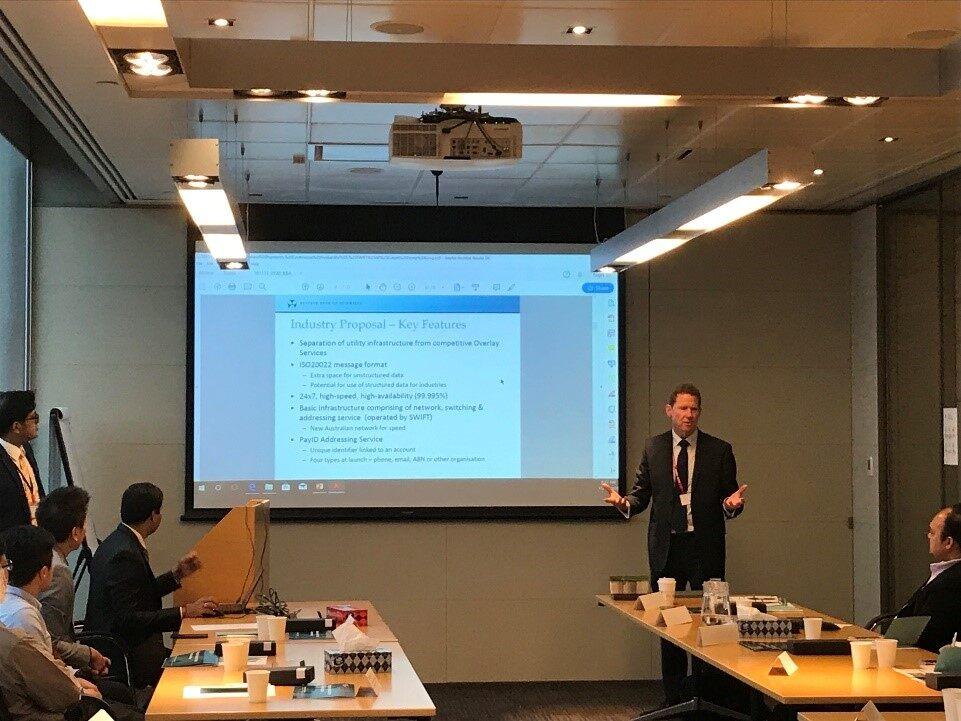 Payments do not stop at the borders, and this is why SWIFT gpi was an equally important discussion for everyone in the room. Three years after being launched as an idea in Sibos Singapore, gpi has shown unparalleled adoption and is already looking towards its next phases. These include connecting to domestic real-time payments systems such as the NPP, but also the deployment of new services such as stop and recall, cover payments and extended tracking. Implementation of these innovations within the banks also come with a number of challenges as functionalities such as credit confirmation will be made mandatory for all banks on the SWIFT network.
Cross-border transactions are going through another drastic change as they will be fully migrating to ISO 20022. The forum was an opportunity to run premium customers through the migration process, but also explore an API use case to understand better how the whole process will work.
Be secure and compliant
As technology evolves and new opportunities arise, new risks emerge that need to be accounted for. Among them, fraud and cyber security issues are on every lips and the financial industry as a whole is carefully looking at how to keep the upper hand.
With payments being credited to their end beneficiary faster than ever, the need to detect fraudulent transactions on the go has never been greater. Cyber criminals are targeting banks at their very heart, gaining access to their back-office and sending fraudulent payment instructions. Payment Controls, SWIFT's new tool for Financial Crime Compliance, was launched this year at Sibos to support banks' need for real-time monitoring, alerting and blocking of such payments. A demo of the tool was performed at the Forum to guide the participants through its different modules and features.
Cyber threats are also evolving with time, and so is SWIFT's Customer Security Programme (CSP). Responding to cyber threats requires collaboration within the industry, as well as alignment around best practices. At the Forum, participants heard the most up-to-date recommendations and best practices but also got a view on what CSP will look like in 2019.
It's also about customer experience
The participating institutions showed a strong interest in the future roadmap of their interfaces and the evolution of SWIFT's API strategy across them. When it comes to interfaces and integration, matching customer needs is a priority and the Forum was a great opportunity for participants to get a 3-year view on the roadmap of their Alliance suite of products, API interfaces and data strategy support.
Customer support experience is equally important to maintain operational excellence within financial institutions. That includes training and the ability create their own e-Learning development plans with SWIFTSmart, getting the best of the value-added services offered by mySWIFT's notification and knowledge centres, and leveraging the upcoming upgrades to Advanced Support and Care Services.
Following the sessions, Premium Services customers were invited to visit the Hong Kong's Operations Centre accompanied by the Service Management team, to get a better sense of how SWIFT is managing their infrastructure.
The Forum was once again a great opportunity for Premium Services customers to get a deeper sense of SWIFT's roadmap for the future and to have insightful and dynamic discussions with their peers. We look forward to welcoming everyone again in 2019 for the next PSF edition.