SWIFT issues a new report on adoption progress amongst Asia Pacific Securities Market Infrastructures from 2010 and 2018
The report takes stock of the ISO 20022 adoption progress amongst APAC SMIS from 2010, and highlights growth and implementation trends, key drivers, costs and benefits as well as future developments.
Current state of play
Globally, the adoption of ISO 20022 as a standard continues to grow, and the situation is no different in Asia Pacific, with the majority of initiatives being driven by Market Infrastructures, both in the payments and the securities spaces. Nine years after the first introduction of ISO 20022 for securities, 27 SMIs are live on the standard across the globe, 9 of them in the Asia Pacific region, and many more are looking at adopting the standard.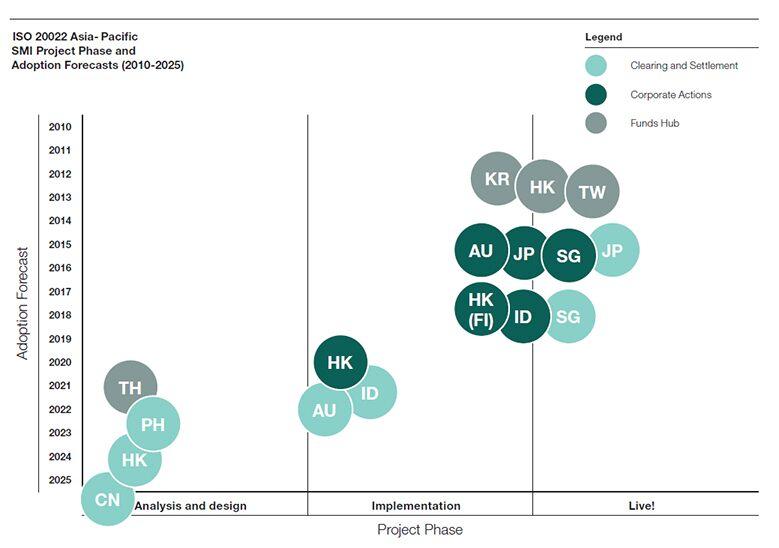 ISO 20022 sees growing adoption in Asia Pacific
Following a survey of equities and fixed income CSDs, exchanges and funds hubs around the region in August-September 2018, the report gives insights into the experiences of market infrastructures with the standard on costs and benefits, implementation models, adoption drivers and future developments beyond messaging. Some of the highlights of the report:
Adoption of the standard is growing globally and in Asia Pacific
The level of ISO 20022-readiness by financial institutions for securities transactions has doubled from 2010 to 2017
62.5% of respondents mentioned phased migration as their preferred approach, versus 25% for big bang and 12.5% for co-existence
Achieving greater STP and adopting international standards and best practices come up at the main reasons for considering ISO 20022, followed by easier integration with global vendors
The majority of market infrastructures looking at adopting new technologies such as DLT, are considering doing it in conjunction with ISO 20022
Lessons learnt from past projects
The report also includes lessons learnt from past projects such as Target2Securities (T2S) in Europe, JASDEC in Japan, ASX in Australia and SGX in Singapore. In the last few years, the standard has also started to be explored for adoption in conjunction with emerging technologies such as DLT and APIs.
As the Registration Authority of ISO 20022, SWIFT will keep playing an active role in supporting community wide adoption of the standard and facilitating implementation to allow for better interoperability of new and legacy systems.
The full report is available here.