SWIFT's KYC Registry and Big Data & Analytics win best-in-class accolades
SWIFT has been recognised for both its KYC Utility and Compliance Analytics in the Regulation Asia Awards for Excellence 2018 at a ceremony in Singapore on 13 November 2018.
The awards honours technology companies, legal and consulting firms, and exchanges that have shaped the regulatory landscape in Asia Pacific, as well as outstanding technology projects both in mature and emerging markets by large tech firms and innovative startups that help meet the requirements of a specific regulatory change infrastructure.
Helping to celebrate the award wins were representatives from DBS Bank, Lloyds Banking Group, J.P. Morgan and Standard Chartered, who attended the awards ceremony on invitation from SWIFT.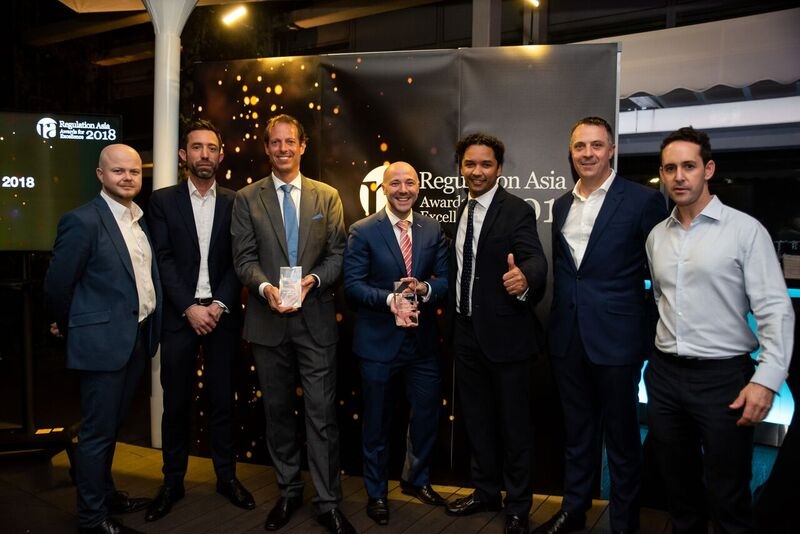 It is a real honour to win not one but two of these prestigious awards. This recognition underscores the hard work SWIFT has been doing in collaborating with its working group of banks and customer steering committees to define practical KYC standards and approaches, as well as empowering FIs to identify the hidden risk in their payment flows and networks.
Managing and exchanging standardised data through the KYC Registry
Launched in December 2014, SWIFT's KYC Registry lists over 5,000 financial institutions in 220 countries as participating entities, providing a global standard for correspondent bank data and documentation, validated independently and housed securely, and greatly reducing the time and cost needed to maintain cross-border correspondent banking relationships.
It addresses the complexity and variance of bank-to-bank data exchange for KYC purposes, which slow down trade, adding significant costs and making it prohibitive for banks to maintain correspondent relationships in markets that tend rely on access to global banking infrastructure the most.
The registry also benefits smaller banks in emerging markets, which are often offboarded by institutions due to uncertainty around the policies of foreign jurisdictions and how their banking institutions operate. 
Remaining alert to financial crime risks with Compliance Analytics
As regulators continue to introduce more stringent rules, larger penalties and more complex remediation processes for money laundering and terrorism financing, advanced data analytics are increasingly playing a critical role in supporting compliance. Banks need analytics capabilities to identify potential vulnerabilities and immediate risks quickly and efficiently. 
SWIFT's Compliance Analytics enables financial institutions to analyse their payments traffic and obtain a global view of branch and correspondent banking activity across all their group entities. It helps banks with affiliate, counterparty and country risk assessments by providing them with consolidated access to aggregated global, regional and country level data, as well as drill-down capabilities.
The insights it provides allow them to identify geographical or counterparty trends over time, so that banks can understand where to focus their investigations. 
With challenges that other utilities continue to face in the evolving landscape we operate in, this feels like a real vote of confidence for the KYC Registry which continues to grow form strength to strength in setting a global correspondent banking KYC data standard and exchange mechanism.Guy Sheppard,Head of APAC Financial Crime, Intelligence and Initiatives at SWIFT