Payment Controls Service honoured by Regulation Asia
SWIFT's Payment Controls Service (PCS) has won best solution in Transaction Monitoring in the 2nd Regulation Asia Awards for Excellence 2019 at a ceremony in Singapore.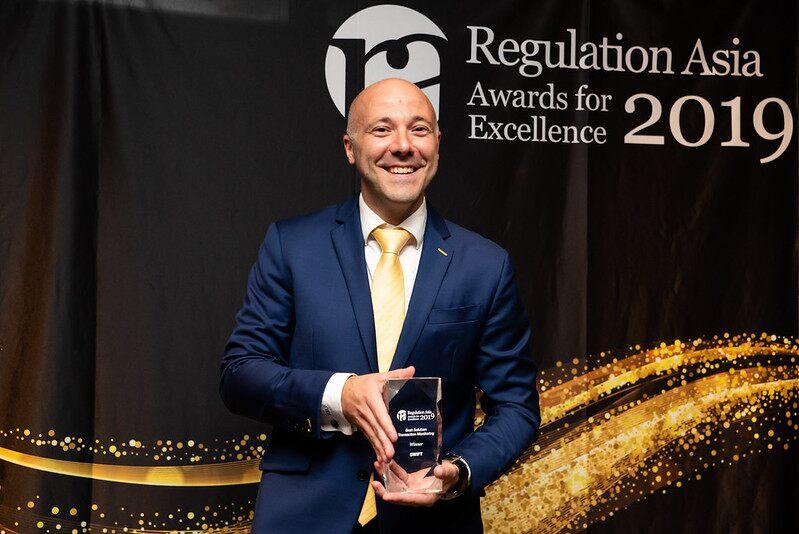 Hailed by the judging panel as "a powerful solution" to protect at-risk members of the correspondent banking network from increasingly sophisticated cyber threats, PCS is currently used by the central banks of Hong Kong, Singapore, Malaysia, India, Korea, New Zealand, Indonesia and Cambodia.
The service provides a preconfigured set of rules and models which can be customised based on an institution's needs, working in real-time to allow users to detect and stop suspicious payments before they are delivered to the SWIFT network. The service additionally "learns" each institution's payment patterns over time and highlights high risk payment instructions involving new counterparties, currencies, message types or combinations of these.
"As an industry cooperative, our objective at SWIFT is simple. In 2018, we launched the Payments Controls service as part of a community-driven initiative to offer our customers the right security tools to combat the rising incidence of payment fraud. The service makes it easier to mitigate fraudulent attacks by detecting and preventing high-risk payments and supporting recovery, through the combination of real-time monitoring, alerting and blocking of sent payments," said Guy Sheppard, Head of APAC Financial Crime, Intelligence and Initiatives at SWIFT.
This award is a feather in the cap for us, as we continue to make strides in strengthening and safeguarding the security of our ecosystem, and enhancing cybersecurity for the global financial industry as a whole.
In the 2018 Regulation Asia Awards, SWIFT won Best KYC Utility for providing a global standard for the exchange of correspondent bank data and documentation through its KYC Registry. It also won the Regtech award for Big Data & Analytics for its Compliance Analytics tool.