SWIFT gpi was awarded top prize in the Corporate Payments Initiative category at the 2018 Banking Technology Awards, recognising the transformative role SWIFT gpi has played in enhancing the entire cross-border payments experience.
The Banking Technology Awards recognise excellence and innovation in the use of IT in financial services worldwide. This Best Corporate Payments Initiative award acknowledges the value SWIFT gpi delivers to the financial community by supporting the industry's need for speed and transparency.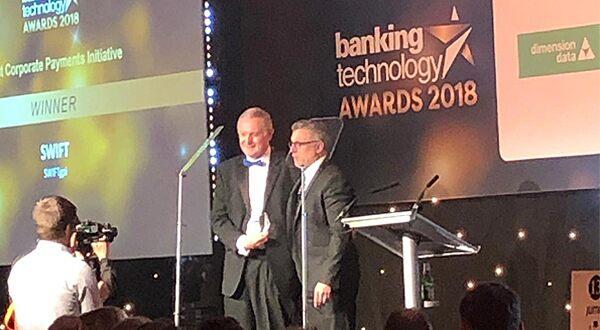 SWIFT gpi payments now represent more than 50% of SWIFT's cross-border payments, and half of these are credited end-to-end in less than 30 minutes. With more than 360 customers signed up and over 100 billion USD sent daily over SWIFT gpi, the initiative sets a new standard for cross-border payments across the industry.
SWIFT gpi embodies our commitment to bringing the financial community together and fostering collaborative innovation. The initiative is the result of our close collaboration with banks, corporates, fintechs and other participants to meet the needs of our community.
To continue to drive operational excellence in cross-border payments, SWIFT recently announced it will begin piloting an integrated pre-validation gpi payments service, focusing on enabling speedy identification and elimination of errors and omissions in payment messages. The pilot is the first stage in the roll-out of the ambitious gpi pre-validation programme.
Excellence and innovation are embedded in our DNA, they are at the core of everything we do to deliver added value to our community. This success is a recognition of the value that SWIFT gpi delivers to the entire financial services industry in transforming the cross-border payments experience for banks and corporates.