In Asia Pacific, 119 banks have now committed to implementing SWIFT's global payment innovation (gpi)
In Asia Pacific, 119 banks have now committed to implementing SWIFT's global payment innovation (gpi). Three in five of these banks are from mainland China, while almost a fifth hails from the ASEAN region, underlining the close economic ties between these markets and the strong growth across the Asia Pacific. The Indian subcontinent is another important region in the SWIFT gpi story, and will see an increasing adoption of SWIFT gpi in coming months.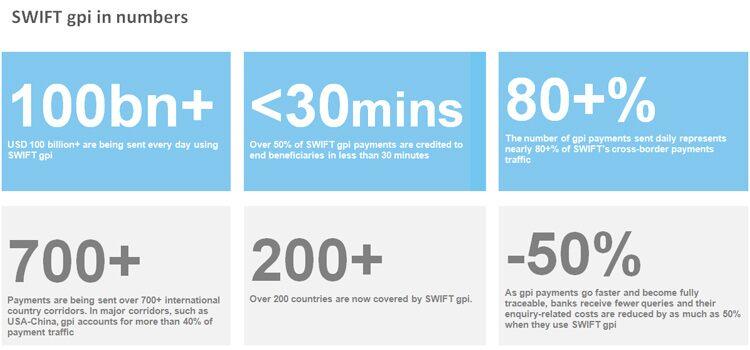 Mr. Eddie Haddad, Managing Director of SWIFT in Asia Pacific, said, "The keen interest we have seen in SWIFT gpi in Asia Pacific is attributed to the strong economic growth in the region, largely driven by China, which also happens to boast the largest concentration of SWIFT gpi banks."
Since its launch in 2017, SWIFT gpi has experienced rapid adoption globally. By the end of 2020, SWIFT will extend the benefits of its gpi service to all 10,000 banks on its global network, a move that will see them enjoying same day end-to-end delivery with full tracking and transparency, throughout the payment chain.
Growing intra and inter-regional trade and investment flows in Asia Pacific have fuelled the demand for a standardised, real-time cross-border payment service - one that addresses underlying business process frictions, and allows corporates to optimise payments processes and maximise the visibility of payments when conducting reconciliations.
Another reason behind the rapid take-up rate of SWIFT gpi is its ease of adoption. The service uses existing SWIFT infrastructure and adds business rules to remove residual business frictions in the payments chain. This avoids the need for costly and lengthy investment in new infrastructure and allows any financial institution that is already a member of SWIFT to easily participate in the initiative.
As an extension of gpi, SWIFT is working with a group of gpi banks in the Asia Pacific region to test its new instant cross-border SWIFT gpi payments service. When live, the service will introduce significant benefits that extend beyond gpi banks and their customers – in time allowing for a complete and instant cross-border payments experience for all bank customers in the region, improving customer experience and allowing for faster P2P remittances and SME trade settlement.
Another recent initiative on SWIFT gpi is the introduction of a pre-validation service which allows errors that delay payment messages before they are dispatched to be detected and resolved, for upfront transparency on fees.
119 ASIA PACIFIC transaction banks signed up to SWIFT gpi