SWIFT signs Women in Finance Charter – a pledge to work together to build a gender-balanced industry
A disproportionate number of women entering financial services do not progress beyond mid-tier, with many even leaving the sector entirely. In addition, women are under-represented at the top of institutions.
The Women in Finance Charter seeks to address some of the challenges facing women entering and progressing in the financial services sector by:
Promoting a culture of inclusiveness;
Supporting recruitment and promotion; and
Building networks and social capital.
SWIFT values diversity and inclusion and, as a signatory, will:
Help support the progression of women into senior roles;
Measure and report on progress to drive greater transparency and accountability;
Build a strong pipeline of talent; and
Publish and promote a diversity strategy that targets results at all levels.
Others who signed the Charter alongside SWIFT include BONY, BNP Paribas, CBC, Citibank, Euroclear, ING and KBC.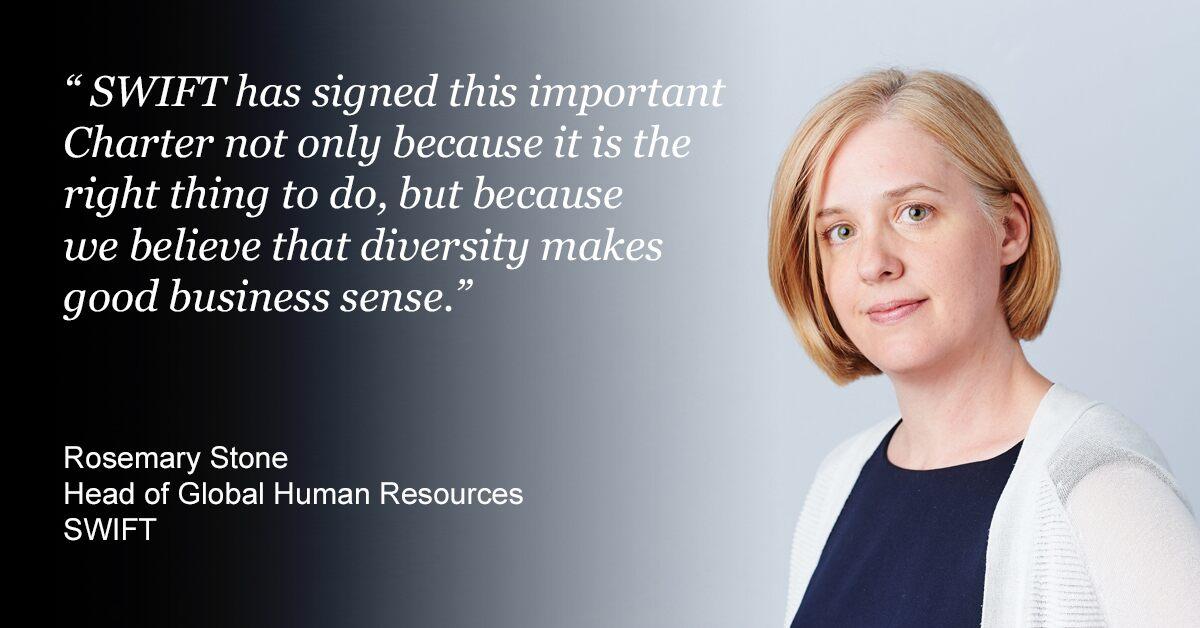 Rosemary Stone, Head of Global Human Resources, said: "SWIFT has signed this important Charter not only because it is the right thing to do, but because we believe that diversity makes good business sense. Creating a culture for women to succeed is not a box-ticking exercise – it is the smart thing to do. Providing the right environment for all our employees to thrive leads to better outcomes."
As host of Sibos London 2019, SWIFT will launch the STAR (Sibos Talent Accelerator Route) scholarship programme, created to support the diversification of the financial industry and encourage the next generation of female leaders. It will foster the development of female talent by providing women in junior and middle management positions with opportunities to expand their networks and expertise, in order to support their progress to senior levels. It will open Sibos up to talented professionals who typically would not have the opportunity to attend.
"Attracting and nurturing a diverse talent pool is essential to ensure the financial industry moves with the times. Financial organisations want to address diversity imbalances at a leadership level and investing in future leaders now will drive change for the long term," said Rosemary Stone, sponsor of the scholarship.
"The industry is growing, the skills that employers need are evolving, and competition for the best talent is fierce. People from all backgrounds must be encouraged and supported to address talent shortages and the STAR scholarship is a great opportunity for top talents to be championed and gain new experiences."   
SWIFT's diversity strategy aims to promote an inclusive culture within the company and the community – where everyone is involved, respected, and connected regardless of their differences. SWIFT believes that diversity and inclusion are integral to its culture of excellence and innovation, creating an environment where people with different perspectives on the financial industry and the world can thrive.
For more on the Sibos STAR Scholarship programme, please click here.