SWIFT's financial crime compliance portfolio expands in response to evolving industry needs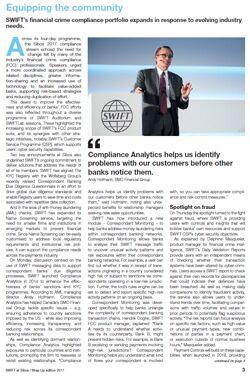 The need for change was the resounding message heard across compliance stream sessions at Sibos 2017 – along with the desire to improve the effectiveness and efficiency of banks' financial compliance efforts.
Meeting industry needs
As industry needs continue to evolve, SWIFT is expanding its financial crime compliance product suite. Building on our community-inspired portfolio, two key announcements at Sibos, in the areas of KYC and AML, underline our commitment to deliver solutions that address the needs of our members.
SWIFT aligns KYC Registry with updated Wolfsberg Due Diligence Questionnaire (DDQ) for Correspondent Banks
SWIFT expands Name Screening to support small firms and emerging markets in preventing financial crime
Another talking point was the use of SWIFT messaging data to support banks' due diligence processes. Delegates learned how Compliance Analytics and Correspondent Monitoring can help them identify, monitor, analyse and address compliance and fraud risk to keep their business on the right track.
Compliance Analytics helps us identify problems with our customers before other banks notice them.
Spotlight on fraud
As cyber threats show no sign of abating, the fight against fraud is very much front of mind for financial institutions, who need to reassess the security of their payment environments. SWIFT is addressing this need to by providing users with controls and insights to bolster their own resources. Daily Validation Reports provide independent reporting of payment transactions over SWIFT, via a separate and secure channel.
Risk reports can focus analysis on specific risk factors.
Payment Controls will build on existing fraud prevention controls when launched in 2018, providing a secure, real-time, in-network means to monitor and identify uncharacteristic payment patterns.
A broader scope
As SWIFT continues to support users' compliance needs through its utility-based solutions, a new Senior Advisory Group for compliance will work to ensure SWIFT product developments remain closely targeted and relevant.
By taking an innovative approach to strengthening our product suite we deliver solutions that address the needs of our community.
Read the full article