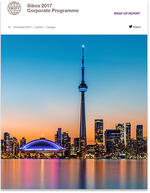 This year's Sibos in Toronto was characterised by enthusiasm amongst corporate treasurers and their banks for the opportunities created by industry collaboration and new technology. In particular, treasurers welcomed the potential to support growth, facilitate new business models and manage liquidity and risk in an uncertain environment. Connectivity and data play key roles in meeting these objectives.
Key highlights from this year's Sibos Corporate Programme
Treasurers highlighted that the ability to connect to banks globally through a single, bank-neutral channel is an essential way of managing growth and change. Luiz Eduardo Diaz Loera, treasury and finance manager of Grupo Kuo commented,
We needed SWIFT to support our growth into new markets by providing a single, secure connectivity channel.
Michael Crawford, senior corporate treasury manager of Mosaic added,
Our aim was to keep our technology infrastructure as simple as possible, and SWIFT is a very important way of achieving this.
The data challenge
While effective bank connectivity is essential, it is the quality and transparency of data that flows through this channel where value is created. Kristen Michaud, managing director, treasury operations at General Electric emphasised,
We want data, and richness of data… we are under a lot of cost pressure, so we need to drive value within our organisation. Treasury is both part of the shared service centre, and a value driver, and a lot of that value comes from data.
One of the problems, however, is that data is not always presented in a consistent way, which creates particular challenges for multi-banked corporations. Ed Barrie, group treasury director at Tableau Software explained,
The lack of adoption and uniformity of 'standard' file formats such as ISO 20022 is a major obstacle to conducting our business, affecting both our interaction with banks, but also more widely, creating friction in the communications across our supplier and customer base.
Exploring solutions
However, there are growing number of success stories in demonstrating value of collaboration and standardisation. For example, given the growing compliance burden for both corporates and banks, the value of the KYC registry is clearly quantifiable. Suresh Subramanian, head of treasury and trade solutions at BNP Paribas suggested,
With the current changes to the regulatory framework, partnerships between banks, fintechs, consultancies and corporations will be key to managing complexity. In the past, industry discussions were largely proprietary in nature; now, there is far better collaboration in response to the changing environment.
Similarly, corporate participants warmly welcomed the growing momentum behind SWIFT gpi (global payments innovation). Bart Verweij, deputy treasurer of booking.com highlighted,
The value of SWIFT gpi is the predictability of payment, potentially more than increasing its speed. In addition, the quality of data accompanying the payment is essential to identify and reconcile flows automatically.
Banks are increasingly recognising both the importance of co-creation and the needs of corporates' wider ecosystem. This is changing the way that they develop and present solutions and services to corporate clients, with faster delivery and greater corporate involvement in the banking products and services of the future.